Lord Carrington, former foreign secretary, dies aged 99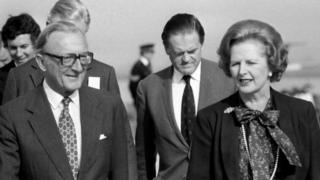 Former UK Foreign Secretary Lord Carrington, who was the last surviving member of Churchill's 1950s government, has died aged 99.
The Conservative politician was also a former defence secretary.
He resigned as foreign secretary in 1982 after the Falkland Islands were invaded by Argentine forces.
Prime Minister Theresa May paid tribute to a "statesman who was respected globally for his remarkable lifetime of public service".
The hereditary peer took his seat in the Lords in 1945 after serving in World War Two, where he gained a Military Cross, joining Churchill's government in 1951.
He was agriculture minister under Churchill and later went on to become foreign secretary in Margaret Thatcher's government.
After he resigned, taking responsibility for the failure to predict the Argentine invasion, Mrs Thatcher described his resignation as a "devastating blow for Britain".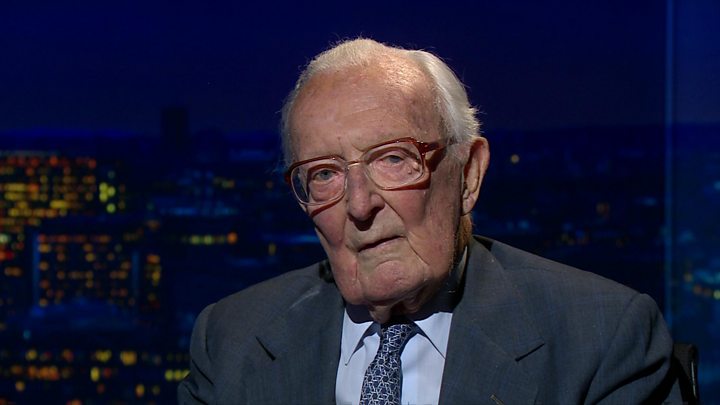 Lord Carrington was the last member of the House of Lords to hold one of the four great offices of state, and went on to become the longest-serving member of the Upper House, criticising its size in a BBC interview two years ago.
Other roles he held during his career included secretary general of Nato, high commissioner to Australia, leader of the Lords and chairman of the Conservative Party.
Former Prime Minister David Cameron was among the politicians paying tribute, describing him as a "lovely man and a great public servant".
Another ex-PM, Sir John Major, said he felt "immensely privileged" to have known Lord Carrington.
"He never fell beneath the dignity of his office, yet leavened public life with an irreverent wit that delighted all who worked with him," Sir John said.
"The country has lost one of its greatest post-war statesmen. I not only feel proud to have known him, I feel immensely privileged."
Mrs May added: "There can be few people who have served our country for as long, and with such dedication, as Lord Carrington did - from his gallantry as a tank commander in the Second World War, for which he was awarded the Military Cross, to his service in government under two monarchs and six prime ministers, dating back to Winston Churchill."
Former deputy prime minister Lord Heseltine said his late colleague and friend was a "great patriot" who represented the "essence of One Nation Conservatism".
"Frankly, he is one of the greats," he told the BBC.
He paid tribute to his integrity in taking personal responsibility for the failure to anticipate the Falklands invasion. "Peter Carrington carried the can and resigned. I think history will show it was not quite as simple as that. But this was a man who know what he believed to be right."
Members of the House of Lords - where he spent over 70 years - paid their own tributes as the day's sitting got under way.
Lords Leader Baroness Evans said he his contribution to public life was "unsurpassed in modern times", and Labour's Baroness Smith said he had a "truly remarkable life and career".
Crossbencher Lord Luce recalled his decision to resign over the Falklands invasion, adding that "his only concern was to put his country before himself".