Prime Minister's Questions: The key bits and the verdict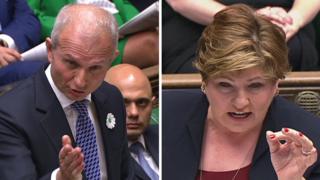 David Lidington went head-to-head with Emily Thornberry in the House of Commons. Here's what happened.
With Theresa May at the Nato summit in Brussels, the PMQs "B team" stepped in to the breach.
David Lidington, who is effectively Mrs May's second-in-command, congratulated Gareth Southgate and his England team and wished them "the very best", ahead of tonight's World Cup semi-final against Croatia.
Then - just to get it out of the way - he had a joke at the expense of Jeremy Corbyn's stand-in Emily Thornberry, who four years ago was forced to quit the Labour front bench over what was branded a "snobby" tweet about a house decked out in England football flags.
Mr Lidington offered to buy the shadow foreign secretary - who at the time denied the tweet was snobby and apologised for any offence caused by it - an England flag for the game.
Then, just as the two were about to start their exchanges, Speaker Bercow announced that two members of the Osmond family - the squeaky-clean Seventies chart toppers - were watching from the public gallery.
"It takes some of us back to the 1970s, we are very pleased to have you," he told Kelly and Merrill Osmond.
Ms Thornberry began by revealing that she would be not be watching tonight's England game because she would be representing the Labour Party at a service to commemorate the Srebrenica genocide.
This was a subject close to her heart, she explained to MPs, because her father, one-time UN Assistant Secretary General Cedric Thornberry, had played a role "in trying to prevent it".
It was the only England game she had missed, she assured MPs, before wishing the team the "best of luck".
She may know "very little about football", she went on, but even she knew the importance of teamwork and listening to the manager. What lessons could this "shambles of a government" learn from the England team?
The government already knew about teamwork etc, said Mr Lidington, who wondered what Labour's alternative plan for Brexit was.
"Even Donald Trump could see they were in turmoil and he hasn't even got to Britain," said Ms Thornberry.
Mr Lidington had once compared Labour to the film "Mutiny on the Bounty remade by the Carry On team", she said. This government was now behaving "like Reservoir Dogs remade by the Chuckle Brothers".
That got a big laugh from all sides of the House.
But things then took a serious turn as the two got into a very detailed debate about post-Brexit trade arrangements.
Ms Thornberry asked the minister to explain "how frictionless trade was going to be achieved under their Brexit plan". Mr Lidington repeatedly accused her of not properly understanding Mrs May's proposals and said more will be revealed in Thursday's white paper.
Ms Thornberry called the PM's proposals a "total delusion" and said China would not accept a "one-way deal" on services - and said Labour's plans for a customs union would provide an "easy answer" to the government's Brexit troubles.
Mr Lidington accused the Labour leadership of refusing to rule out another EU referendum.
Mrs Thornberry dubbed the PM's plans "a dog's Brexit" and quoted Mr Lidington's pro-EU views from 2011 back at him.
Labour should get behind the government on Brexit and stop "carping from the sidelines," he replied.
Ms Thornberry's final question was something of a bonus because, as some eagle-eyed journalists spotted, she had asked seven, rather than the usual six granted to the leader of the opposition thanks, it seems, to an oversight by the Speaker.
What else came up?
The SNP's leader at Westminster Ian Blackford took aim at Donald Trump, ahead of the US President's visit to the UK on Thursday.
Green MP Caroline Lucas raised rail chaos.
Veteran Labour rabble-rouser Dennis Skinner asked about miners' pensions.
The Verdicts
Here is what the BBC's Andrew Neil and Laura Kuenssberg said:
Here is BBC Parliamentary Correspondent Mark D'Arcy's verdict:
There's never quite the same edge when it's the battle of the stand-ins at PMQs… but it is pretty clear from Emily Thornberry's (extended) line of questioning that Labour plan to hammer away at the Government's Chequers compromise, to stoke Brexiteer nervousness and punch the bruises in the Conservative ranks.
She may have run a little aground in the sands of euro-detail, but the politics was surely correct, and as usual the pre-baked jokes were suitably biting. After this, any lingering notion that the government could rely on being bailed out by Labour votes if faced with a backbench rebellion against Chequers can be laid to rest.
David Lidington remained, as ever, a calm professional presence at the Dispatch Box, and his riposte, that Labour's Brexit policy was the best kept secret in Westminster, hit home.
These exchanges got unusually detailed, but it was never really about the detail.
No-one who's been out and about in Westminster in the last couple of days can be in any doubt about the jittery combination of brave faces and angry nervousness in the hearts of Tory MPs.
This was about keeping those hearts a-flutter, and not in a good way.
Most backbenchers stayed out of the Brexiting but the Conservative Julia Lopez put down a marker about keeping faith with the referendum, and her words gave a clue about how high feelings are running.
Elsewhere, there were a couple of Conservative questions about crime - suggesting the issue is climbing up the league-table of concerns. Keep an eye on that; it could goad the new Home Secretary (and possible future PM) Sajid Javid into action.
The Podcast
An audio download of some of the key exchanges, and what Andrew Neil and his Daily Politics guests made of the exchanges.