Brexiteers hitting government where it hurts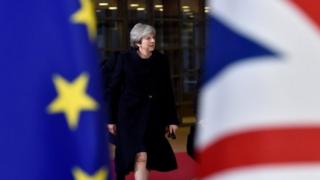 Forget about the political excitement of a potential leadership contest.
Do recalcitrant Conservative MPs have - or not have - the numbers to force Theresa May out?
Is there - or is there not - a Brexiteer or indeed a former Remainer, willing to wield the knife?
Rather than a straight leadership challenge, what's always been the more likely source of the government's downfall is their lack of majority in the Commons.
Until Friday's cabinet meeting at Chequers, the Brexiteers had backed the government in Commons votes time and time again.
Theresa May has relied on their support - and that of the Eurosceptic DUP - on a weekly basis.
It has been the group of MPs that want closer ties to the EU, that has made life so hard for Theresa May when it comes to Parliamentary votes, at least until now.
The critical difference is that now our law, in the shape of the Withdrawal Act, says we are leaving the EU.
(Of course, there is always a chance this won't happen and pragmatic politics can provide opportunities for a way out of things if needs be).
And it has always been the plan for the organised core of Brexiteers, if not the wider group, that once that Withdrawal Bill was on the statute books things would change.
Their resistance would become much more public, and they would be willing to challenge government votes in a way they have not done up until now.
And here we are.
Brexiteers have this afternoon put down several suggested changes to the Customs Bill, due in the Commons next week.
They are trying to force the government to drop its Chequers compromise, and dangling the threat of voting down legislation if Theresa May doesn't budge.
Brexiteer ministers are this afternoon, I'm told, still trying to get "edits" to the final White Paper, the souped-up version of the Chequers plan.
Their fellow Leavers on the backbenches are clearly going to kick up a stink if Number 10 won't move, and if they choose to, they have the numbers to defeat the government time and again.
Right now, the government has absolutely no intention of stepping back.
Getting (most of) the cabinet to agree a compromise has taken months. And with the Brexit clock ticking down, Theresa May is desperate to push on.
But stopping government getting its business through the Commons is the most potent threat the Brexiteers really have.
However febrile the public fighting, forcing them to lose votes really would hit the government where it hurts.
An administration that simply can't pass its legislation can't hang around for long.