Trump's Brexit comments spark backlash from MPs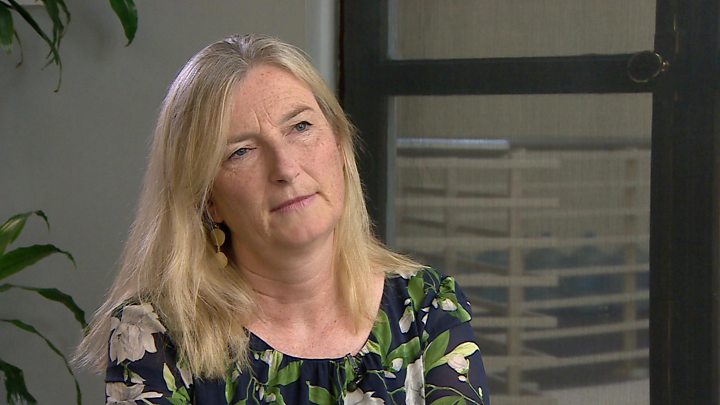 Donald Trump's criticism of Theresa May's Brexit strategy has sparked a backlash from UK politicians - including some government ministers.
The US President said the PM's plan would "probably kill" a UK-US trade deal.
He also said Boris Johnson would make a "great prime minister".
Some Tories are furious at his "deeply insulting" remarks, but backbencher Jacob Rees-Mogg thought what he said was "perfectly reasonable".
Foreign Office Minister Sir Alan Duncan said he did not think Mr Trump's remarks were rude.
"Donald Trump is in many ways a controversialist," he told the BBC.
"That's his style, that's the colour that he brings to the world stage."
But another Conservative minister, Sam Gyimah, whose brief covers universities and skills, did not agree, questioning the president's manners:
His government colleague, Digital Minister Margot James, took issue with the comments about Boris Johnson, who she said "would make a terrible PM":
Conservative MP Sarah Wollaston said Mr Trump had been "deeply insulting" and criticised his "dog whistle politics about immigration".
"And though of course Theresa May will continue to extend a very polite welcome to him in his capacity as president of the United States, I think she should pretty much tell him where he can stick his dog whistle," she told the BBC.
In his interview with The Sun, the US president said immigration had "changed the fabric of Europe", adding that "unless you act very quickly, it's never going to be what it was and I don't mean that in a positive way".
He added: "I think you are losing your culture. Look around. You go through certain areas that didn't exist 10 or 15 years ago."
Ms Wollaston also accused the president of a "bullying approach", with "infantilising imagery" of holding Theresa May's hand, saying the prime minister had shown "great statesmanship" in response.
Another Tory MP, Anna Soubry, said the president "diminishes the standing of the great country he is meant to lead".
Chancellor Philip Hammond was optimistic, saying the US president had been "nodding furiously" while Mrs May was speaking during Thursday night's dinner with Blenheim Palace and had yet to talk to her about the plans, which were published on Thursday in a White Paper.
"I know she's looking forward to the opportunity to discuss with the president how we can take forward the big opportunities for increasing trade and investment between the UK and the United States that she mentioned last night during the dinner at Blenheim," he told reporters in Brussels, where he is attending a finance ministers' meeting.
But opposition parties reacted scathingly to Mr Trump's intervention.
Labour's shadow foreign secretary Emily Thornberry accused the President of "childish behaviour of the worst sort".
She said she felt sorry for Mrs May, adding: "Donald Trump ought to have listened to his mother. I am assuming that his mum told him that when you go to someone's house you do not insult the host."
Liberal Democrat leader Sir Vince Cable said the US president "now chooses our leaders".
But influential Conservative backbencher Jacob Rees-Mogg, who opposes Mrs May's plan for post-Brexit trade with the EU, said many Conservative MPs shared his view.
"The UK wants to do a trade deal with Donald Trump, and he said if you want to do a trade deal with the United States this isn't the way to do it," he told BBC Radio 4's Today programme.
"That's a matter of US foreign policy."
He said it was different to when former US president Barack Obama tried to help the Remain campaign during the 2016 EU referendum campaign by saying the UK would be at the "back of the queue" for a trade deal with the US if left the EU.
Mr Trump's predecessor had "interfered" in a UK election, said Mr Rees-Mogg.
Another Eurosceptic Conservative MP, Nigel Evans, told the BBC the US president "loves our country".