'Behaviour code' could see MPs face sack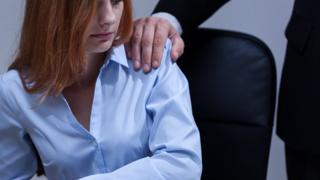 MPs and Lords could be sacked if new plans to deal with allegations of harassment and bullying are approved.
The new Commons behaviour code published on Tuesday includes "harsh punishments" for those who do not meet parliamentary standards.
A working group was set up in November to look into creating a grievance process after Westminster was hit with a string of scandals.
The proposals will be voted on by MPs on Thursday.
Two government ministers - Damian Green and Michael Fallon - resigned over scandals last year, and a number of other politicians on both sides of the House were investigated over claims of sexual misconduct.
A survey of more than 1,300 parliamentary workers published in February found that 19% had experienced or witnessed sexual harassment or inappropriate behaviour in the previous year, with twice as many complaints from women than men.
Ms Leadsom said that at the moment, anyone with a complaint only has the choice of going to the press.
She claimed the "step by step" plan recommended by the working group offers a more official path of grievance and will be "entirely independent in every way".
If approved, two helplines would be created - one for bullying and harassment allegations, and a second specifically for sexual harassment or sexual violence.
Mediation would be offered as a first step, if that is what the victim wanted, but the complaint could then move to a formal, independent investigation.
The Commissioner for Standards would have powers to deal out low levels of punishment - such as calling for an apology or insisting on compulsory training for the staff member involved.
But if the complaint is more serious, it could then be passed to the committee of standards - made up of seven MPs and seven lay people - who would be able to vote on more serious sanctions, including sacking.
The most serious sanctions would go to the Commons for a vote, and could lead to by-elections being called.
The Members' and Peers' Staff Association said the plan was a "robust and progressive way forward".
"We hope that everyone both on the Parliamentary estate and in constituency offices will now fully engage with the new processes and that the bullying and harassment that we have seen will be eradicated to provide a safe and confident place for all staff to work," said its steering group representative Georgina Kester.
But the BBC's political correspondent Eleanor Garnier said concerns had been raised by the FDA union that the new system will involve MPs making judgements on other MPs, in effect marking their own homework.
There is also criticism about the system's focus on new accusations, with little scope for historic incidents to be investigated.
'Equal and fair'
Speaking to BBC Radio 4's Westminster Hour on Sunday, Ms Leadsom said the new system would "put the victim at the heart of it".
"Anybody who works in, with or for Parliament, must be given the same access to an equal and fair system that gives them the satisfaction of final closure of their complaint," she said.
Ms Leadsom said those with older complaints would be able to call for "advice, guidance and support" - but it would be difficult to gather evidence for past cases.
However, she did say that the group would be establishing an independent review of historic allegations, which she hopes would help "give [victims] closure".
She added that she had "high hopes" for the plans to be approved.
Also speaking to the Westminster Hour, Labour's deputy leader Tom Watson said the plan seems like "a step in the right direction" - although he renewed calls for Parliament to recognise unions.
He said it would "probably" get support from MPs, adding: "The political parties have got to really tighten up their act on safeguarding and harassment."
Former International Development Secretary, Priti Patel, added: "I came from a private sector career before and I think it's astonishing that we just do not have safeguards and the appropriate mechanisms in place.
"Parliament sounds like a very unattractive place to work when you hear these horrible stories so we need to take the right step forward, and clearly this is part of that."