Reality Check: Do UK MPs work more days than other politicians?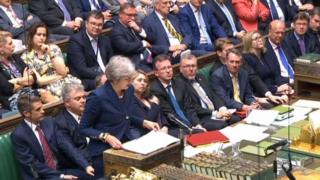 The government wants the House of Commons to start its summer break earlier than planned, amid criticisms from Labour, the SNP and some Conservatives. But how often do the UK's MPs meet compared with politicians in other countries?
They have a long summer holiday - spending six weeks away from Westminster, dealing with constituents' concerns and, just maybe, getting away from it all.
So, how often are MPs expected, or at least able, to attend debates and votes?
During the last complete parliamentary session, 2016-17, the House of Commons sat on 142 days. During the previous session - 2015-16 - the number was 158.
Commons sessions vary in length, sometimes shortened by elections or elongated by the lack of a State Opening of Parliament (during which the Queen's Speech sets out the government's legislative programme). But the 2015-16 and 2016-17 sessions each lasted just under a year, making them roughly comparable with more regularly sitting chambers elsewhere in the world.
Different legislative bodies compile and present their schedules in different ways, and they have different lengths of working days. But we can at least say the UK's number of sitting days is among the biggest we've come across.
International comparison
The calendar for the US House of Representatives shows its members are scheduled to sit for 124 days this calendar year. In 2017, it was 145 days.
Japan's House of Representatives usually meets on 150 days a year.
In Canada this year, the House of Commons is scheduled to sit on 127 days.
Meanwhile, in Germany's Bundestag, it's compulsory for members to attend on sitting days. This year, there are 104 of those.
Of course, the work of a politician can't be measured entirely in terms of how often they attend a debating chamber.
"It's a common misconception that MPs only work on those days when Parliament is sitting," says Alice Lilly, leading parliamentary monitor at the Institute for Government. "When the Commons is in recess MPs still do a variety of other work, such as attending events, making visits, or conducting surgeries in their constituencies.
"And MPs who are ministers will still have ministerial responsibilities to deal with during recess, in addition to their constituency work."
While in the UK there's debate over whether MPs spend enough time in Parliament, in India Westminster's politicians are sometimes held up as an example of hard workers. Earlier this year, the Communist Party of India cited them as it sought to bring in a law ensuring Parliament sits for at least 100 days.
Another member of the sub-100 club is New Zealand. Its House of Representatives is scheduled to meet for 93 days this year.
That's more than the 65 days on which Australia's own House of Representatives is to meet.
But this is not the smallest number of attendance days we found.
The almost-3,000-member National People's Congress of China - regarded by Western observers as little more than a "rubber stamp" for Communist Party decisions - gets together only once a year. And its most recent session, in March, lasted just over two weeks.