The Brexit factions reshaping UK politics
By Brian Wheeler
Political reporter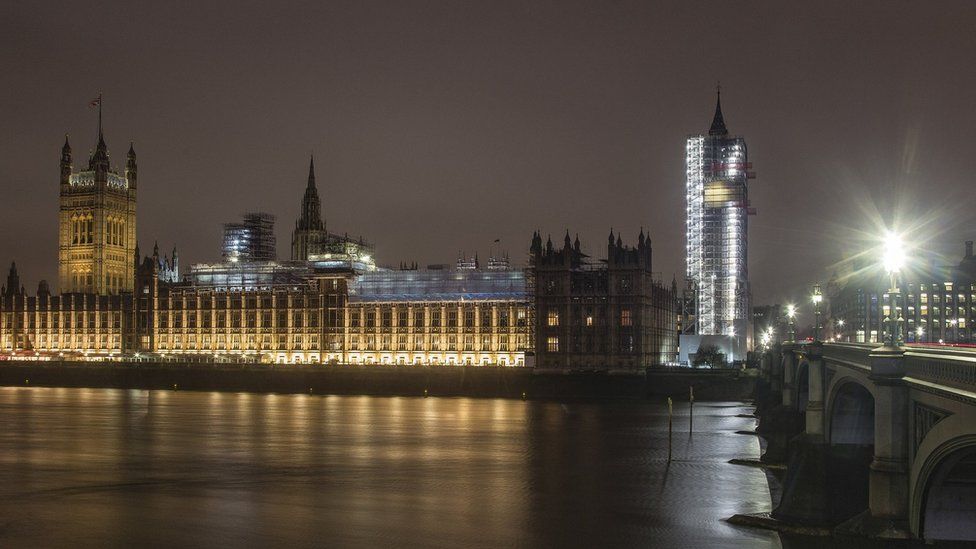 Westminster is buzzing with talk of splits, general elections, second referendums and even the formation of new political parties as Brexit strains traditional loyalties to breaking point.
With votes on any deal struck by Theresa May with the EU expected to happen this autumn, here is a guide to the main factions in the Commons:
Government ministers, basically - there are just over 100 them out of a total of 316 Tory MPs - and those backbenchers who support Theresa May's Brexit policies, or at least are not willing to vote against them and threaten her leadership.
Most Tory MPs fall into this category but it is not enough for Mrs May to be sure of winning key Commons votes, even with the support of the DUP's 10 MPs, who unlike Mrs May backed Leave in the EU referendum.
Ten members of Mrs May's government have quit in recent months - most of them because they are against her Chequers plan for post-Brexit trade, although Defence Minister Guto Bebb quit because he is in favour of it. Mr Bebb thought she had caved in to the hard Brexiteers (see below) over customs legislation. He has now joined the People's Vote campaign (see below).
Sixty Conservative MPs, headed by Jacob Rees-Mogg (pictured above), are members of the European Research Group - a pro-Brexit lobby, who are against Theresa May's plans for trading arrangements with the EU.
They are well-organised and highly motivated and the PM's continued survival in Number 10 is, largely, in their hands.
The rebel ranks were swollen by ex-Foreign Secretary Boris Johnson, former Brexit Secretary David Davis and his deputy Steve Baker, who all quit in protest at her blueprint for post-Brexit trade with the EU hammered out at her country residence Chequers, in July.
Mr Baker claims as many as 80 Conservative MPs are prepared to vote against the Chequers plan. He has warned about a "catastrophic split" in the Conservative Party if it is not able to unite around a different vision. Mr Johnson has thrown grenades - and a "suicide vest" - into the debate from the pages of national newspapers, with increasingly strident attacks on the Chequers proposal, prompting an angry backlash from Theresa May loyalists.
The Dominic Grieve gang. Like most of his cohorts, who number about a dozen and include former minister Nicky Morgan (seated behind Mr Grieve in the picture above) who led an unsuccessful rebellion in the customs vote, the former attorney general is not a natural rebel.
Mr Grieve and his supporters inflicted the government's first Brexit defeat, in December, securing a "meaningful vote" for MPs on the final deal with Brussels, but some wonder whether his gang have the killer instinct of their pro-Brexit rivals when that final showdown happens in the autumn. Mr Grieve has said he will quit the party if Boris Johnson becomes prime minister, in reaction to a row over the former foreign secretary's comments about the burka.
Conservative MP Anna Soubry, a close ally of Labour's Chuka Umunna in the People's Vote campaign for another EU referendum (see below), has called in the past for the creation of a new centre-ground party.
She also backed a call by fellow Conservative Sir Nicholas Soames - a longstanding pro-European and the grandson of Sir Winston Churchill - for a "government of national unity", made up of senior figures from different parties to sort out Brexit, although that idea seems to have disappeared from the radar.
But it is the leader of the Liberal Democrats, the UK's traditional centre party, who has emerged as the biggest cheerleader for a new centre party.
Sir Vince Cable is openly encouraging disaffected anti-Brexit Labour and Tory MPs to form new groups and work with the Lib Dems to colonise what he believes is the vast territory that has opened up in British politics as Labour moves to the left under Jeremy Corbyn and Tory Brexiteers push their party to the right.
Sir Vince, who has said he will stand down as Lib Dem leader once Brexit has been "resolved or stopped", admits his party, with just 12 MPs, has struggled to achieve the rapid growth in support it wanted despite being the only national party campaigning for a second referendum and has set out plans to transform into a "movement for moderates".
Tory second referendum group
Former Education Secretary Justine Greening is the most senior Conservative to have called for a referendum on the final Brexit deal. She was backed by Heidi Allen and Anna Soubry, and another prominent backbencher, Sarah Wollaston, has also joined the People's Vote campaign. along with Phillip Lee and Guto Bebb.
Jeremy Corbyn's supporters insist the party has never been more united behind its leader - despite a bitter and divisive row about anti-Semitism that dragged on for months over the summer.
The vast majority of the shadow cabinet - about 30 MPs - and most of the 47 new Labour MPs elected last year, in addition to a handful of long-serving left wing backbenchers, are fiercely loyal to the leader and back his Brexit stance.
But many, maybe even the majority, of the 257 Labour MPs, including the self-styled "moderates" who served in government during the Blair/Brown era, remain unhappy with the direction the party is going in.
Some Corbyn critics have faced no confidence votes from their local parties, a sign they could face de-selection before the next general election.
Labour People's Vote supporters
Jeremy Corbyn's backing for Brexit and refusal to throw his weight behind calls for a second referendum, after campaigning for Remain in the referendum, are a major sore point among "moderate" Labour MPs, who suspect he remains a Eurosceptic at heart.
The cross-party People's Vote campaign for a second referendum is backed by about 30 Labour MPs, including prominent figures such as Chuka Umunna (pictured above), Chris Leslie and Stephen Doughty.
They outnumber members of other parties in the group, which also includes Lib Dems, Green MP Caroline Lucas, five Conservative MPs and Plaid Cymru's four MPs.
These MPs tend to eschew party labels when commenting on Brexit. The Labour members are in open revolt against their party leadership's opposition to a second referendum - but they insist they are not operating as a party within a party.
Chuka Umunna has written to members of his local party in Streatham, South London, to deny speculation he is involved in talks about the formation of a new party. The idea that the People's Vote is the forerunner of a such a party is "patently absurd", he writes.
But he has also claimed Jeremy Corbyn's supporters are trying to force "moderate" MPs like himself out of Labour, something the party leadership says is simply not the case.
Like the members of the People's Vote campaign, the SNP's 35 MPs, led by Ian Blackford (pictured) are against Brexit and want the UK to stay in the EU single market and customs union.
They have said they won't stand in the way of a second referendum but have not committed to voting for one. One reason for this is that Scotland voted for Remain in 2016 and it did not make any difference to the result.
They are likely to vote against anything resembling a "hard Brexit".
Kate Hoey (pictured), John Mann, Frank Field and Graham Stringer - along with the currently independent Kelvin Hopkins - voted with the government in key Brexit votes, helping to ensure Theresa May's survival.
This is the core of a group who say they are standing up for the millions of Labour supporters who voted to Leave the EU.
Mr Field has resigned the Labour whip in Parliament - and is fighting to remain a member of the party - after claiming it has become a "force for anti-Semitism in British politics".
The MP's opponents say he jumped before he was pushed after losing a confidence vote organised by local activists in Birkenhead angry at his support for the government in Brexit votes, which they believe robbed Labour of the chance to force a general election it could have won.
Ms Hoey is also facing calls to be expelled from Labour and has lost a confidence vote in her local Vauxhall Labour Party. Graham Stringer won a confidence vote in his Blackley and Broughton Labour branch.