National Action: Men jailed for being members of banned neo-Nazi group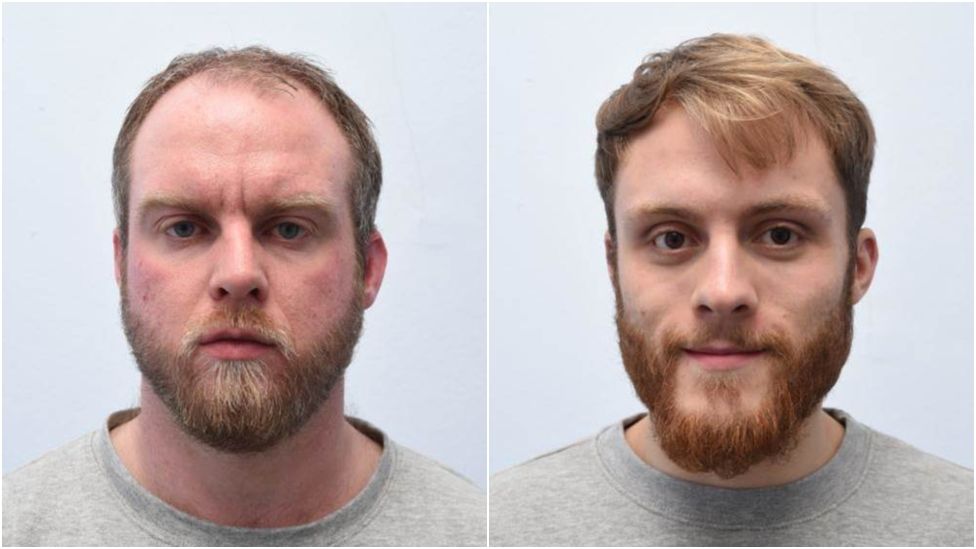 Two men have been found guilty of being members of banned neo-Nazi group National Action.
Christopher Lythgoe, 32, of Warrington, and Matthew Hankinson, 24, of Newton-le-Willows, Merseyside, were convicted after a trial lasting over five weeks.
Lythgoe was jailed for eight years and Hankinson for six.
Earlier in the trial, another man, Jack Renshaw, 23, of Skelmersdale, Lancashire, admitted preparing an act of terrorism after buying a machete.
He admitted buying it for the purpose of murdering West Lancashire MP Rosie Cooper.
A former National Action member, Robbie Mullen, warned the anti-racism charity Hope Not Hate of Renshaw's plan, and they went to the police.
Ms Cooper thanked Mr Mullen and the police forces who helped her, adding: "I think it's awful that any public servant - teacher, nurse, doctor, police, MP - should be targeted and threatened with violence simply because of the job they do."
Home Secretary Sajid Javid said: "The extreme far right has absolutely no place in Britain and I am glad these vile extremists are behind bars where they belong."
A total of six men were on trial at the Old Bailey, accused of being members of National Action.
Lythgoe, the National Action leader, was found not guilty of encouragement to murder for allegedly giving Renshaw permission to kill Ms Cooper on behalf of the group.
Renshaw also admitted threatening to kill Det Con Victoria Henderson, who was investigating him for other matters.
Mr Justice Jay said group meetings after the ban were attempting to keep alive an aspiration that was "truly insidious and evil: the idea that this country should be purged of its ethnic minorities and its Jews; that the rule of law should be subverted; and that once the ideological revolution had taken place this national socialist world view would triumph".
Sentencing Lythgoe, he said: "You are a fully-fledged neo-Nazi replete with concomitant deep-seated, entrenched racism and anti-Semitism."
The judge told Hankinson: "You too are a neo-Nazi who glorifies and revels in a perverted ideology, has a deep hatred of ethnic minorities and Jews and has advocated violence to achieve your objectives."
Jurors were unable to decide either whether Renshaw had remained a member of National Action after it was banned, or whether two other men - Michal Trubini, 35, from Warrington and Andrew Clarke, 33, from Prescot, Merseyside - were guilty of the same charge.
Another defendant - Garron Helm, 24, from Seaforth in Merseyside - was found not guilty of being a member of the group.
It can also now be reported that Renshaw was convicted earlier this year of two counts of stirring up racial hatred in speeches he made in 2016.
National Action, which was founded in 2013, was the first extreme right-wing group to be banned in the UK.
It was proscribed in December 2016 after it was assessed as being "concerned in terrorism".
Earlier that year, the group had celebrated the murder of Labour MP Jo Cox by a white supremacist, which the government said amounted to the unlawful glorification of terrorism.
Det Supt Will Chatterton, head of investigations for counter-terrorism policing for the North West, said: "Today's result has enabled the spotlight to be shone on the sickening activities of the banned extreme right-wing organisation National Action [and] is a body blow to extreme right-wing organisations.
"It sends out a clear message that counter-terrorism officers and partner agencies will rigorously identify and investigate any violently extreme individual or group who seek to bring a reign of terror to our shores."
Deputy director of Hope Not Hate, Jemma Levene, welcomed the sentences, adding: "This case should remind everyone of the ongoing threat posed by the British far right.
"While numerically small and splintered, the British far right is growing in violence. This case has brought National Action to its knees, but we must remain vigilant."