Brexit: Tell EU the Chequers plan is final offer, says Leadsom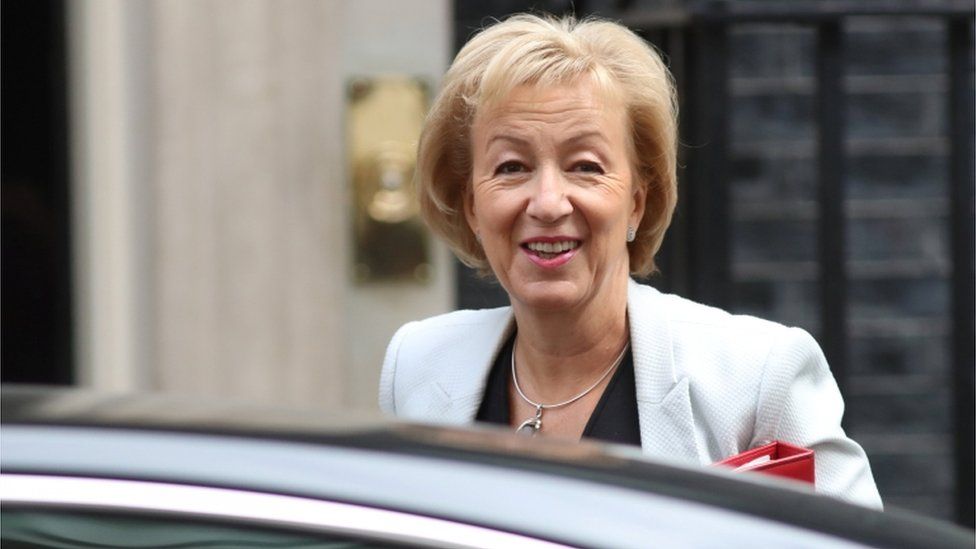 Brussels must be told that the prime minister's blueprint for future UK-EU relations is "the final offer", Commons leader Andrea Leadsom has said.
Boris Johnson and David Davis quit the cabinet over the prime minister's plan.
Theresa May has denied claims the trade proposals were "dead in the water" after accepting Brexiteers' changes to the Customs Bill this week.
The UK is due to leave the EU on 29 March 2019 but has yet to agree how its final relationship with the bloc will work.
After a meeting of the cabinet at Chequers, last week the government published a White Paper setting out its preferred trading relationship with the EU.
The UK is hoping the EU will back the proposals so an exit deal can be struck by the autumn, ahead of the UK's official departure from the EU in March.
But the proposals, including a "common rule book" between the two sides, angered many Tory MPs.
Mrs Leadsom, who campaigned for a Leave vote in the 2016 EU referendum, told The House the prime minister was "planning to engage quite strongly" with Brexiteers over the next few days to "help them to understand" why the Irish border is a serious issue.
She said it was incumbent on the government to "make the case" for the Chequers agreement - but that the EU must know that it was a final offer.
"The EU has simply not taken us seriously so far in terms of the future agreement.
"What this deal does is it says to them, 'right, now we can have a free trading area where there won't be the need for border checks and controls'.
"It's saying to the EU, 'you better take this seriously'. In my view, it's take this seriously or we are heading for no deal. The message to the EU has to be, 'this is the final offer'."
She said the EU were not going to "wriggle away at it and we're going to accept it. It is a very hard and fast offer to the EU that makes sense for them.
"But if they don't accept it, we're also ramping up our no deal preparations. That's where we will be heading and they will have forced us to do that.
"My message to the EU is, 'take this seriously because otherwise, you're forcing us down the road of no deal'."
Both the UK and EU are stepping up preparations for a "no deal" Brexit.
The two sides insist it is not what they want - and that reaching a deal by the autumn is still very much on the cards.
But they have yet to agree how their final relationship will work, with key issues around cross-border trade unresolved, and the UK's official departure date fast approaching.