Labour criticise government's housing plan delay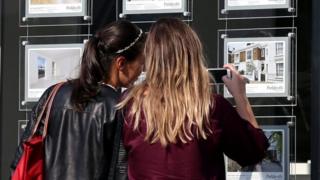 Labour has accused the government of being in "disarray" after it was confirmed long-awaited proposals for social housing would not be published before Parliament's summer break.
A source confirmed the delay to what was trailed as "the most substantial report of its kind for a generation".
The then Communities Secretary Sajid Javid announced last year it would be a "wide-ranging, top-to-bottom review".
Labour's John Healey said ministers had now "missed their own deadline".
The shadow housing secretary said ministers had pledged to publish the social housing policy paper by the time MPs broke up for their summer recess.
"After eight years of failure, this government can't even get its act together to publish a policy paper, never mind fix the country's housing problems," Mr Healey said.
A Ministry of Housing, Communities and Local Government spokeswoman said: "Since the Grenfell Tower tragedy we have been listening to residents and those across the social housing sector.
"Providing high quality and well managed social housing is a top priority for this government.
"Shortly we will publish a Green Paper that sets out a new deal for social housing tenants."
The policy paper is now expected to be published within the next few weeks.