Labour wrong to investigate Margaret Hodge, says Nia Griffith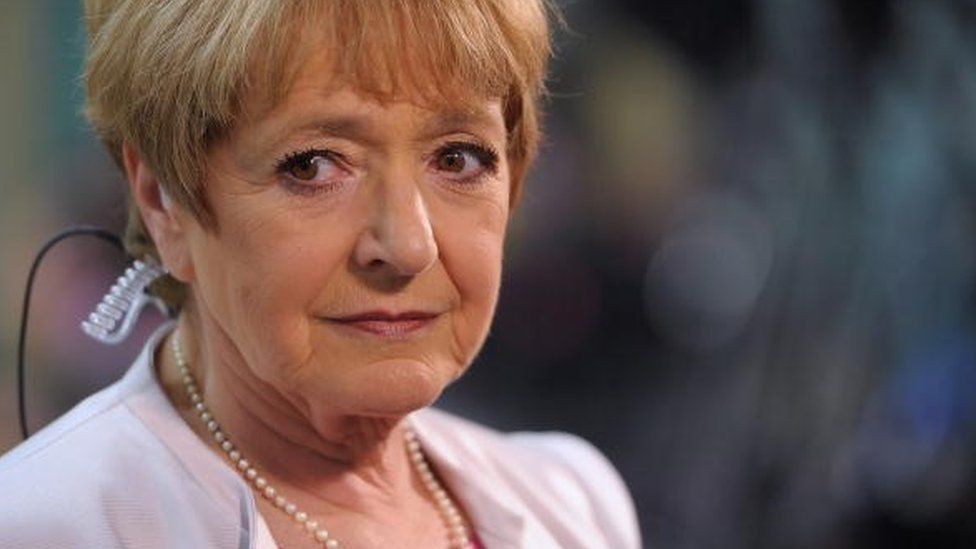 A senior member of Labour's shadow cabinet has criticised the party's decision to launch a disciplinary inquiry into MP Dame Margaret Hodge.
Shadow defence secretary Nia Griffith said it was "completely absurd" and she felt it was unlikely to go ahead.
Dame Margaret could face possible disciplinary action for accusing Jeremy Corbyn of being an anti-Semite.
Shadow chancellor John McDonnell felt Dame Margaret had "misunderstood" Labour's new code of conduct.
"It's just not his way of dealing with things. I think we'd all prefer to have somebody speak to your face rather than behind your back."
Asked if she thought the disciplinary inquiry into Ms Hodge would take place, she said: "I just can't see a situation where we discipline people for speaking their minds to each other, whether it's members of the shadow cabinet or the leader of the opposition himself."
At the weekend, shadow business secretary Rebecca Long-Bailey also attacked the decision to press disciplinary charges, describing the decision as "outrageous".
Earlier on Wednesday, Mr McDonnell said a "complete misinterpretation" of the Labour Party code of conduct was to blame for Dame Margaret's attack on Mr Corbyn.
He told BBC Radio 4's Today programme: "I can understand why she was so angry, if that's what she believed this code had done, and I think it is a complete misunderstanding and we can resolve that amicably."
He said the issue had to be resolved quickly and that Mr Corbyn had asked Labour's chief whip and general secretary to do this.
He said the Labour leader had been "deeply upset" about the "haranguing" from Dame Margaret, adding that he could not interfere in party procedures.
Asked about Mr McDonnell's comments, Jeremy Corbyn said: "I hope she [Dame Margaret] has now had a chance to read the code of conduct that we agreed at the national executive, and I hope she has had time to reflect that this is a very honest endeavour to ensure we prevent any anti-Semitism rising in our party".
Asked if the disciplinary issue should be settled informally, the Labour leader said: "I hope it can move on.
"It's crucial in any form of life, public life or elsewhere, to treat people with respect and not use bad language against them."
Labour's new code of conduct was approved by its National Executive Committee last week, but it was criticised by Jewish leaders and some of its own MPs.
Although it includes the definition of anti-Semitism given by the International Holocaust Remembrance Alliance, it has not incorporated all of the IHRA's "working examples".
Labour MPs will vote in September on whether to adopt the full IHRA wording after passing an emergency motion at a meeting on Monday night.
Dame Margaret confronted Mr Corbyn in the Commons last week, reportedly swearing at him and calling him an anti-Semite.
Speaking to BBC political editor Laura Kuenssberg, she said she "blew my top" when she found out Labour had, despite criticism, adopted the new guidelines.
"And I thought rather than do what politicians usually do, and talk each other down behind our backs, I would go and confront him," she added.