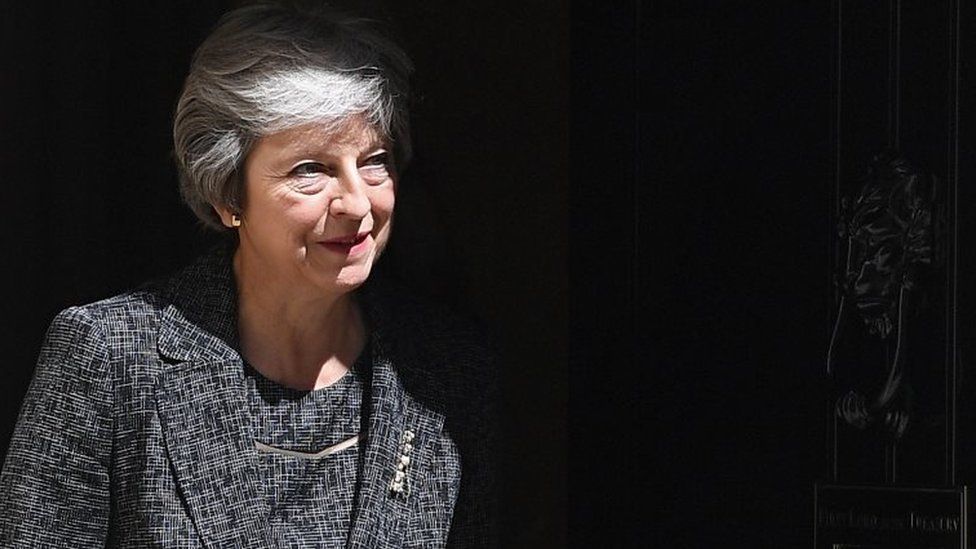 Westminster made it to the summer, just.
It was messy, sweaty, with an almost daily roll call of nightmares for the government.
Senior MPs say privately there were genuine moments, even last week, when various colleagues - not the usual suspects - were agitating to try to remove the prime minister.
The government lost an important vote, but scraped through a vital one.
The chief whip got caught out with some epic skulduggery.
Big cabinet bruisers walked out, trashing the main government policy as they did.
As the temperature rose, so did tempers.
One senior MP told me that some significant Conservative backers were discussing withholding their next donations to the party because they were so unhappy at how Number 10 has been handling things.
There have been plenty of moments of "it can't go on like this". But, "it" can, and it normally does.
After the summer break then, when the prime minister will hope everyone in her party has calmed down, rather than plotted on WhatsApp from their sun loungers, how does the government "go on like this"? What are the ways through?
The first thing to say is that no country has left the European Union before like this. So there is no precedent. There is no map.
Whether you find it deeply thrilling, or deeply alarming, ask even those who have held some of the highest offices in the land what happens if it all goes wrong and they don't know.
There are, though, scenarios that can be sketched out.
This might be fantasy but it's not impossible. Say Theresa May manages to get the EU to broker something on the basis of her latest plan and comes back with what one of her longstanding allies describes as "Chequers minus minus".
There will likely have to be concessions on giving the EU more cash and more concessions on immigration, but it is a just about swallowable deal.
It won't have escaped your notice by now that warnings about "no deal" are coming thick and fast, and ever more scarily, from ministers' mouths.
This is no coincidence. It is not beyond the wit of man to see that stoking concern about "no deal" could, conveniently, encourage MPs to feel they have little choice but to vote for it.
However, it is abundantly clear that there is a solid core of Brexiteer Tories who simply would not vote for it.
And you can near as dammit be sure that Labour's official position won't be to back the government.
One of the Labour leadership team told me: "We will push her to the brink."
Don't underestimate either the concern that could spread far and wide about whether a deal like that would really be what people had voted for.
So far, Number 10's analysis that the majority of people just want the prime minister to get on with Brexit and are not paying huge attention has been shown to be more or less right (not withstanding very vocal groups on either side of the debate).
The dynamics of the actual deal might well change that.
But in Parliament, senior backers of Mrs May know that to get the vote through they'd have to rely on many Labour MPs either abstaining or voting with the government.
If rejecting the deal feels like opening Pandora's box versus supporting a fudgey compromise, there could well be enough of them to allow Mrs May to squeak through. Maybe.
And then, maybe, Europe will go back to being just another issue, albeit an important one.
We will be in the EU departure lounge for a couple of years. Trade talks will be tricky, there will be plenty to sort out - but a deal will have been done and the government can, in theory, tell the public we are out, and life can get back to something approaching normal. Hmmm.
It's also possible to see how the government does not even get that far.
Right now, it seems the prime minister is absolutely intent on getting a deal.
Those who know her well (it's not a long list!) say that is what is driving her above all else - getting something done.
The mantra "no deal is better than a bad deal" has not aged well.
But if the further concessions that the rest of the EU demands, for demand they will, are just too intense, requiring too much on immigration, or extra payments, forcing the prime minister not just to pinken her red lines but to scrub them out altogether, then maybe that could change and she could walk away.
Right now it seems unlikely, but the chances of no deal have been rising.
One diplomat, in sorrow more than anger, last week said to me he simply couldn't see how the EU would be able to offer anything that the prime minister could get through Parliament. Yes, anything that is viable at all.
But if there is "no deal", and the government actually puts that on the table, it is hard to see Parliament backing that either.
Many Tories, including many in government, are talking about when, not if, they make it plain that they would never support leaving without concluding an agreement. Those discussions are taking place, including among some serving ministers.
What some Brexiteers have always wanted - a simple free trade deal - does find supporters around the EU.
Indeed, one well-placed official suggested to me that if the White Paper wasn't coherent or workable, and the jury is very much out on that, then the EU could simply say in October, it's a basic deal on trade or nothing.
Some Brexiteers would rejoice. But that would also have to come with the backstop to prevent a hard border in Ireland, which right now, despite all sorts of ideas being floated, is still a huge obstacle to getting a deal done.
The prime minister says she simply couldn't sign up to it. And until there is a shift - or a magical solution - that way through the quagmire is out of reach.
And indeed, if it becomes obvious in the autumn that the prime minister wants to sign something that is even more of a compromise than Chequers, then her nemesis, the Eurosceptics, might try to oust her well before she gets to bring the deal to Parliament. Then we are properly in a land where anything is possible.
The Article 50 process is a legal mechanism, with a fixed deadline.
But if the ruling party crashed into a leadership contest? If there was no one to negotiate with?
Could that mean a general election? Perhaps, a second referendum? Not out of the question. The People's Vote campaign pushing for this are stepping up their activities - not just in Westminster but around the country.
By the time we sign off next summer, the government could have just navigated its way through the most complicated and troublesome political waters in decades.
Or there could be a new prime minister, and the Conservative Party might have actually succeeded in smashing itself to bits.
It will be 13 years then since David Cameron vowed the Tories would "stop banging on about Europe". It seems deeply optimistic to imagine that by then, they will have been able to move on.
I, however, for the next few weeks won't be banging on about anything. It's the political holidays. Thank you for reading this page through another epic political year, and I'll see you on the other side when, the only thing I am really sure of, there will be plenty more to discuss.