London mayoral race: Conservative candidate profiles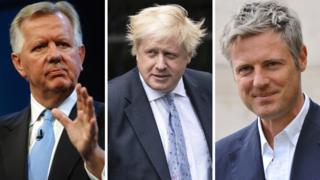 After facing criticism for being slow off the mark ahead of the 2016 mayoral race, the Conservatives have been quicker with their shortlist of candidates for 2020 London Mayoral Election. But who are the three left on the shortlist...
Shaun Bailey
Born: North Kensington, London
Age: 47
Current residence: Romford
Position on EU: Leave
Known for: London Assembly member, former special advisor to David Cameron, former youth worker.
Background: Mr Bailey grew up in the Ladbroke Grove area of West London, on the Bracewell Road estate. His family are of Jamaican origin.
He was brought up by his mother after his father, a lorry driver, left the family - although he went on to rebuild his relationship with his father.
Mr Bailey, who is married with two children, worked as a security man at Wembley and London's Trocadero Centre to help finance his way through his time at university.
In 2008, Mr Bailey was branded "future home secretary" by society magazine Tatler and was subsequently dubbed one of five "Tatler Tories" whose parliamentary bids were unsuccessful in 2010.
He was elected to the London Assembly in May 2016. He is currently deputy leader of the Conservative Greater London Authority Group.
Mr Bailey has cited a Public Enemy Song, "She Watch Channel Zero?!", as influential on his decision to enter politics.
In 2005, he published a document for the Centre for Policy Studies (of which he remains a research fellow), No Man's Land, in which he criticised liberalism and the state of inner-city neighbourhoods: "The more liberal we have been, the more our communities have suffered." He was particularly citing the Ladbroke Grove area of London.
In 2006, Mr Bailey helped establish My Generation, where he worked as a youth worker for almost twenty years. The charity aimed to combat drugs, teenage pregnancy and encourage self-help before it was dissolved in 2012.
Mr Bailey ran as a parliamentary candidate for Hammersmith, west London, in 2010 - a key marginal seat, but he failed to get elected.
He was one of Cameron's 100-strong "A list" candidates for the then leader's "changing faces of the Conservative Party" campaign. Only 38 of these ended up getting elected in 2010.
He's said of David Cameron: "He's very sharp, and for someone from Eton he has a real understanding."
Mr Bailey also stood in Lewisham West and Penge in the 2017 election, coming second.
Following the 2010 general election, he served as a special adviser for David Cameron between 2010 and 2013.
He was appointed as the ambassador for David Cameron's big society agenda in 2011, before he was made a special advisor on youth, crime and welfare issues. He also went on to serve in advisory roles in the Cabinet Office and the Department for Education.
Mr Bailey has said poor communities "need a bit more right-wing politics". He has spoken of his hatred of what he claims is an oversized welfare state in Britain, blaming this "liberalism", for the dependency culture he says it has produced among the British black population.
Mr Bailey told the Telegraph in 2008 part of his value to the Conservatives is as a "social translator", explaining to the middle classes how people on estates think.
2020 Mayoral Pledge: "My family first came to London in the fifties as part of the Windrush generation. They came to work hard and contribute to the country. I want to continue that tradition by making London an even better place to work, and a better place for your family.
"Sadiq Khan is a mayor who has constantly broken his promises to Londoners. He is far more interested in promoting his image and pursuing PR opportunities than he is in showing leadership on tackling knife crime or building the homes London needs. Londoners deserve better."
Joy Morrissey
Born: United States
Age: 37
Current residence: Ealing
Position on the EU: Leave
Known for: Ealing and Acton councillor
Background: Ms Morrissey was born in Indiana, in the United States. Her father is a church leader from Ohio, earning her the media nickname "the other vicar's daughter" (alongside Theresa May). She has been a British citizen for around ten years, having originally come to the capital to study for her Masters in European Social Policy at the London School of Economics. She's married with one daughter.
Ms Morrissey joined the Conservative Party in 2008 and was elected to Ealing Council in 2014. She worked as an actress under the name Joy Boden before entering politics, starring in films such as Geek Mythology (2008), and Only One Can Play (2009).
She told Ealing Today: "After deciding not to go back to work in the film industry after having a child I actually looked at going back to get my PhD in international development but got involved with the local Ealing Conservatives. One thing has led to the other and here we are."
As a councillor, she is the current Conservative policy forum champion for social housing tenants. Since 2016 she has also worked for the Centre for Social Justice.
Ms Morrissey was a Conservative parliamentary candidate in the 2017 general election for the Ealing Central and Acton constituency, which at the time was an ultra-marginal seat - Labour had slipped through in the 2015 election with a 274 vote majority.
The councillor threatened legal action against the constituency's sitting Labour MP Rupa Huq, and pulled out of hustings for what she described as lies in Labour campaign leaflets (in particular, claims she supported the closure of Ealing Hospital and that she was a "Hard Brexit Activist"). Ms Huq went on to hold the seat, with a vote increase of about 12%.
Ms Morrissey has made the case for "compassionate" Conservatism that places social action and initiatives for disadvantaged communities at the heart of policy. She advocates locally-driven initiatives as opposed to state-led intervention.
Ms Morrissey also believes Conservative policy on the housing crisis should focus on market-based solutions, and believes cutting "suffocating red tape" will give police officers better scope for tackling crime.
2020 Mayoral pledge: Ms Morrissey says her campaign will focus around three main issues; tackling London's crime rate, social justice and affordable housing.
She told Conservative Home: "Like a lot of Londoners, I wasn't born here. I moved here as an immigrant and I fell in love with this vibrant city which is now my home and the place I'm raising my family.
"I have shared the journey of frustration that many Londoners experience when it comes to trying to get on the housing ladder. Addressing this struggle, that so many face, must be one of our top priorities."
Andrew Boff
Age: 60
Current residence: Barking Riverside
Position on EU: Leave
Stance on key policies: Supports legalisation of cannabis
Known for: London Assembly member, bids for mayoral office over the years
Background: Mr Boff was born in Hillingdon to a mother who was an NHS worker and local councillor from east London. His father was a policeman from west London.
He was active in Conservative Youth branches in the 1970s, founding a branch himself whilst at school.
He is the nephew of Roy "Little Legs" Smith, who allegedly worked for notorious London gangsters the Kray brothers.
A former Hillingdon councillor and European election candidate in the 1990s, Mr Boff, who now works as an IT consultant, will be a familiar face to many Londoners. He ran for the Conservative nomination in 2000, 2004 and 2008 - coming second in both the latter years. He's reportedly described his attempts at the mayoral candidacy as a "tradition".
He also came second in both attempts to become the mayor of Hackney in 2002 and 2006. Mr Boff ran again for the mayoralty in 2010, coming third.
In 2008, Mr Boff was elected to the London Assembly. He was subsequently re-elected in 2012 and 2016. He served as leader of the Conservative Party in the London Assembly from 2012 to 2016.
Mr Boff has written and spoken extensively on his libertarian principles. He supports the legalisation of cannabis to end "the violence and misery brought about by prohibition". He has also called for a London trial of a "managed street prostitution area" as a way to provide better protection for street sex workers.
2020 Mayoral pledge: Violent crime, housing and changes to the Hammersmith and City underground line have been identified as key priorities for Boff.
He told Conservative Home: "I want a plan for London that respects this city's different parts, that enhances them rather than just trying to make them the same.
"I reject Khan's thinly-veiled war on the suburbs which aims to turn outer London into inner London. I also reject the idea that Central London is some kind of theme park, hostile to people who want to bring up families."