Austria's Sebastian Kurz tells Theresa May to avoid 'hard Brexit'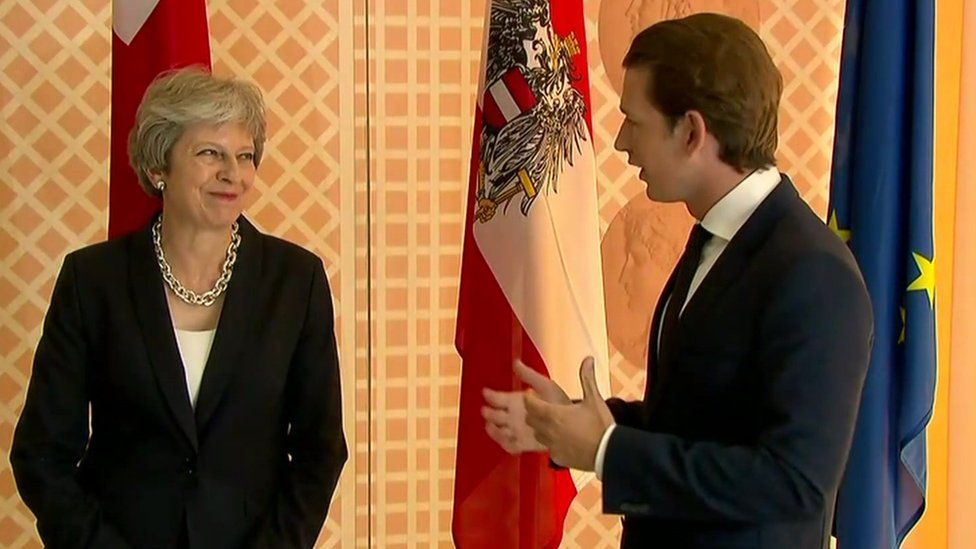 Austrian chancellor Sebastian Kurz has told Theresa May it is "important to avoid a hard Brexit", after talks with the UK prime minister.
Mrs May is in Salzburg as part of a mission by UK ministers to sell their post-Brexit trade proposals.
Mr Kurz said he viewed Brexit "negatively" but felt negotiations were going "quite well".
Mrs May then held talks with Czech PM Andrej Babis before heading off on her summer holidays.
Speaking at a brief joint press conference, Mr Kurz, who has just assumed the EU presidency for six months, said: "The Brexit decision is a decision we see very negatively.
"But, of course, it has been taken by the British people so now we have to find a way to deal with it, and from our point of view it is important to avoid a hard Brexit."
He said he hoped the UK's talks with EU chief negotiator Michel Barnier would be successful and a "solution" could be found by October.
The BBC understands that Mr Kurz has indicated he supports the idea of EU leaders holding formal Brexit talks at a summit in Salzburg in September.
Mrs May hailed the strength of the UK's relationship with Austria, adding: "We are delivering on a vote of the British people, they chose to leave the EU and we will deliver that."
Later, Mrs May pitched her idea for a post-Brexit free trade area to her Czech counterpart Andrej Babis.
A Downing Street spokesman said: "She highlighted that a UK-EU free trade area would maintain frictionless trade that would enable businesses across Europe to maintain their vital integrated supply chains.
"They agreed it was important to find a solution and that negotiations should continue at pace."
Both the EU and UK say a deal can be done by October - five months before the UK is due to leave the European Union - but have also said preparations are being made in case negotiations end in no deal.
Mr Barnier has already rejected a key element of her proposal for post-Brexit trade with the EU.
International Trade Secretary Liam Fox has accused the EU of pushing the UK towards a "no deal" scenario because they "keep saying no to everything".
Mr Fox, who is on a trade mission to San Francisco, told Business Insider the UK should leave without a deal if talks break down, rather than requesting an extension of the Article 50 process to continue negotiations, as some have suggested.
"To attempt to extend our membership even longer, many voters would regard as a complete betrayal by the political class, and I think they would be right," he added.
Mrs May's trip to Austria is one of several being made to Europe by British government ministers over the summer to promote her plan, detailed in the Brexit White Paper, to European leaders.
Foreign Secretary Jeremy Hunt met his German counterpart in Berlin on Monday and the UK chancellor, home secretary, business secretary and the minister for the Cabinet Office are also meeting counterparts across Europe over the summer.
Following talks in Austria, Mrs May will head to Italy with her husband, Philip, for a week before returning to the UK to work.
She is also due to attend a World War One memorial event marking the centenary of the battle of Amiens, which began on 8 August 1918, before heading off for two weeks' holiday in Switzerland.
'No sign they are willing to budge'
Analysis by BBC Diplomatic Correspondent James Robbins
Salzburg in high summer is packed with tourists and music lovers enjoying the annual festival.
Theresa May went to the opera on Friday night, but only after her talks with Mr Kurz and Mr Babis.
The prime minister is hoping to persuade them to urge others in the EU27 to relax their common position - particularly by accepting her proposals for continuing free movement of products after Brexit.
But there's no sign either Austria or the Czech Republic is willing to budge. Eurosceptic feeling may be strong among their populations, but neither leader is contemplating following Britain out of the Union.
Instead, both governments believe Mrs May is still cherry-picking and that Britain must blink first to avoid what they call a catastrophic crash-out they are convinced would hurt the UK far more than the EU.
Mozart's The Magic Flute, in the city of his birth, should have been something of a relief for Mrs May.
The UK's Brexit White Paper, drawn up after agreement with the cabinet at Chequers, proposes close ties in some areas, such as the trade in goods, but Mrs May says it will end free movement of people and the jurisdiction of the European Court, and allow the UK to strike trade deals with other nations.
It would involve the UK collecting some EU tariffs - in a bid to ensure frictionless trade in goods and to avoid a hard border in Northern Ireland - under its proposed Facilitated Customs Arrangement for goods and agri-foods.
The plan sparked two UK cabinet resignations - former Brexit Secretary David Davis and former Foreign Secretary Boris Johnson.
Mr Barnier said on Thursday that the EU "will not delegate the application of its customs policy and rules and VAT and excises duty collection to a non-member who would not be subject to the EU's governance structures".
Any customs arrangement or union "must respect this principle", he said.