Removal vans spotted at Boris Johnson's official residence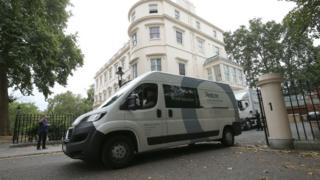 Removal vans have been spotted outside the grace-and-favour home used by Boris Johnson when he was foreign secretary.
Three weeks after quitting in protest at Theresa May's Brexit plans, his belongings were being removed from One Carlton Gardens in central London.
Remain protesters recently held a stunt involving a "Leave Means Leave Removals Ltd" van outside the residence.
The Foreign Office said there had been no extra cost to Mr Johnson remaining there since he resigned.
"Former ministers are expected to leave official residences as quickly as practicable at the end of their tenure, taking into account their personal circumstances and family requirements," a spokesman said.
A lorry and a minivan were parked behind the black gates of the property on Monday.
A series of white boxes were loaded into the lorry - along with what appeared to be a case of wine, a large painting, an armchair and a home gym kit.
Mr Johnson was replaced as foreign secretary by Jeremy Hunt.