A guide to Labour Party anti-Semitism claims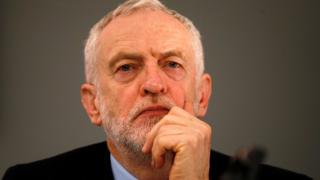 The internal Labour row over anti-Semitism has dragged on for nearly three years. Here's a guide to what's been going on.
What is anti-Semitism?
Anti-Semitism is defined by the Oxford English Dictionary as "hostility and prejudice directed against Jewish people".
Jewish people have faced such prejudice for centuries. This hatred culminated in the murder of six million Jews by the Nazis in World War Two.
Modern-day anti-Semitism can take many forms, including, but not limited to, conspiracy theories about Jewish control of the global financial system and the media, to attacks on synagogues, verbal abuse or hate speech and abusive memes on social media.
In 2018, anti-Semitic hate incidents in the UK reached a record high, according to the Community Safety Trust, which monitors them.
Why is Labour rowing about it?
Jeremy Corbyn has a more internationalist outlook than recent Labour leaders - he comes from a left-wing tradition of campaigning against Western imperialism and aggression.
He is a longstanding member of the Palestinian Solidarity Campaign and has been accused by opponents of being too close to Hamas, a militant Islamist group, and Hezbollah, a Lebanese paramilitary group.
Mr Corbyn has always insisted his motivation in talking to such groups in the past was the promotion of peace in the Middle East.
But that accusation has led many to conclude that Mr Corbyn and those who share his views are not prioritising the fight against anti-Semitism.
Some of Mr Corbyn's supporters, however, say the problem has been exaggerated and is being used as a stick to beat the Labour leader by people who don't like him or his brand of socialism.
And some of those who joined the party to vote for Mr Corbyn as leader in 2015 share his passionate belief in the rights of Palestinians to their own state and are vocal critics of Israel.
Others say the party is not doing nearly enough to root out anti-Semitism in its ranks.
Anti-Semitism and Anti-Zionism
Debates about claims of anti-Semitism in Labour often involve Israel and another term, anti-Zionism.
Zionism refers to the movement to create a Jewish state in the Middle East, roughly corresponding to the historical land of Israel, and thus support for the modern state of Israel.
Some say "Zionist" can be used as a coded attack on Jewish people, while others say the Israeli government and its supporters are deliberately confusing anti-Zionism with anti-Semitism to avoid criticism.
What is Labour doing about anti-Semitism?
Labour's General Secretary Jennie Formby says she has strengthened and speeded up the party's disciplinary procedures, with more staff to handle investigations, although some Labour MPs say it is not enough.
Former Lord Chancellor Lord Falconer had been asked by Labour to lead a review of the party's handling of anti-Semitism claims, but said he would hold off to see whether the Equality and Human Rights Commission (EHRC) carried out their own investigation.
What's the latest?
The EHRC told Labour in March 2019 that they had received a number of complaints about anti-Semitism within the party and were considering an investigation - giving Labour 14 days to respond to them.
At the end of May 2019, the watchdog confirmed it would be carrying out a formal probe to look at whether Labour "unlawfully discriminated against, harassed or victimised people because they are Jewish".
Labour said it would co-operate fully with the investigation.
But its spokesman said the party "rejects any suggestion that the party does not handle ant-Semitism complaints fairly and robustly, or that the party has acted unlawfully".
The EHRC said it would publish a report of its findings, which could include recommendations.
The breakaway MPs
Nine MPs quit Labour in February, many of them citing the leadership's handling of anti-Semitism, as well as its Brexit stance, as their reason for leaving.
Chuka Umunna, Luciana Berger, Chris Leslie, Angela Smith, Mike Gapes, Gavin Shuker and Ann Coffey announced their resignations at a press conference.
Ms Berger said she had come to the "sickening conclusion" that the party had become institutionally anti-Semitic and that she was "embarrassed and ashamed" to stay.
Two days later, Joan Ryan quit Labour and joined the new Independent Group of MPs, claiming the party has "become infected with the scourge of anti-Jewish racism".
Ian Austin also left the party, blaming Mr Corbyn for "creating a culture of extremism and intolerance". He, however, did not join the Independent Group.
Ms Berger, who is Jewish, has been the MP for Liverpool and Wavertree since 2010.
She has openly criticised the party's handling of anti-Semitism claims and, in March 2018, attended a protest in Westminster's Parliament Square.
The MP has been the target of anti-Semitic abuse on social media and had a police escort at last year's Labour Party conference following death threats.
Members of her local party tabled motions of no confidence in her, citing her criticism of Jeremy Corbyn in the media, but these were withdrawn after a row erupted at the top of the party.
Ms Berger's supporters, including deputy leader Tom Watson, claims she has been "bullied out of her own party by racist thugs".
Williamson row
MP Chris Williamson, a close ally of Mr Corbyn, has been suspended by the party for telling activists at a meeting Labour had been "too apologetic" in the face of criticism over anti-Semitism.
The Derby North MP told BBC News he was "absolutely determined" to clear his name and did not want anyone to think he was "minimising the cancer of anti-Semitism".
His suspension - and an internal investigation into his conduct - was welcomed by several Labour MPs.
But campaign group Jewish Voice for Labour said he had simply been highlighting figures that showed complaints over the past 10 months had led to 453 cases of anti-Semitism being investigated, which involved a tiny fraction of Labour's membership.
The group says it is wrong to suggest Labour is "rife with anti-Semitism". A small number of local Labour parties have backed calls for him to be re-instated.
Definition row
In July 2018, Labour adopted a new code which critics, including Jewish leaders and some Labour MPs, said was not as comprehensive as the International Holocaust Remembrance Alliance's guidelines.
The row centred on a list of "contemporary examples of anti-Semitism" cited by the IHRA, not all of which were replicated in full in Labour's version.
Examples not covered in Labour's version included:
accusing Jewish people of being more loyal to Israel than their home country
requiring higher standards of behaviour from Israel than other nations
Labour did not accept the criticism but carried out a consultation and, a few months later, adopted the full IHRA definition and examples, along with an accompanying statement that "this will not in any way undermine freedom of expression on Israel or the rights of Palestinians".
Critics have said the addition of a "caveat" undermines the international definition - but Labour says it is intended to reassure members they can be critical of Israel without being anti-Semitic.
Mr Corbyn proposed a longer additional statement - which would have allowed criticism of the foundation of the state of Israel as racist - but this was not accepted by the party's ruling executive.
'English irony' video
Mr Corbyn faced criticism in August 2018 after a video emerged in which he said a group of British Zionists had "no sense of English irony".
The 2013 clip was published on the Daily Mail website.
Former chief rabbi Lord Sacks branded the comments as "the most offensive statement" by a politician since Enoch Powell's "Rivers of Blood" speech and accused the Labour leader of being an "anti-Semite".
Mr Corbyn said he had used the term "Zionist" in an "accurate political sense and not as a euphemism for Jewish people".
He added: "I am now more careful with how I might use the term 'Zionist' because a once self-identifying political term has been increasingly hijacked by anti-Semites as code for Jews."
It wasn't the only row he was embroiled in last summer.
The Tunis wreath row
In August 2018, the Labour leader also came under fire over his presence at a ceremony in Tunisia in 2014 which is said to have honoured the perpetrators of the 1972 Munich terror attack, during which 11 members of the Israeli Olympic team were taken hostage and killed.
The Israeli prime minister Benjamin Netanyahu said Mr Corbyn deserved "unequivocal condemnation" for laying a wreath on the grave of one of those behind the atrocity.
The Labour leader tweeted that Mr Netanyahu's claims about his "actions and words are false", adding: "What deserves unequivocal condemnation is the killing of over 160 Palestinian protesters in Gaza by Israeli forces since March, including dozens of children."
Mr Corbyn said he had attended the event in Tunis as part of a wider event about the search for peace.
The Holocaust memorial event
Earlier in August 2018, Jeremy Corbyn apologised over an event he hosted as a backbench MP in 2010 where a Holocaust survivor compared Israel to Nazism.
After the Times published details of the event, the Labour leader said he had "on occasion appeared on platforms with people whose views I completely reject" and was sorry for the "concerns and anxiety that this has caused".
Mural row
In March 2018, Mr Corbyn was criticised for sending an apparently supportive message to the creator of an allegedly anti-Semitic mural in 2012.
In a message sent via Facebook, he had appeared to question a decision to remove the artist's controversial mural. He later said he had not looked at it properly, calling it "deeply disturbing and anti-Semitic".
The artist, called Mear One, denied this, saying the mural was about "class and privilege".
Following the row over Mr Corbyn's mural remark, he said he would not tolerate anti-Semitism "in and around" Labour.
"We must stamp this out from our party and movement," he said.
"We recognise that anti-Semitism has occurred in pockets within the Labour Party, causing pain and hurt to our Jewish community in the Labour Party and the rest of the country.
"I am sincerely sorry for the pain which has been caused."
What else has happened?
In March 2018, the head of the Labour Party's disputes panel quit after it emerged she had opposed the suspension of a council candidate accused of Holocaust denial. Christine Shawcroft said she had not not been aware of the "abhorrent" Facebook post that had led to his suspension
In July 2018, the UK's three main Jewish newspapers published the same front page, warning that a government led by Mr Corbyn would pose an "existential threat to Jewish life".
Earlier that month the party brought disciplinary action against the Labour MP Margaret Hodge, after she reportedly called Mr Corbyn an "anti-Semite" and a "racist".
Ms Hodge refused to apologise and the action was later dropped.
MP Frank Field quit the party's group in Parliament in August 2018, saying the leadership had become "a force for anti-Semitism in British politics".
The veteran politician has represented Birkenhead for almost 40 years.
There were also calls for one of Mr Corbyn's allies, Peter Willsman, to quit the party's ruling body after he criticised "Trump fanatics" in the Jewish community.
Other controversies
In 2016, Mr Corbyn announced an independent inquiry into anti-Semitism and other forms of racism in the Labour Party.
That was after his party suspended an MP, Naz Shah, and the former Mayor of London, Ken Livingstone.
Ms Shah was suspended over historical social media posts, including one suggesting Israel should be moved to the United States. When she was reinstated, she blamed the posts on her "ignorance", admitting they were anti-Semitic.
Mr Livingstone - a long-term ally of Mr Corbyn - was suspended in 2016 over remarks he made as he defended Naz Shah.
His comments, linking Hitler and Zionism, led to calls for him to be thrown out of Labour. He said he had been misquoted and repeatedly insisted his version of events was historically accurate. But in May 2018, he quit the party, saying his long-running case had become a "distraction" for the party and its political ambitions.
An inquiry, carried out by human rights campaigner Shami Chakrabarti, concluded that while the Labour Party was not overrun by anti-Semitism, there was an "occasionally toxic atmosphere" and made a series of recommendations, not all of which have been implemented yet.