Boris Johnson facing Tory investigation over burka comments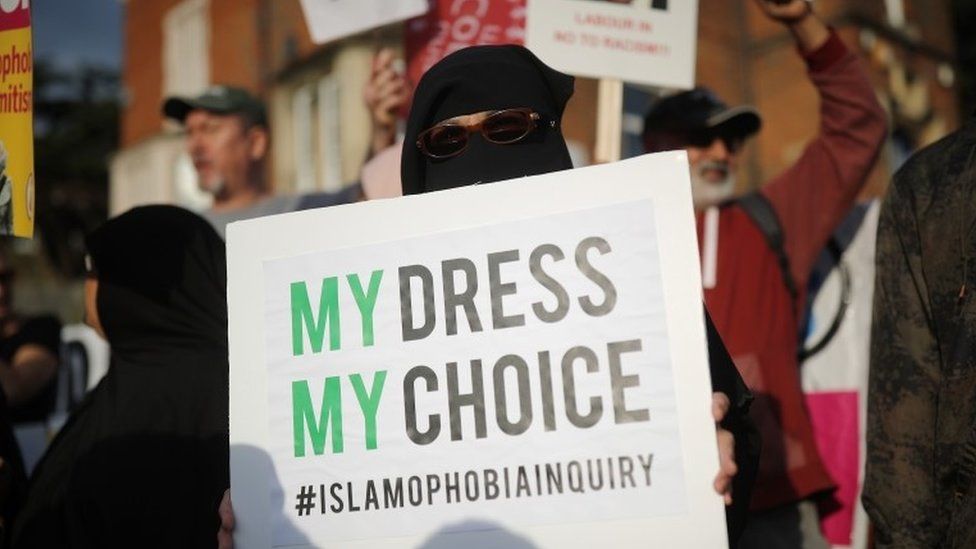 Boris Johnson is facing a possible investigation into breaches of the Conservative Party code of conduct.
The party has received dozens of complaints about the ex-foreign secretary's comments about Muslim women wearing burkas.
The complaints will be looked at by an independent panel which could refer Mr Johnson to the party's board, which has the power to expel him.
The party declined to comment on the details of the investigation.
A Conservative Party spokesman said: "The code of conduct process is strictly confidential." A source close to Mr Johnson offered no comment.
Meanwhile more than 30 protesters have gathered in Mr Johnson's constituency of Uxbridge, calling for his resignation.
Mr Johnson has rejected calls to apologise for saying people wearing burkas looked like "letter boxes" or "bank robbers", in a Daily Telegraph column in which he also argued against a ban on full-face veils.
Critics have accused him of stoking Islamophobia to boost his Tory leadership ambitions but his supporters have said he was speaking up for "liberal values".
It comes as a watchdog which advises ex-ministers on taking new jobs ruled that Mr Johnson broke ministerial rules by taking up his weekly column at the Telegraph without consulting it first.
The Conservative Party has been accused of not doing enough to tackle anti-Muslim prejudice in its ranks, despite an initiative to boost tolerance and diversity.
The party's code of conduct states that Tory officials and elected representatives must "lead by example to encourage and foster respect and tolerance" and not "use their position to bully, abuse, victimise, harass or unlawfully discriminate against others".
The independent panel will decide whether to refer Mr Johnson to the party's board. Possible action includes suspension of membership or expulsion from the party among other, lesser sanctions.
Conservative Party chairman Brandon Lewis and leader Theresa May have both called on Mr Johnson to apologise for his comments.
The founder of the Conservative Muslim Forum, Lord Sheikh, has written to Mr Lewis demanding "serious action", while former attorney general Dominic Grieve said he would quit the party if Mr Johnson became prime minister.
A hundred Muslim women who wear the niqab or burka have signed a letter to Mr Lewis, calling on him to withdraw the Conservative whip from Mr Johnson and launch an independent inquiry into Islamophobia in the party.
"We are not forced to make these clothing choices, nor are we oppressed," the women write in their letter, which has been issued to the media by the Muslim Council of Britain.
They say Mr Johnson's words will "inflame tensions in a way that makes it easier for bigots to justify hate crimes against us".
Azmat Parveen, who attended the protest in Uxbridge on Thursday, called Mr Johnson's comments "painful".
"This is a way of life, I want to choose this way and somebody remarks on it, I can't bear it, it is very, very rude," the 68-year-old said.
"I want him to leave his seat."
Earlier, Metropolitan Police Commissioner Cressida Dick said that while many have found Mr Johnson's remarks offensive, officers had decided that he did not commit an offence.
She also confirmed that police have not received any criminal complaint against the former foreign secretary.
"I also know that many other people believe strongly that in the whole of the article, what Mr Johnson appears to have been attempting to do was to say that there shouldn't be a ban and that he was engaging in a legitimate debate," she added.
Asked what she made of the language used by the ex-cabinet minister, Ms Dick told the BBC Asian Network: "Some people have clearly found it offensive.
"I spoke last night to my very experienced officers who deal with hate crime and, although we have not yet received any allegation of such a crime, I can tell you that my preliminary view having spoken to them is that what Mr Johnson said would not reach the bar for a criminal offence. He did not commit a criminal offence."
She added: "I am proud to police in a liberal democracy in which people have the right to express their opinions.
"What Mr Johnson said, if it is not criminal, is a matter for Mr Johnson and his friends and colleagues and indeed for the Conservative Party."
The police and Crown Prosecution Service define a hate crime as "any criminal offence which is perceived by the victim or any other person, to be motivated by hostility or prejudice, based on a person's disability or perceived disability; race or perceived race; or religion or perceived religion; or sexual orientation or perceived sexual orientation or transgender identity or perceived transgender identity".