Jeremy Corbyn 'unaware' of militant group figure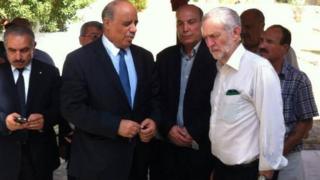 Jeremy Corbyn has said he did not know that a man he stood next to at a wreath-laying ceremony was a senior member of a militant Palestinian group.
Maher Taher, of the Popular Front for the Liberation of Palestine (PLFP), was pictured alongside the Labour leader at a 2014 event in Tunis.
The PLFP was later linked to an attack on an Israeli synagogue. The US and EU consider it to be a terrorist group.
Mr Corbyn told the BBC: "I was unaware of any of his background."
He was asked about the latest in a series of newspaper reports scrutinising his presence at the wreath-laying ceremony, which he attended during a trip to a Palestinian rights conference in the Tunisian capital.
"I don't share platforms with terrorists," Mr Corbyn said. "I don't believe in killing people.
"I have attended memorial events for those that have died in the sadness of all of these conflicts, and that is my position."
Labour has complained to the press watchdog about newspaper coverage of his trip, claiming that reporting in the Daily Mail, Sun, Times, Daily Telegraph, Express and Metro newspapers had "seriously misrepresented the event" and "underplayed the role of mainstream Palestinian leaders conducting the ceremony".
Mr Corbyn has said that his attendance at the wreath-laying was to honour innocent people killed in a 1985 Israeli air strike on the Palestinian Liberation Organisation (PLO) headquarters in Tunis.
However, reports have pointed out he was pictured with a wreath near memorials for people accused of having links to a terrorist attack in which 11 hostages from the Israeli Olympic team and a West German policeman were killed during the 1972 Munich Games.
High-level Palestinian figures were present at the ceremony, including Fatah Central Committee member Azzam al-Ahmad, the Palestinian ambassador to Tunisia, Salman el-Herfi, and Maher Taher, a senior figure in the PFLP's political wing.
The PLFP was formed as a resistance movement after the occupation of the West Bank by Israel in 1967. It is treated as a terrorist organisation by the US and European Union.
In November 2014, two members of the group armed with axes stormed a synagogue complex in West Jerusalem and killed four rabbis - including British-born Avraham Shmuel Goldberg. According to reports at the time, it was not clear how involved the PFLP leadership had been in the attack.
Labour remains embroiled in a row about anti-Semitism with the party. It has adopted a new code of conduct on anti-Semitism, but critics say it is not as comprehensive as the International Holocaust Remembrance Alliance's guidelines .
On Thursday, union boss Len McCluskey called on the party to adopt the full IHRA definition of anti-Semitism and said Labour had been "insensitive" on the issue.
But he wrote in the Huffington Post that anti-Semitism in Labour, while "not manufactured" had "certainly been wildly exaggerated".
'Dial down rhetoric'
He said Jewish community leaders had shown "intransigent hostility" to Mr Corbyn and urged them to "abandon their truculent hostility, engage in dialogue and dial down the rhetoric, before the political estrangement between them and the Labour Party becomes entrenched."
He also suggested some Labour MPs were using the row to "provide rocket fuel for a split in the party".
In response, the Board of Deputies of British Jews said: "We note that Len McCluskey has advocated the adoption of the full IHRA definition of anti-Semitism and its illustrative examples.
"However, his attack on the Jewish community is both unfair and unwarranted."