Anti-Semitism row: John McDonnell worried about Labour split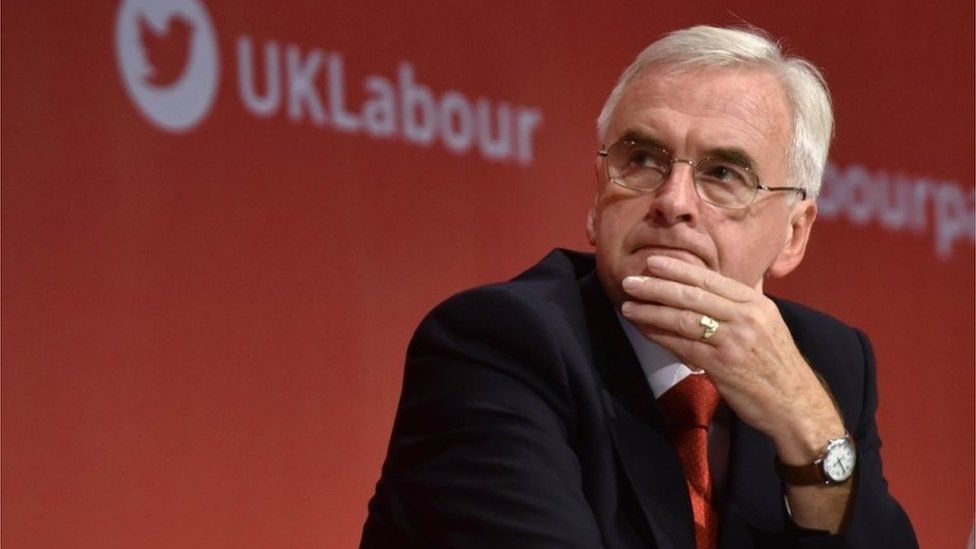 Shadow chancellor John McDonnell has revealed he is "worried and saddened" about the prospect of the Labour Party splitting over the anti-Semitism row.
Mr McDonnell told the New Statesman he wanted to avoid a split "at all costs" and was happy to talk to unhappy MPs.
The party has been at war with itself over the issue throughout the summer.
Jewish Labour MPs are meeting in London to demand the party fully adopts the International Holocaust Remembrance Alliance guidelines on anti-Semitism.
The MPs, who will be addressed by ex-leader Gordon Brown, are seeking to exert pressure on the leadership ahead of Tuesday's meeting of Labour's National Executive Committee - where the matter will be discussed.
Former MP Ivor Caplin, who is chair of the Jewish Labour Movement, said it and other groups were prepared to have a dialogue with leader Jeremy Corbyn but only if he made it "very clear" that he would take firm action against anti-Semites in the party and others engaging in "bad behaviour" at a local level.
"The message is simple," he said. "Do what is right for Britain and then we can have further conversations."
Labour has been engulfed by stories about anti-Semitism over the summer with two MPs - John Woodcock and Frank Field - resigning the whip in protest and others threatening to do the same.
Mr Field quit the Labour group at Westminster on Thursday over what he called the party's "tolerance" of anti-Semitism and a "culture of nastiness".
In the past month, Mr Corbyn has been criticised for his presence at a wreath-laying ceremony in Tunisia in 2014, which was said to have honoured the perpetrators of the 1972 Munich terror attack.
Later, footage emerged from 2013 of Mr Corbyn saying a group of British Zionists had "no sense of English irony".
Former chief rabbi Lord Sacks branded his comments as "the most offensive statement" by a politician since Enoch Powell's Rivers of Blood speech.
He accused Mr Corbyn of being an "anti-Semite" - with the Labour leader saying he was "more careful" with language now.
In the New Statesman interview, Mr McDonnell said: "I think there are people who are willing to leave the party".
He went on: "I don't understand why there is this sort of pre-emptive move to split off.
"So I'm worried and I'm saddened by that, and I think that open door is always there to prevent that happening, because any split is automatically damaging."
Mr McDonnell said a repeat of the early 1980s, when a group of Labour MPs broke away and formed the SDP, would only cost Labour votes.
"So the issue for me is I'd want to avoid at all costs a split if we can."
Mr McDonnell said he wanted the issues raised by Mr Field and others addressed quickly but, according to the magazine, stopped short of calling for Labour to adopt the IHRA guidelines and all its examples in full.
"I think we can come out of it as the anti-racist party that we are, tackling the real issues," he added.
"I don't want to live in a society where synagogues are attacked, or where Jews graveyards daubed with swastikas or worse, Jewish children having to have security at their schools."
But writing in the Daily Telegraph on Saturday, former Home Secretary Lord Blunkett urged a rethink of the "so-called Corbyn project" and called on the party to abandon "the recent return to bullying and thuggery experienced in the 1980s".
He told the party to "belatedly get its act together" and "demonstrate the leadership qualities which have been lacking".