Labour's ruling body holds crunch anti-Semitism talks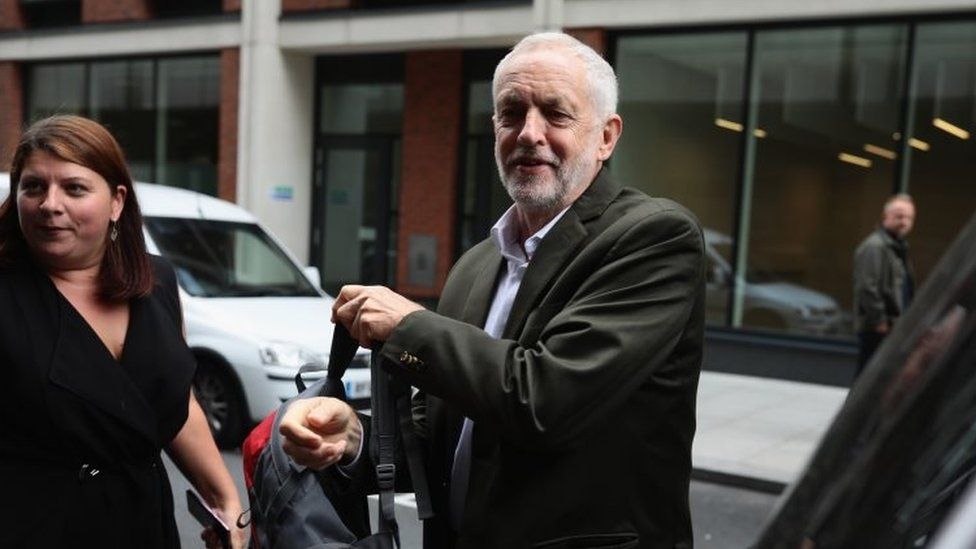 Labour's ruling body is meeting to discuss whether to adopt in full an international definition of anti-Semitism following months of acrimony.
The International Holocaust Remembrance Alliance's definition was incorporated into Labour's code of conduct in July - but not all its examples were included.
Shadow chancellor John McDonnell said he hoped the party's National Executive Committee would adopt all the examples.
Rival protest groups are outside Labour HQ, where the NEC is meeting.
Groups including Jewish Voice for Labour called on the committee to resist calls to adopt the IHRA definition of anti-Semitism.
They argue that it would restrict freedom to criticise Israel's actions against Palestinians.
Rival protesters, wrapped in Israeli flags, condemned Labour as "for the many, not the Jew" and chanted "Labour fascists off our streets".
The meeting comes as Metropolitan Police Commissioner Cressida Dick told LBC radio she would review a leaked internal Labour dossier obtained by the radio station detailing 45 cases of alleged anti-Semitism, amid claims that as many as 17 might require reporting to the police.
Labour's Deputy Leader Tom Watson said he hoped the NEC would adopt the full IHRA definition and that it would be the "start of a new conversation with the Jewish community in Britain".
Labour MP Stephen Kinnock described the row as a "battle for the soul" of Labour.
He told BBC Radio 4's Today programme that the NEC should adopt the IHRA definition and all its examples - and that to add caveats, as some have suggested, would be "like pouring more fuel on the fire".
Labour activist and journalist Michael Segalov agreed that the NEC should adopt all the IHRA examples but with some "clarifications" because, he told Today, some of them have the potential to "veer off into restricting the right of Palestinians to describe their own experiences of oppression".
And he added: "There are some people within the Labour Party who are using this as an opportunity to have digs at Jeremy Corbyn and have digs at the Labour Party more broadly."
Mr Corbyn has insisted there is no place for prejudice of any kind within the party, amid accusations that he has not done enough to crack down on anti-Semitic comments by members and activists.
The Labour leader says he is committed to protecting Jewish members from abuse while allowing vigorous debate about the role of Israel in the search for peace in the Middle East and justice for the Palestinians - issues he has campaigned on for decades.
The party endorsed the full IHRA definition of anti-Semitism when it revised its code of conduct earlier this year after protests by Jewish groups against the party's handling of the issue.
IHRA working definition of anti-Semitism
"Anti-Semitism is a certain perception of Jews, which may be expressed as hatred toward Jews.
"Rhetorical and physical manifestations of anti-Semitism are directed toward Jewish or non-Jewish individuals and/or their property, toward Jewish community institutions and religious facilities."
But Labour left out these four of the IHRA's 11 examples of what is anti-Semitism:
Accusing Jewish citizens of being more loyal to Israel than to the interests of their own nations
Denying the Jewish people their right to self-determination, for instance by claiming that the existence of a state of Israel is a racist endeavour
Requiring of Israel a behaviour not expected or demanded of any other democratic nation
Drawing comparisons of contemporary Israeli policy to that of the Nazis
Labour argued that it had "expanded and contextualised" these examples to provide "legally sound guidelines that a political party can apply to disciplinary cases" and in some cases had gone further than the IHRA.
In an article for the Guardian last month, Mr Corbyn said: "Our actual differences are in fact very small - they really amount to half of one example out of 11, touching on free speech in relation to Israel.
"It is unfortunately the case that this particular example, dealing with Israel and racism, has sometimes been used by those wanting to restrict criticism of Israel that is not anti-Semitic. The Commons Home Affairs Committee acknowledged this risk when it looked at the IHRA examples."
The row has seen Mr Corbyn accused of anti-Semitism by former Chief Rabbi Lord Sacks and veteran Labour MP Margaret Hodge - charges which he has strongly denied.
The Board of Deputies of British Jews has said full adherence to the IHRA definition should be the first step in "turning the tide" of anti-Semitism within the party.
But Jewish Voice for Labour, which backs Mr Corbyn's leadership, said support for the definition was not universal.
It said it could not support it as it fell short of providing "a clear and unambiguous statement based on attitudes to Jews as Jews, not attitudes to a country, Israel".
Earlier this year, he suggested Jewish "Trump fanatics" were behind accusations of anti-Semitism in Labour ranks - remarks which were widely condemned and saw him disowned by the pro-Jeremy Corbyn campaign group Momentum.
Mr Willsman was cheered by supporters as he arrived at Labour HQ for the NEC meeting but opponents shouted "shame on you" at him.