Myanmar Rohingya: Military must face justice, says Hunt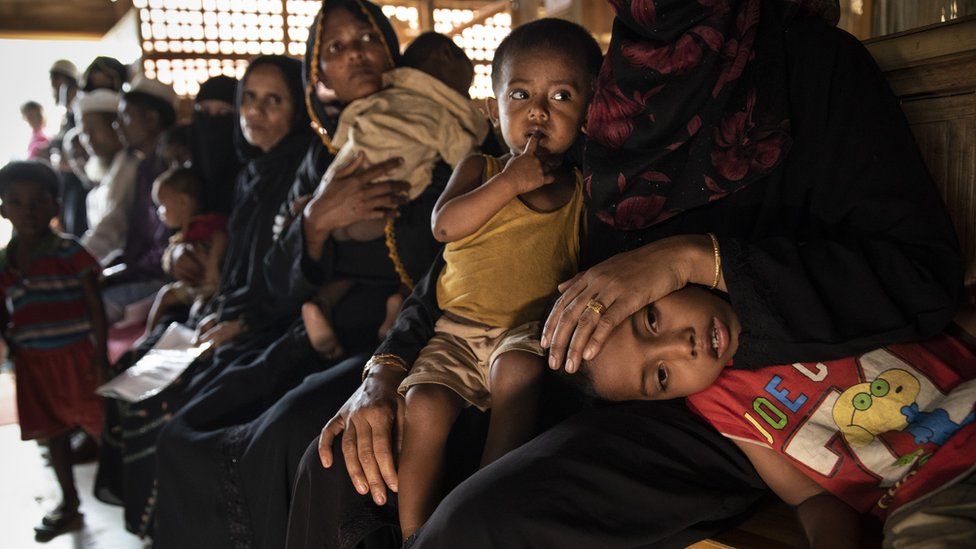 The UK is to "take a stand" and push for military leaders in Myanmar to be "brought to justice" over claims of genocide, the foreign secretary says.
Jeremy Hunt told MPs the perpetrators of appalling crimes against Royingya Muslims "must be brought to justice".
He said he would urge foreign ministers at the UN to refer the leadership to the International Criminal Court.
More than 700,000 Rohingya have fled violence in Myanmar in the last year.
Speaking in the House of Commons on Tuesday, Mr Hunt said the UK had a "special responsibility to act" and confirmed he would be launching a diplomatic effort on the matter later this month.
"Ethnic cleansing in whatever shape or form, wherever it happens, should never go unpunished and the perpetrators of these appalling crimes must be brought to justice," Mr Hunt told MPs.
"There was gang rape, assaults on children, villages razed, and, in northern Rakhine, mass extermination and mass deportations.
"This is the kind of issue where countries that believe in civilised values have to take a stand and make sure that justice is done."
Mr Hunt said he intended to host a "high-level meeting of ministers" at the UN General Assembly but acknowledged a referral to the ICC had to come from the UN Security Council, with the backing of the five permanent members.
"At the moment it is not clear that there would be consensus on the Security Council to deliver that."
China, which has a close economic and diplomatic relationship with Myanmar, is expected to try to veto any attempt.
Mr Hunt also said he wanted to visit Myanmar and raise the matter with authorities there, including the country's de facto leader Aung San Suu Kyi who has faced criticism for failing to stop the violence.
Last week, the UK urged the Security Council to take "concerted action" over crimes committed against Rohingya Muslims, after the UN report called for the country's military leaders to be prosecuted.
The report is the strongest condemnation from the UN so far and calls for the case to be referred to the ICC.
It names six senior military figures it believes should go on trial and sharply criticises Nobel Peace Prize laureate Aung San Suu Kyi.
Myanmar has rejected the report and has consistently said its operations targeted militant or insurgent threats.
The Rohingya are one of many ethnic minorities in Myanmar but the government sees them as illegal immigrants from neighbouring Bangladesh and denies them citizenship.