Brexit: EU sees 'positive elements' in UK's Chequers plan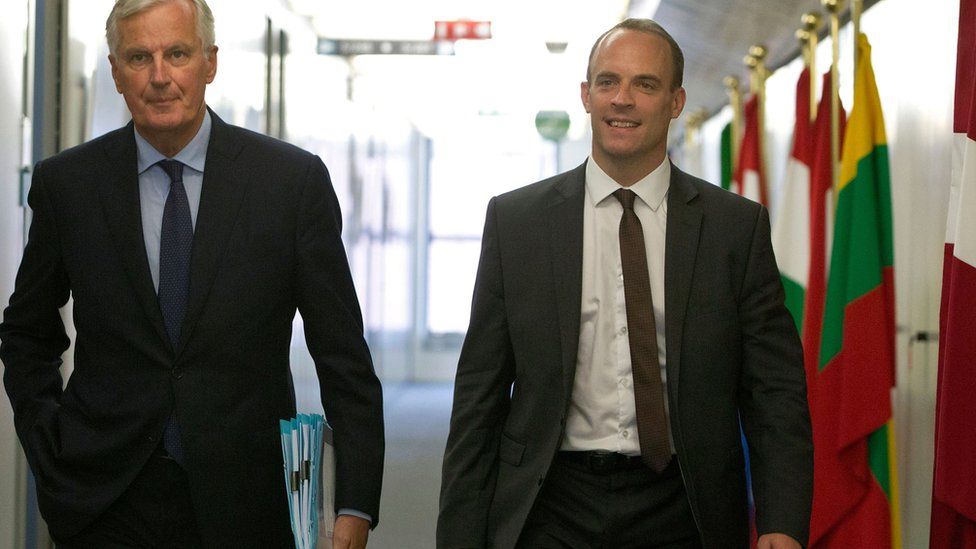 The EU has cast doubt on claims its chief negotiator described the government's Brexit plan as "dead in the water".
Labour MP Stephen Kinnock attributed the remarks - which he said were in French - to Michel Barnier after a meeting in Brussels.
EU Commission spokesman Margaritis Schinas urged journalists to wait for a transcript to be published.
The Chequers plan contains some "positive elements", he added.
The UK is leaving the EU on 29 March 2019, and negotiations are taking place between the two sides.
Brexit Secretary Dominic Raab has been meeting Mr Barnier for more negotiations as the two sides seek to reach an agreement before a summit in October.
In July the government set out how it wants to trade with the EU - and avoid new border checks in Northern Ireland - after a summit at Chequers, the prime minister's country residence.
But the plans have been criticised by Brexiteers and the government faces a battle to persuade Parliament to approve them, even if the EU agrees.
On Monday Mr Barnier met members of the UK's Brexit Committee, which contains both pro and anti-EU MPs.
After the meeting, Tory Brexiteer Jacob Rees-Mogg said Mr Barnier had agreed with him that the Chequers plan was "complete rubbish" and on Wednesday Mr Kinnock told Mr Raab the EU negotiator said the package was "dead in the water".
Challenged by Brexit Secretary Dominic Raab as to the exact wording used by Mr Barnier, Mr Kinnock switched to French, saying he had said: "Les propositions sont mortes" (the proposals are dead).
The committee is expected to publish a transcript of the meeting in the coming days.
Asked about the comments, Mr Schinas said Mr Barnier had been "very clear" in expressing the EU's position.
"I don't think that people present in the room and beyond the room have any doubt on what we said on Chequers - we identified where there were positive elements and we discussed also the possibility for further discussions to address issues that still create problems," he said.
Mr Schinas said the private meeting provided "the perfect recipe for everybody coming out of there and saying what one or the other understood Michel saying".
He added: "Let's wait for the transcript and then let's check the sort of things that are reported of what Michel Barnier said against what he actually really said."
No-deal plans photographed
Meanwhile, a paper with details of planning for a no-deal Brexit has been caught on camera in Whitehall.
It reveals government departments are expected to make cuts in other spending to prepare for the possibility of no deal being reached.
Codenamed Operation Yellowhammer, it appears to be run by the Civil Contingencies Secretariat, which is responsible for emergency planning.
The government says a deal with the EU is the most likely outcome.
But it is also making contingency plans for leaving without one, and recently published a series of papers detailing preparations and offering advice.
The document, captured by photographer Steve Back, was being carried by Treasury Minister John Glen as he left the Cabinet Office.
Downing Street said civil contingencies planning happened routinely in advance of significant events, and that the yellowhammer name had been generated at random.
Asked about the document during a visit to Strathclyde University, Chancellor Philip Hammond - who has previously warned about the economic impact of no deal being reached - said departments had the funding needed to plan for such a scenario.
He added: "In no deal circumstances we would have to refocus government priorities so that government was concentrated on the circumstances that we found ourselves in.
"Let me reiterate again that is not the outcome we are expecting and it's not the outcome we're seeking."
Analysis by BBC political editor Laura Kuenssberg
As an intellectual exercise, none of this brief excerpt is completely surprising.
But it demonstrates the political reality that in government there is concern about what might happen to the financial system, what might happen to transport, air and rail, but still a message to government departments they should try to find cash to spend on 'no deal' preparations from existing budgets, rather than the big cash pot that's been allocated so far.