Don't send vapers to use smoking shelters, MPs suggest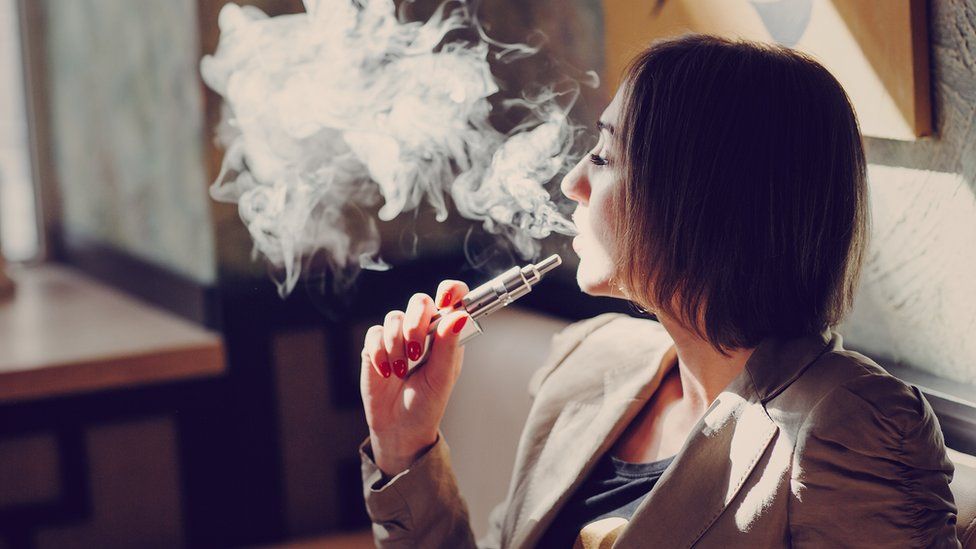 Vapers trying to quit cigarettes should not be made to use smoking shelters, MPs have heard.
Organisations should consider having a separate vaping room or area instead, a debate on the science and technology committee's e-cigarettes report heard.
Putting vapers and smokers together had been likened to "an alcoholic being put in a pub situation and expected to refrain", SNP MP Carol Monaghan said.
About 2.9 million people in the UK are currently using e-cigarettes.
It is estimated that 470,000 people are using them as an aid to stop smoking.
On Thursday, MPs debated a report on e-cigarettes, by the science and technology MPs' committee, which suggested that e-cigarettes were too often overlooked by the NHS as a tool to help people stop smoking.
Ms Monaghan, a member of the committee, said that the evidence they heard suggested e-cigarette users were "having to go out and use smoking shelters outside buildings" and urged a "more realistic view of the use of e-cigarettes".
"Perhaps a room or a dedicated area set aside so e-cigarette users are not being forced to come face to face with the thing they are trying to give up?," she suggested.
Science and technology committee chairman Norman Lamb replied: "To simply send vapers to the cigarette shelter outside is completely counterproductive and makes it harder for people to give up.
"A room in a building may well be an appropriate step for many organisations to take given that there's no health risk associated with vaping that there is with secondary smoking."
However he agreed that it could not be said there were no risks with e-cigarettes and the "best step" was to give up completely.