Brexit Irish border: ERG report has more sober approach but problems remain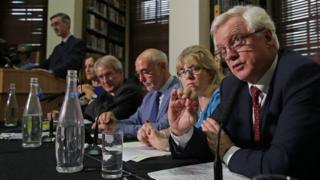 The document released by the European Research Group on Wednesday takes a more sober approach to the Irish border than some previous pro-Brexit efforts.
Some of them had suggested a border policed by airships and drones.
Instead it focuses heavily on developing existing procedures including data sharing, customs co-operation, behind-the-border clearance and mutual recognition of standards.
But these technocratic solutions are not without their own problems.
For example, it suggests that the UK would continue to have access to the EU's VAT Information Exchange System.
But would it? And on what basis? Would that involve European Court of Justice oversight?
It certainly implies the UK would be more deeply enmeshed in the EU VAT system than Norway.
The report also seems to suggest that a World Trade Organisation agreement on food and plant safety would mean that the EU would be obliged to recognise UK regulations as of an equivalent standard.
That seems to overstate the particular strength of that agreement.
It also mentions the equivalence provision EU-Canada trade deal but does not add that under that deal there are still documentary decks on all meat and dairy consignments with 10% subject to physical checks.
There is also some ambiguity about the acceptability of food products being checked at ports in Great Britain before being shipped to Northern Ireland.
The report references the fact that the the island of Ireland as a Common Biosecurity Zone - meaning that live animals being shipped from Great Britain to Northern Ireland are subject to checks.
It goes on: " It has been recognised by all communities on the island of Ireland that it is sensible to capitalise on the protection afforded by the sea."
So is that a suggestion that additional 'Irish Sea checks" may be acceptable?