Lib Dems: Tax wealth to create £100bn 'citizen's fund'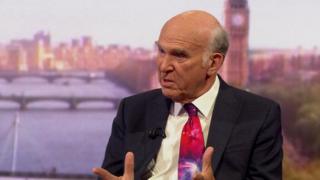 A £100bn "citizens fund" should be created to spread the UK's wealth more evenly, the Liberal Democrat leader Sir Vince Cable is proposing.
He will tell the party's conference it could be built up through taxes on the richest and the sale of assets, such as the UK stake in Royal Bank of Scotland.
Sir Vince will say it is a "disgrace" taxpayers are yet to be repaid for the RBS bail-out in the financial crisis.
A sovereign wealth fund would bolster public finances, he will add.
The Lib Dem leader - who famously predicted the 2008 financial crash - warned about "dangerously high" levels of debt in the UK economy.
A wealth fund would, he hopes, allow the UK to benefit from returns on investments typically only available to the wealthy and protect the UK from future economic crises.
Explaining the policy on the BBC's Andrew Marr Show, he said he wanted to scrap inheritance tax and replace it with "a tax on people's gifts through their lifetime".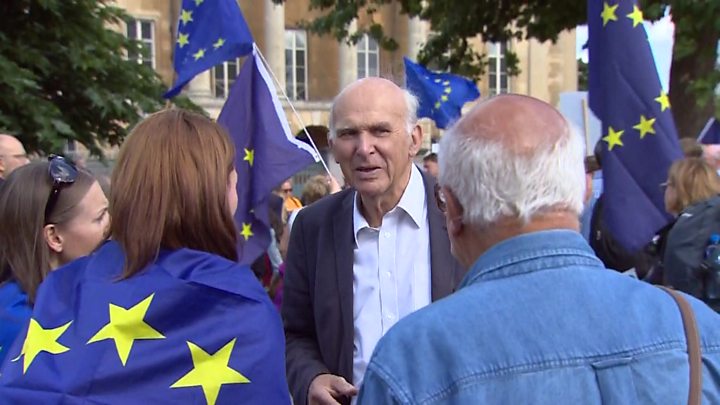 Such a move was needed, he said, because "the inequalities of wealth are massive and growing and one of the major sources of underlying dissatisfaction".
Asked about comments by former Lib Dem leader Lord Campbell, who said Sir Vince "can see the end of the road", he said: "I'm not running out of road, there's a lot of road ahead."
Sir Vince has previously said he would stay on until Brexit was "resolved or stopped" but would be gone before the next general election in 2022.
Asked if he would still be party leader by the end of next year, Sir Vince said: "I think that's uncertain. I have a series of tasks to do. I'm going to do them.
"I'm not setting a time horizon. I think it would be foolish to do so with so much uncertainty flying around."
Sir Vince said the Lib Dems were talking to disillusioned Labour and Tory MPs, who he claimed were ready to quit their parties over Brexit. But he said setting up a new centre party was "not a practical proposition" and "not going to happen".
'Supporting Vince'
Delegates at the Liberal Democrat conference in Brighton will debate wealth taxes on Tuesday.
BBC political correspondent Jonathan Blake says the policy will be an easy sell to members but it will need to find wider support if the party are to re-emerge from the margins of British politics.
The Lib Dems have struggled electorally since 2010, when they formed a coalition government with the Conservatives. The party has 12 MPs - down from the 57 they had in 2010.
Sir Vince has advocated a change to the party's rules, so that someone who is not an MP could become leader, and "liberal-minded" people could sign up to the Lib Dems for free and get the right to vote for the leadership.
Lib Dem MP Ed Davey told the BBC he backed Sir Vince's proposed reforms, saying a shake-up of the party would allow it to go "from strength to strength".
Mr Davey said the party was united behind Sir Vince, who has announced he will stand down before the next general election due in 2022.
Asked if he would stand for leader, former energy secretary Mr Davey did not rule himself out, saying: "I'm not thinking about it at the moment, I'm thinking about supporting Vince."
Lib Dem deputy leader Jo Swinson said they had the "ingredients to be able to challenge the other parties".
She told Sky News's Sophy Ridge On Sunday: "The whole idea of a centrist party gets talked about endlessly but doesn't really get off the ground.
"You don't need to set up a new party because the Liberal Democrats are here, but we recognise that we have to change."