Brexit: May urges EU leaders to consider 'serious' UK plans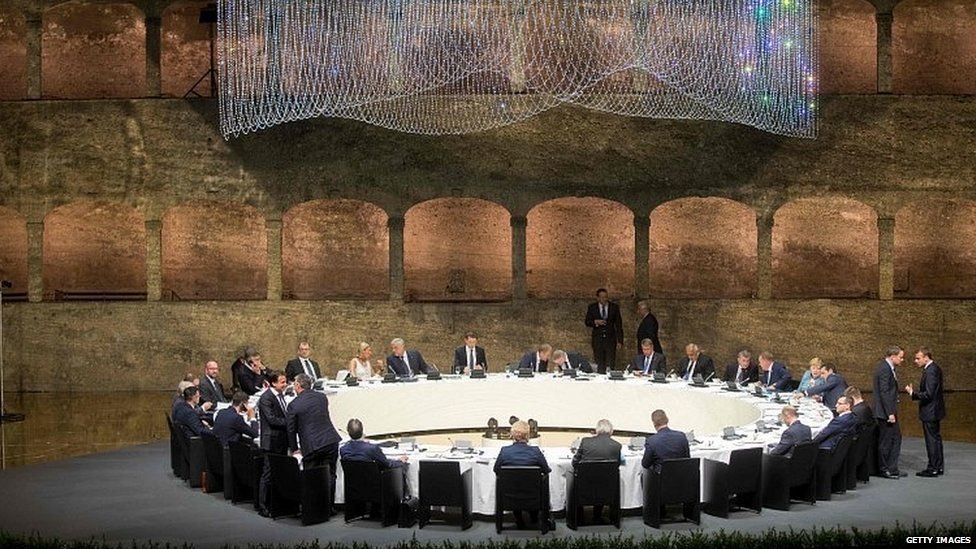 Theresa May has urged EU leaders to focus their minds on getting a Brexit deal in the next two months, saying negotiations will not be extended.
At a dinner in Salzburg, she told her 27 counterparts her priorities were maintaining economic ties and ensuring promises to Northern Ireland were kept.
There are suggestions the UK will put forward new ideas for regulatory checks to address the current Irish deadlock.
On Thursday the other EU leaders will discuss Brexit without Mrs May present.
Arriving for the second day of the gathering Austrian Chancellor Sebastian Kurz, the host, said that "away from the hard media statements, I think both sides are aware that they will only reach a solution if they move towards each other".
Negotiations over the terms of the UK's exit and future relations are at a critical stage, with about six months to go before the UK is scheduled to leave on 29 March 2019.
In her speech, Mrs May stressed her "serious" proposals for future co-operation between the UK and EU would ensure a "shared close relationship".
The informal gathering of EU leaders in the Austrian city was the first opportunity the prime minister has had to make the case for her Chequers blueprint to other leaders collectively.
Speaking to BBC Radio 4's Today programme, two EU leaders said they hoped the UK would hold another referendum on Brexit, in the hope of reversing the 2016 result.
Maltese Prime Minister Joseph Muscat said most of his counterparts would like the "almost impossible" to happen.
Andrej Babis, the Czech Republic's prime minister, added he hoped the British people might change their minds.
Campaign group People's Vote is also calling for another referendum, arguing there should be a choice for voters between leaving with, or without, a deal or staying on current terms.
Mrs May's proposal for the UK to sign up to a common rule book for trade in goods and a combined customs territory is unpopular with many in her own party, who believe it will erode British sovereignty and is not what people voted for when they backed Brexit in the 2016 poll.
In a further sign of how difficult it might be for her to persuade the UK parliament to back the plans, former minister Sir Mike Penning, who worked under Mrs May at the Home Office and backed her for Conservative leader, told the Daily Telegraph they were "as dead as a dodo" and that he could not back them.
Scotland's First Minister Nicola Sturgeon has said Mrs May must delay Brexit beyond next March if there is not a detailed agreement on future trading arrangements.
Ms Sturgeon told the BBC that it would be completely reckless to leave the EU without establishing a future relationship.
She said that taking the UK off the "Brexit cliff edge" without an agreement "would be the most irresponsible thing any PM has done in a very, very long time".
What did May tell EU leaders?
According to a senior government spokesman, the prime minister told her counterparts that Brexit was a "uniquely complicated" challenge, but one that could be completed on time.
She said there was no question of the UK seeking to extend the negotiations beyond 29 March 2019, as Ms Sturgeon is calling for, thus delaying the moment of departure.
She told them she has "put forward serious proposals and the onus on all of us is to get this done".
Her three priorities, she said, were protecting Northern Ireland's place within the UK, safeguarding trading links with the EU and maintaining a close security relationship with the EU to deal with common threats.
Was there anything new on Ireland?
On Northern Ireland, there are suggestions the UK will present new proposals in the coming weeks aimed at helping break the impasse with the EU.
Brussels has insisted Northern Ireland must stay aligned with its rules unless another solution can be found preventing physical checks on goods crossing to and from the Irish Republic.
The UK has said the EU's so-called backstop is unacceptable and its position must "evolve".
The BBC's Laura Kuenssberg said the UK might accept a border for rules and regulations in time, amid suggestions new proposals on regulatory checks might be published in the coming weeks.
But she said there was no chance, as things stand, they will go anywhere near touching a different customs system for Northern Ireland, which would create more friction on the border.
And she said officials privately admit there is little chance that the solution is going to be found in any of the technical solutions, relying instead on a big political move by one or both sides.
How was the UK PM received?
This might not become clear until Thursday when the EU's negotiator, Michel Barnier, will brief European leaders on progress in the negotiations.
But Lithuanian President Dalia Grybauskaite and Slovak Prime Minister Peter Pellegrini told Reuters there had been "no progress" on Brexit and the Irish border.
Mrs May will meet with Irish Prime Minister Leo Varadkar and European Council president Donald Tusk on Thursday.
The BBC's Europe editor Katya Adler said EU leaders believed they "held all the cards", given that time was running out to seal a deal.
Mrs May's trump card, she added, was the risk of a no deal - which the EU is increasingly concerned about - if her own proposals are rejected.