Can May cling on to Chequers plan?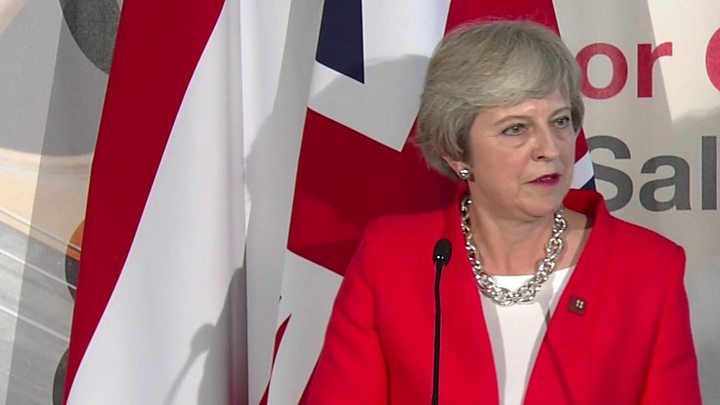 Theresa May has just tried to put a brave face on it.
Number 10 had not hoped for a breakthrough at this summit in Salzburg. But they were confident of getting a fair wind for the controversial compromise she agreed with her Cabinet in the heat of the summer.
Mrs May has just told a clammy, tiny room full of journalists: "I believe that there is willingness to do a deal but let nobody be in any doubt, that as I've always said, we are preparing for no deal."
But the comments from President of the European Council Donald Tusk give a pretty bleak assessment of the UK's plan.
Tusk: May's Brexit plan won't work
He and other EU leaders have expressed doubts before. But his bold comments only minutes after a private meeting with Mrs May that the plan "does not work", are more stark, and more damaging than expected.
That's because Donald Tusk has been seen as one of those brokers in the Brexit talks who has been trying to make things work, and trying to urge others who are more reluctant to do so, to show the UK a little flexibility.
Can the prime minister really cling on to her Chequers plan now?
The EU clearly won't accept it as it stands.
Significant chunks of her party won't wear the deal either.
The opposition parties won't back her.
Of course there are tactics at play here. One government minister has already suggested that the EU always knows how to overplay their hand.
Sometimes in negotiations, there needs to be a crisis to focus minds.
And in her press conference, Theresa May seemed frustrated that her proposals perhaps have not been properly digested or considered yet.
Of course this is only one day, one set of fraught meetings, in a tangled and lengthy process.
But as things stand, it seems Theresa May is going to have to budge, or walk away.