Jeremy Hunt: Don't mistake politeness for weakness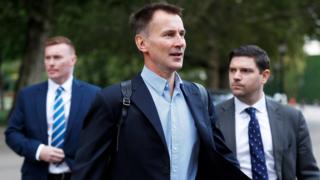 Foreign Secretary Jeremy Hunt has urged the EU not to mistake British politeness for weakness after Brexit negotiations reached an impasse.
After rejecting the UK's proposals, Donald Tusk, head of the European Council, posted a provocative picture on Instagram featuring UK PM Theresa May "cherry-picking" a cake.
Mr Tusk has since said he admires Mrs May, and a compromise is possible.
But Mr Hunt said Mr Tusk needed to avoid "revving up" the situation.
He insisted it was time for people in the EU "to step back from the abyss" of a no-deal Brexit, to "sit down and to talk to us about how we can make these sensible, concrete proposals actually work".
In an interview with Ireland's RTE Radio, Irish foreign minister Simon Coveney said the EU's chief Brexit negotiator Michel Barnier had told him a treaty for the withdrawal of the UK from the EU was 87% agreed.
This week, Mrs May tried to sell her proposals for the UK's future relationship with the EU at a summit in Salzburg, Austria.
The plan - the so-called Chequers agreement - was agreed by the UK government in July.
But EU leaders rejected a major part of her plan, saying the new economic partnership she had put forward would "not work" and risked "undermining the single market".
Mrs May later delivered a televised statement in Downing Street in which she said the EU's rejection of her plan without offering an alternative was "unacceptable".
She also made it clear she was ready to walk away from the negotiations rather than accept a "bad deal".
On Saturday, Mr Hunt said the UK was still waiting for a "detailed response" from the EU and criticised its approach to negotiations so far.
"What Theresa May is saying is 'don't mistake British politeness for weakness'," he told BBC Radio 4's Today programme.
"If you put us in a difficult corner, we will stand our ground - that is the kind of country we are."
In a reference to Mr Tusk's Instagram post and French President Emmanuel Macron's comment that Brexit campaigners were liars, Mr Hunt added: "Insulting her on social media, getting to these stand-offs where you are calling people liars and so on is not the way we are going to get a solution to this difficult situation."
Mr Hunt refused to rule out the prospect that the government could now seek a Canada-style free trade agreement - as many Conservative MPs want, rather than the more ambitious Chequers plan.
Canada's deal with the EU, signed in 2016, removes the vast majority of customs duties on EU exports to Canada and Canadian exports to the EU - but without Canada paying for access to the single market.
"I am not dismissing anything," said Mr Hunt.
"We think these proposals are better than the Canada proposals because they work better on the Northern Irish border."
The land border between Northern Ireland and the Republic of Ireland, an EU member, has been a stumbling block in negotiations.
Both sides agree they do not want a return to a "hard border", such as customs posts or a network of surveillance cameras, but the wording is proving hard to agree on.
The Irish foreign minster also expressed concern about the role of Northern Ireland's Democratic Unionist Party, which is currently propping up Theresa May's Conservative government.
The DUP has repeatedly said it would not accept any proposal that meant Northern Ireland would be treated differently to the rest of the United Kingdom.
In his RTE interview Simon Coveney said no one party should be allowed to veto proposals on the Northern Ireland border, and that negotiations were turning into a unionist versus nationalist issue.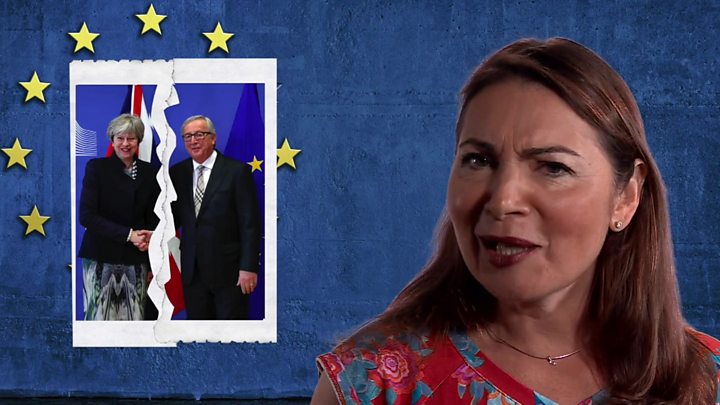 On Friday, Mr Tusk said Britain had known about the EU's reservations over the Chequers plan for weeks.
He added that EU leaders at the summit had treated her proposals with "all seriousness" and said he was "convinced that a compromise, good for all, is still possible".
French minister for European affairs Nathalie Loiseau said that, while France still believed a good Brexit deal was possible, it must also prepare for a no-deal outcome.
Britain's vote to leave "cannot lead to the EU going bust", she said on France Info radio.
"That's the message we have tried to send for several months now to our British counterparts who may have thought we were going to say 'yes' to whatever deal they came up with," she said.
German deputy foreign minister Michael Roth said the EU was striving to achieve "sensible solutions".
"The blame game against the EU is therefore more than unfair. We can't solve the problems that are arising on the island," he said on Twitter.
The UK is due to leave the EU on 29 March 2019 - but the two sides are trying to reach a deal on trade, and other areas of co-operation, by November so it can be ratified in time.