John Major: Leadership threats against PM are unacceptable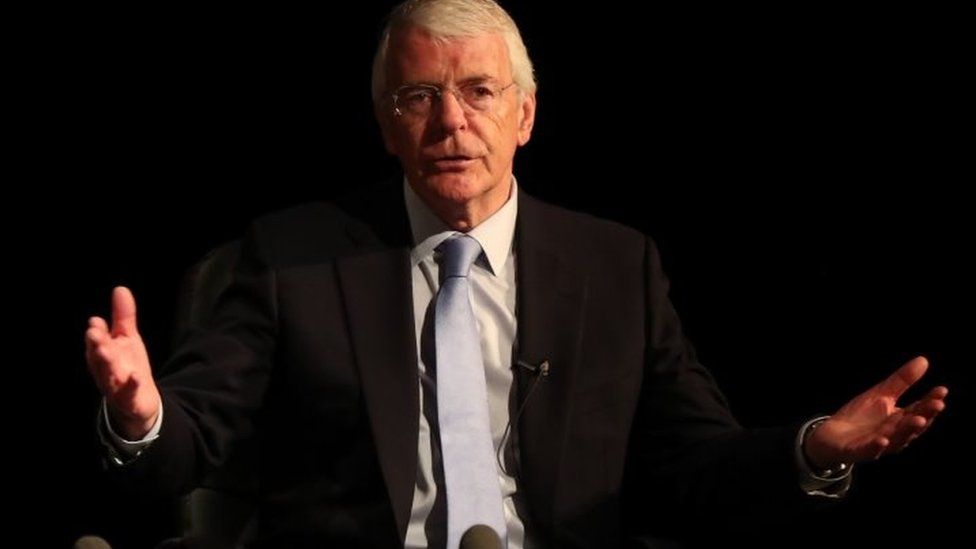 Taunts being made against Theresa May and "routine attacks" on her leadership by some Tory MPs are "completely unacceptable", Sir John Major has said.
The ex-PM called those challenging Mrs May "inexperienced", adding that he felt "even more closely drawn" to her when he looked at the alternatives.
Speaking in South Shields, he also made the case for another Brexit vote.
It has also been fiercely criticised by some Brexiteers, who say her proposal for a "common rulebook" on goods would compromise the UK's sovereignty and betray the 2016 referendum vote.
Earlier this month Conservative MPs opposed to the PM's plan met to discuss how and when they could force her to stand down.
Speaking at an event in South Shields alongside the former Labour foreign secretary David Miliband, Sir John said: "I do not think routine attacks on the PM in the most lurid fashion is either the spirit of politics that one would wish to see, or is it in the interest of the negotiating posture of the United Kingdom."
He did not mention any MP by name, but said: "When I look at the alternatives to the prime minister I am drawn even more closely to her."
He added that "the threats that come in her direction of a leadership election unless she delivers a certain sort of Brexit... [went] far beyond anything that I would think was remotely acceptable in behaviour towards any prime minister".
And he underlined the "inability of those who level these taunts to actually come up with any coherent plan of any sort themselves".
In an interview with the BBC's Laura Kuenssberg on Friday, Mr Johnson repeatedly refused to rule out challenging Mrs May for the Tory leadership, instead saying, "My job is to speak up for what I believe in".
Mrs May would stay in office "as long as she feels it necessary", he added.
He also restated his opposition to Mrs May's Chequers plan, warning it would be "a political and economic disaster" for the country.
Elsewhere, Sir John reiterated his belief that the UK public should be allowed to vote again on leaving the EU - because the argument made in favour of Brexit at the 2016 referendum had been "a fantasy".
"Almost nothing that was said has turned out to be the case," he said.
The UK is due to leave the EU on 29 March 2019, and negotiations on the terms of exit and future co-operation are continuing.
The Conservative Party conference is due to start in Birmingham.