New tax on foreign home buyers to help rough sleepers, PM says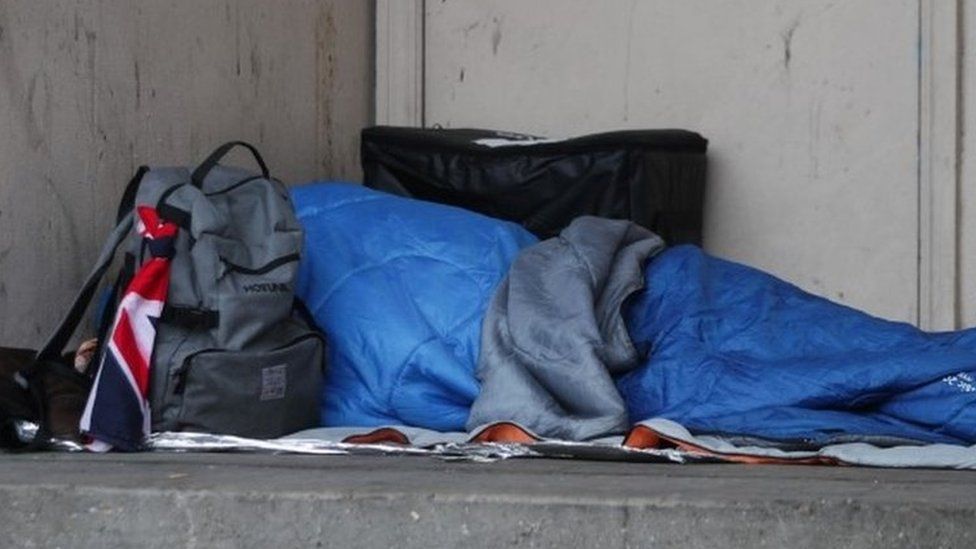 Foreign property buyers will face an extra tax with the money raised being spent on tackling rough sleeping, Prime Minister Theresa May has said.
She said foreign buyers could face a surcharge of 1% or 3% on top of stamp duty to stop them driving up UK prices.
Rough sleeping has been rising for the past seven years that the Conservatives have been in government.
Homelessness charity Shelter said the housing crisis will remain until more social housing is built.
Stamp duty is a tax on properties worth more than £125,000.
"The money we raise from this extra stamp duty is going to be spent on dealing with the issue of rough sleeping," Mrs May told the BBC's Andrew Marr programme.
Mrs May said evidence showed that foreign buyers who do not pay tax in the UK push up house prices and lower home ownership in the UK.
Rough sleeping is defined by the government as sleeping in the open air - parks, streets, doorways or bus shelters - or people who sleep in buildings that were not designed for habitation.
About 4,750 people are estimated to have slept rough on any given night in England in 2017.
Most councils provide an estimate based on intelligence from local services but some conduct a count of the number of people seen sleeping rough on a single night.
"We've sadly seen roughly sleeping going up recently, which is why it is is important we are taking a number of actions," Mrs May said from Birmingham, where her party's annual conference has begun.
"We've already put money in to projects to ensure that we are helping those who are sleeping rough, this will enable more money to be put in."
Mrs May highlighted projects such as the Housing First model, being piloted in the West Midlands, which sees rough sleepers given a home, rather than shelters.
The Conservatives say this policy would help British residents "get the right home for them" and "end the scourge of rough sleeping for good".
It is unclear when the new rates would be introduced.
Shadow chancellor John McDonnell said the Conservatives were "desperately trying to play catch up" with a "rehash" of his party's proposals from Labour's 2017 manifesto.
"Unlike the Tories' proposal this weekend, Labour's fully costed offshore company property levy targeted the tax avoiders and those seeking to speculate on UK property markets," he added.
While Shelter welcomed the proposed funding, it said it was "a national disgrace that so many of our fellow citizens are still sleeping rough in modern Britain".
"We need to understand that the housing crisis will remain for as long as we fail to build more social homes to give people a secure and affordable way to live," the charity said.
In 2016-17, about 217,000 new homes were built in England - almost a third short of the government's target of 300,000.
Labour party chairman Ian Lavery said: "The Tories are offering watered down, half-baked policies that don't begin to compare with Labour's radical plan to rebuild Britain after years of austerity."
Under proposals announced last week, Labour said if it was in government it would introduce a new levy on second homes that are used as holiday homes, ban letting agent fees and scrap laws allowing private landlords to evict tenants without giving a reason.
Sorry, your browser cannot display this map