Have the Tories improved on social media?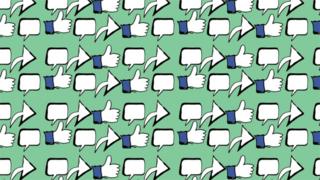 After their conference last year, the Conservatives were mocked for a series of awkward posts on Instagram.
This year's digital operation started badly when the official conference app accidentally revealed MPs' phone numbers. That aside, things seemed slicker.
Here are some of the ways the Conservative social media operation has changed over the past year.
Tories told to ignore trolls
Documents leaked to the BBC show advice given to MPs and staff on using social media - and how to deal with trolls.
Ahead of the local elections this year, the Conservatives distributed their own Facebook "best practice" guide to their MPs saying they should ignore online trolls rather than engaging with them which can be "very time-consuming".
It also said blocking users is against social media's "fundamental principles".
The guide says opponents should instead be ignored - highlighting an incident three years ago when former chancellor George Osborne made headlines by blocking the Liberal Democrats on Twitter.
Brexit Secretary Dominic Raab appears not to be following the advice - he was recently criticised by two anti-Brexit youth groups for blocking them on Twitter.
---
The Conservatives' "best practice" guide for Facebook also encourages MPs to engage constituents by talking about the local area and to avoid being rude.
"Digital platforms are an extension of offline campaigning," it says. "Don't say anything online that you wouldn't say face to face with a voter."
There's more co-ordination now
As well as the Facebook guide, Conservative MPs and staff get a regular email called "Social Snap" which suggests timely posts to share.
Social media advice from party headquarters pre-dates last year's election, but is far more active and regular in 2018.
A recent Social Snap encouraged Conservative MPs and staff to share this video criticising the London mayor's record.
---
More informal co-ordination, and encouragement to share particular posts, takes place via WhatsApp. The messaging app has become an increasingly important communications tool in all parties.
Instagram is taken more seriously
A year ago, the Conservatives' Instagram account posted a series of awkward behind-the-scenes conference pictures which were mocked by journalists.
The party has made an effort to improve things since then including running Instagram training sessions for MPs.
The presentation - leaked to the BBC earlier this year - encouraged MPs to show they are "real people" by being "playful" on the photo-sharing app.
Whereas Twitter is often a place for fierce political debate, Instagram is generally a gentler place.
The Conservatives seem to understand the tone better than during last year's conference and the party's efforts on Instagram appear more relaxed.
---
However, the party still has a long way to go to catch up on their rivals - they have just 28,000 followers on Instagram which is half Labour's total - and far fewer on Twitter and Facebook too.
During last year's general election campaign, the Conservatives spent more money on social media advertising - but Labour's posts were seen by more people.
Both parties paid to promote posts, but Labour's were shared more widely by supporters and activists, an effective form of free publicity. The Conservatives did not benefit from this "organic reach" in the same way.
---
MPs and staff from all parties are attempting to get to grips with Instagram and were recently sent an email inviting them to attend a day-long training workshop run by an external company - costing £199 plus VAT.
At the Conservatives' conference this year, the posts were more colourful, had clearer messaging - and featured smiling young activists more than Cabinet ministers.
---
---
The Conservatives may have learned some lessons from Labour
Each week at Prime Ministers' Questions, Jeremy Corbyn gets six attempts to question Theresa May.
Sometimes these questions and responses sound more like a general rant than a question or answer - because both are trying to go viral on social media with a shareable clip.
Jeremy Corbyn has been sharing PMQs clips for a long time, although the visual style of the videos has evolved.
They now contain lots of Labour red and, crucially, include captions - because many people watch social media videos on their phones with no sound.
---
Theresa May posted very few PMQs clips before the 2017 general election but now does it weekly.
Her recent clips are well-suited to social media, with a short punchy message, captions, and lots of Conservative blue.
---
However, Labour's online operation has moved on from last June - and one recent video has been doing particularly well online.
"Our Town" tells the story of Mansfield in Nottinghamshire - which Labour say has been "held back" by the Conservatives.
With high production values, strong characters and a clear message it has been viewed more than 1.5 million times on Facebook and Twitter.
---
But there was one digital disaster ...
Although the Conservatives might be pleased at their social media posts not making headlines at this year's conference, another mishap certainly did.
Conservative MPs including Boris Johnson had their phone numbers and other personal details revealed by the party's conference app.
The Guardian's Dawn Foster highlighted the security breach on Twitter, and the BBC was also able to access private details of people attending the event.
Conservative Party chairman Brandon Lewis apologised, saying the app had "a technical issue" which would be investigated further.
---