Ex-Labour MP Natascha Engel is UK's first commissioner for fracking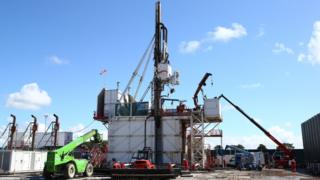 Former Labour MP Natascha Engel has been named at the UK's first commissioner for fracking.
In the role, she will act as a conduit between local communities, the shale gas industry and regulators, although her powers will be strictly limited.
She said she would work to ensure people had "impartial information" about shale gas exploration and address environmental concerns.
The Greens, meanwhile, have restated their aim to ban fracking completely.
Addressing the party's autumn conference in Bristol, Green co-leaders Sian Berry and Jonathan Bartley called for continued direct action to stop the "ecocide" of fossil fuel exploration.
The process of hydraulic fracturing, or fracking, sees liquid pumped at high pressure deep underground to fracture rock and release gas.
Campaigners say it is deeply damaging to the environment, citing the decision to abandon drilling at a site in Weeton, Lancashire, in 2011 after it was linked with two earth tremors.
Developer Cuadrilla is hoping to begin work next week at one of the two wells it has dug at its Preston New Road site, near Blackpool, after it was approved by ministers, despite protests.
A last-ditch effort by local campaigners to halt work through a High Court injunction will be heard on 10 October.
Ms Engel, who was MP for North East Derbyshire between 2005 and 2017, will officially be called the "commissioner for shale gas".
She campaigned in support of fracking during the last election despite Labour calling for a ban in its manifesto.
Since her defeat, she has worked as an adviser to energy firm Ineos, which has licences to carry out exploratory drilling at a number of venues across Yorkshire, the East Midlands and Cheshire.
She will seek to improve the up-to-now rocky relations between local communities earmarked for fracking, the industry and regulators but will not investigate complaints, take enforcement action and is not expected to comment on individual decisions.
'Days are numbered'
Instead, she said, her focus would be ensuring residents were fully informed about what shale gas projects meant for them.
"If extracted safely, shale gas has the potential to be a new, domestic source of energy for the UK," she said.
"But there is a need for clear, impartial information to be provided to all parties and in particular those local communities most affected by shale gas development."
Energy Minister Claire Perry said the commissioner would provide a single point of contact for residents and ensure they had access to the "best scientific information" about the risks and benefits.
"It's important we get the facts straight on shale gas," she said, adding that the commissioner would also provide a link between the industry and the UK's "robust and stringent" regulatory framework.
On Friday, she also announced the creation of a single industry body, the Shale Environmental Regulator Group, to resolve on-site regulatory issues and help local authorities considering planning applications.
It will bring together the Oil and Gas Authority, Health and Safety Executive and Environment Agency,
Speaking on Friday, Green co-leader Jonathan Bartley praised three men jailed last week for their involvement in protests at the Preston New Road site, saying they were "on the right side of history".
"I have a message for all the frackers," he said. "Your days are numbered. Fossil fuels must stay in the ground and we won't stop until your dirty industry is thrown in the dustbin of history."