EU law stops VAT cuts to all school uniforms, says minister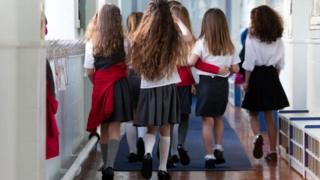 EU law prevents the government from cutting VAT on all school uniforms, Schools Standards Minister Nick Gibb has said.
But that could change when the UK left the EU, he suggested to MPs.
He was responding to a call from Birkenhead MP Frank Field, who said some families were going short of food to pay for uniforms.
Some of his constituents faced bills of £300 "plus the devastating cost of games kits", he added.
'Arbitrary' cut-off
Under EU law, school uniforms for children under the age of 14 are VAT free.
But those who are over 14 or do not fit "average size" children's clothes attract a full VAT rate of 20%.
Mr Field said this was an "arbitrary" cut-off point, and highlighted the case of a constituent whose 14-year-old son was 6ft 4in, with size-12 feet and a 48in chest.
"He has to have men's shirts with very long arms so he can feel part of his school. It is very important that we get promises about improving the situation, not just for some but for all," said the Birkenhead MP.
Mr Field, who campaigned for Britain to leave the EU, said the government should take action now to require schools to limit the cost of uniforms and ensure they used "standard suppliers".
"If people want a uniform to be distinct, they should pick a colour that is commonly available and different from other school uniforms, rather than one that is available only from a single supplier," he added.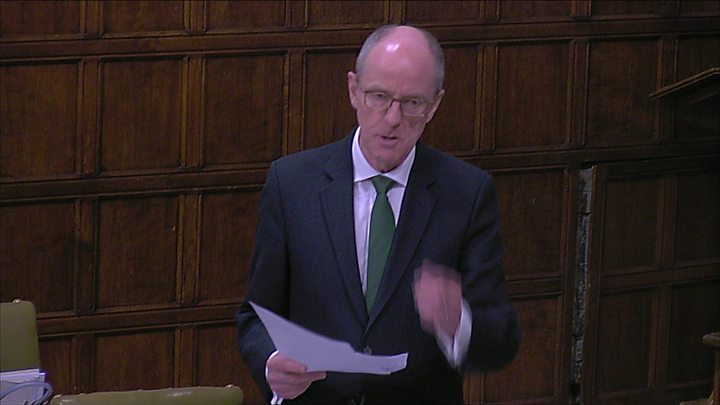 The MP - who has been threatened with expulsion from Labour after resigning the party whip - said the government had no excuse not to act.
"There is a myth going around that we have no time to legislate because of Brexit," he told MPs in a Westminster Hall debate.
And he urged Nick Gibb to "pledge to end, once and for all, the perverse situation in which poverty acts as a barrier to children attending school because of uniforms".
'Strong views'
Responding for the government, Mr Gibb said it was planning to put its existing guidelines to schools into law "to ensure uniform costs are reasonable".
And he suggested that VAT could be axed on all uniforms after Brexit.
"The government are unable, under EU law, to extend the relief to encompass children beyond the average size.
"That is one of the reasons that our guidance is so firm in saying that schools should ensure their school uniform is affordable.
"I know the right honourable gentleman has strong views on the EU and he may well get his way on this issue in due course."