'It's all kicking off'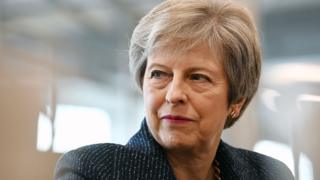 "It's all kicking off," an MP texts tonight.
It's not surprising given what's at stake, and that we are seven days away from a critical EU summit. But it's not a drama that can easily be dismissed.
The government's backers the DUP are threatening to pull support if the PM doesn't bend to their position on Brexit. Don't be in any doubt, that could in theory mean the government collapsing because they can't get anything done.
Rather than pulling back from the threat, the DUP will in the next 24 hours be trying to turn the pressure up even further.
And to make the threats real the small Northern Irish party has already tonight decided not to back the government in a vote in the Commons - a reminder that the government's vulnerability in the Commons is real, it's not some theoretical threat.
It's a warning - not an obscure abstention on a little-noticed piece of legislation. And remember, remember December. It was the DUP (and some very strong Brexiteer voices too) who sank the prime minister's original Brussels agreement, humiliating her before she snatched victory from the jaws of defeat a few days later.
As we enter the next phase of this drama, catch up on the last big denouement here.
In Brussels, contrary to some reports, there has not been some sudden breakthrough on the clashes across the negotiating table.
Well-placed sources on both sides tell me that while the "show is on the road", and officials have been "working well" in the last three days, neither Team Barnier nor Team Robbins are buckling and bending.
So, it follows, neither Team Barnier nor Team Robbins can claim victory, and more importantly, neither Team Barnier nor Team Robbins can say at this moment with complete confidence that the progress they hope for to allow Theresa May to move closer to a Brexit deal has been achieved.
That's not of course to say that it won't or can't still happen.
There is a significant chance that by Monday Dominic Raab and Michel Barnier will be side by side at the podium gleefully reporting the progress their worker bees have been able to make - a springboard for a successful summit a week tonight. But they are not there yet.
In cabinet too there are plenty of reservations too about the prime minister's direction of travel as well as a loyal brigade.
The jokingly named "Chequers Defence Committee", a group of the most senior ministers and those whose departments are most affected by Brexit, are being called into Number 10 late tomorrow afternoon.
But sources suggest this is not to make any kind of decision about the Brexit deal. It's to keep them broadly on board, and to avoid accusations further down the line that Number 10 has bounced ministers into signing up.
One of the profound criticisms of the prime minister has often been that she and her officials are intensely secretive, and don't seek genuine buy-in from colleagues.
It's not mad to argue that with such divisions in her party that's been the way to survive.
But it has infuriated some of her colleagues. And it also means that objections and concerns have developed rather than been fully argued out and discussed. It's also why the finger often gets pointed at the officials leading the talks.
Brexiteer knives have been out for Olly Robbins, the lead negotiator, for a long time now. It often seems the Brexit deal is being struck by him and Number 10 with the Brexit department looped in, rather than by the government as a whole.
But as one well-placed source acidly suggests: "Robbins does not get the SW1 politics of this - but it's ultimately her fault for letting a civil service man do a woman's political job."
There are of course plenty of loyalists - plenty of MPs and ministers who think the PM is faced with an absolute nightmare, in office but not in power with no majority, and simply trying to do a sensible best.
But there are concerned Brexiteer ministers, worried former Remainer ministers and as we've discussed many times here, widespread discontent on the Tory backbenches on all sides at the prime minister's hoped-for compromise.
Even some of Theresa May's most ardent backers worry that there's a disconnect that might go badly wrong.
While the government believes they probably do have the numbers when it gets to a final vote as I wrote here, I've heard from former Remainers as well as Brexiteers this week who say the same - "I just can't see how they get anything through."
It was of course always extremely likely that in the closing weeks of this negotiation the situation would be extremely febrile and it would all be "kicking off".
The second last episode in any box set is almost always when the heroes teeter on the edge of disaster before miraculously coming back from the brink.
In a couple of months this might seem like froth. But tonight the prime minister's vital backers are threatening to pull stumps; her cabinet is yet to be convinced; her backbenches certainly can't be relied on and the talks themselves are not sorted.
It certainly is all kicking off, and the government may well get hurt.