Brexit: 'Key issues remain' after Raab and Barnier talks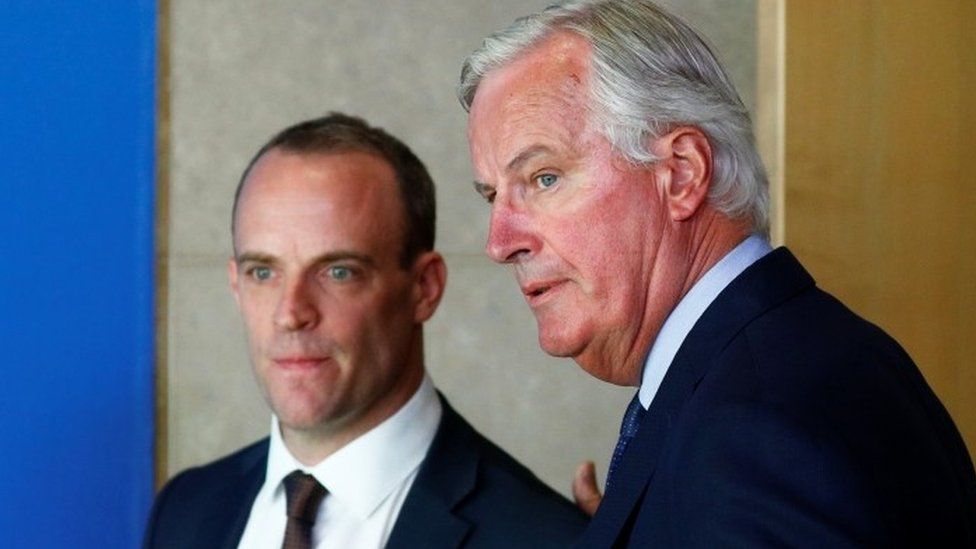 The UK and EU say key issues remain unresolved following unscheduled Brexit talks in Brussels.
Brexit Secretary Dominic Raab and EU chief negotiator Michel Barnier met for more than an hour ahead of a crunch EU leaders' summit this week.
Mr Barnier tweeted that issues, such as how to avoid a hard border with Ireland, were "still open".
A UK government spokesman said UK and EU negotiators "have made real progress in a number of key areas".
"However there remain a number of unresolved issues relating to the backstop," he added.
We met today @DominicRaab and UK negotiating team. Despite intense efforts, some key issues are still open, including the backstop for IE/NI to avoid a hard border. I will debrief the EU27 and @Europarl_EN on the #Brexit negotiations.

— Michel Barnier (@MichelBarnier) October 14, 2018
BBC political editor Laura Kuenssberg said talks had "made progress" in the last few days - and dismissed reports of a row between Mr Raab and Mr Barnier - but added it was "clear the two sides are stuck" on how the Irish backstop might work.
No further talks are planned before Mr Barnier and Theresa May's summit on Wednesday, she added.
The meeting comes as domestic political pressure on Mrs May increases amid threats of potential cabinet resignations.
In a letter to the prime minister, Scottish Secretary David Mundell and Scots Tory leader Ruth Davidson said they would not accept Northern Ireland being treated differently from the rest of the UK in any Brexit deal.
It follows reports that other top ministers have been considering their positions over the weekend ahead of a meeting of the cabinet on Tuesday at which ministers could be asked to give their consent to any agreement.
By BBC political editor Laura Kuenssberg
While there may have been a sense in Brussels that Mrs May was moving towards them, if anything the politics at home have become more fraught.
Thursday's cabinet meeting ramped up concerns and gave Brexiteers another excuse to rattle their sabres.
The DUP continues its warnings that it'd sink the administration rather than see the deal it fears done. Several cabinet ministers are thinking about whether they can go on.
And, more to the point, different groups of Tory MPs with gripes about other policies are scenting opportunity as the government is so vulnerable.
Any move for the PM has become both harder, and more urgent.
Her party won't accept a proposal to keep the UK essentially in the customs union. Parliament is likely to block no deal. The EU won't accept her Chequers plan.
Even loyal ministers are deeply worried - "She is like a chess player who only has the king left - all she can do is move one square at a time until she is check-mated."
The Raab-Barnier meeting came amid conflicting signals as to whether the two sides were nearing a deal on the terms of the UK's exit next March.
Diplomats from the remaining 27 EU member states were summoned for an update on the process at 17.30 BST, prompting feverish speculation that a deal had been done.
Adam Fleming on what's next for the talks?
The EU's aim is to have the entire Withdrawal Agreement agreed in principle in time for Wednesday's summit of EU leaders in Brussels.
If the EU's 27 - as they are known - agree on it, then work will begin on drafting the political declaration on the future relationship.
EU leaders are likely to call another summit in mid-November, at which the withdrawal deal and the framework of future co-operation could be finally approved.
The deal would then have to be approved by the UK and EU Parliaments.
The BBC's Brussels reporter Adam Fleming said that while Mr Raab's visit had an air of drama, it was standard practice in the talks for civil servants to hand over to politicians at key points like this.
Rather than a "victory lap" by Mr Raab, he said the UK's statement that "face-to-face talks were necessary to resolve several big issues" should be taken at face value, and Northern Ireland remained a "sticking point".
The issue of the border between Northern Ireland and the Republic of Ireland, which will become the UK's border with the EU, is one of the last remaining obstacles to achieving a divorce deal with Brussels.
Wrangling is continuing over the nature of a "backstop" to keep the border open if a wider UK-EU trade arrangement cannot resolve it.
The EU's version, which would see just Northern Ireland remain aligned with Brussels' rules, has been called unacceptable by Mrs May and her Democratic Unionist allies.
And many Conservative MPs are unhappy with the UK government's proposed alternative, which would see the UK temporarily remain in a customs union until the Irish border question is resolved, either through technological solutions or as part of a wider trade agreement.
Brexiteers fear this will leave the UK in indefinite limbo, bound by the EU's rules and limited in the trade deals it can negotiate with other countries.
Writing in the Sunday Times, former Brexit Secretary David Davis urged ministers to "exert their collective authority" and reject the plans at a cabinet meeting on Tuesday.
But Foreign Secretary Jeremy Hunt, who has been hosting other European foreign ministers at his Chevening residence, said such calls were "wrong" when "last-minute" talks were going on and Mrs May was "battling for Britain".
"The reason that's wrong is there is no-one who is going to be able to negotiate the right deal for Britain better than Theresa May. This is the time to stand rock solid behind Theresa May."
Challenged a few of my fellow foreign ministers to navigate the Chevening maze in the rain...by comparison to which Brexit discussions seem more straightforward pic.twitter.com/J43lTDKUvb

— Jeremy Hunt (@Jeremy_Hunt) October 14, 2018
In their letter to the PM, Mr Mundell and Ms Davidson indicated they would not tolerate a situation in which Northern Ireland remained in the customs union and single market, while the rest of the UK was outside it.
They said the integrity of the UK "remains the single most important issue for us" and cannot be undermined by any withdrawal agreement with the EU.
A source close to Ms Davidson said the issue was a "red line" for her, while a source close to Mr Mundell told the BBC: "If you find yourself not agreeing with government policy" resigning would be the "logical outcome".
Health Secretary Matt Hancock, in an interview with the BBC's Andrew Marr show, insisted there were "different ways" to ensure any customs commitments were "credibly time-limited".
And Scottish First Minister and SNP leader Nicola Sturgeon, who wants Scotland to remain in the EU, has questioned whether Mr Mundell and Ms Davidson had "the gumption" to resign.
'We'll resign if you do anything that makes Scotland think there's a better alternative to a hard Tory Brexit' say Mundell and Davidson! First, what a bizarre position - isn't it their job to stand up for Scotland? And, second, have they the gumption to resign? I bet they don't! https://t.co/mR64ApibUr

— Nicola Sturgeon (@NicolaSturgeon) October 14, 2018