Johnny Mercer questions whether Tory party still shares his values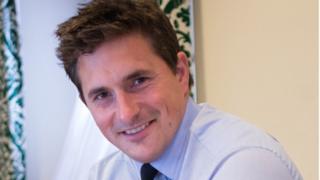 A Tory backbencher has criticised the government and said he would not have stood as an MP "if the situation was like it is now".
Johnny Mercer told The House magazine he was no longer sure that his "set of values and ethos" were still "aligned with the Conservative Party".
And he used strong language to describe the current state of the government.
He said he was an "inherently team player" but had to come to the realisation that it was a "shit show".
"And it's hard because people like me are in this because we believe in something, because we want to be part of something greater than ourselves," he said.
'Nothing lasts for ever'
Mr Mercer, an ex-Army officer, has said he never voted until he became an MP.
The MP for Plymouth Moor View has been critical of the party before, telling the Telegraph in 2017 it was "in danger of losing credibility".
In his interview with The House, Mr Mercer - who was first elected in 2015 - was critical of Prime Minister Theresa May's response to a question about investigations into Northern Ireland veterans, saying "she did not answer in a way that made me proud to be a member of the governing party".
And, of her Chequers blueprint for post-Brexit relations with the EU, he said: "That is your classic professional politicians' answer because it's right down the middle. It doesn't make anybody happy. It's the ultimate in not making a decision."
He said, "under this chief whip, under this prime minister, there is no role for people like me" but added: "That's fine because nothing lasts for ever."
Mr Mercer admitted he would like to be defence secretary - he has campaigned for veterans, including those with mental health problems - and said that while his "set of values and ethos" had been aligned with the Conservative Party, "I'm not as comfortable that that's the case any more".
No regrets
Asked at an event on Friday whether he regretted his comments, he said: "I think people for a long time have had problems with politicians who are not real, are not honest, and then when you are honest you attract the sort of attention I have today."
He told the audience at the Dorchester Literary Festival that the "political class" was moving away from the values he believed in, adding: "So I absolutely don't regret it.
"Clearly, you know, I could have used some less harsh language. But... the reality is that's how I feel about politics at the moment."
Before becoming an MP, Mr Mercer served with 29 Commando, part of the Royal Artillery and completed three tours in Afghanistan. He won his Devon seat from Labour in 2015 and increased his majority in last year's snap election.
Mr Mercer is currently appearing in the Channel 4 series Celebrity Hunted, in which eight well-known personalities go "on the run" in pairs and have to evade a team of former police, military and intelligence experts given the job of tracking them down.