The harassment tips you shouldn't need in 2018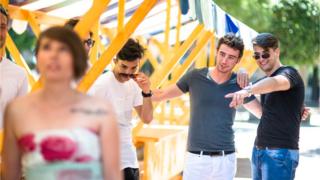 Really, this article should say: men, don't harass women.
But, sadly, harassment - which can range from cat-calling to sexual assault - is a reality for many.
A new report says street harassment is so relentless for women and girls that it has become a normal part of their life.
The responsibility always lies with the perpetrator and the onus should not be on women to change their behaviour.
But, what can you do if this happens to you?
There's no right or wrong way to respond, says Molly Ackhurst of Hollaback London, part of an international movement tackling harassment.
She says people often feel they haven't done the right thing, but "any response is valid".
Call it out?
Hollaback generally advises against engaging with harassers as it could escalate the situation.
But if it feels like the right thing to do, the group recommends looking them in the eye and denouncing their behaviour with a strong, clear voice.
You could say, "that is not OK," or "don't speak to me like that".
According to the Bristol Zero Tolerance group, which has created a guide on responding to street harassment, you can react calmly, firmly and without insults.
Saying something like, "don't whistle at me, that's harassment" or "don't touch me, that's sexual harassment", makes it clear that it's wrong, the group says.
Speaking in a "neutral but assertive tone", you could make an all-purpose statement like "show some respect".
Other responses the group suggests include:
Ask them to repeat or explain themselves by saying something like, "that's so interesting - can you explain why you think you can put your hand on my leg?"
Announce loudly to passersby what the harasser just said or did
Ask them if they would want their loved ones be treated in the same way
On social media, people have been sharing examples of responding to harassment.
One person tweeted that their daughters, aged 12 and 15, are "regularly leered at" by men - and gave the example of how she stared someone down who had been looking at their bodies.
Get out of the situation
Harassment can range from being told to "cheer up love" by men in the street to being touched inappropriately or sexually assaulted.
In these more serious situations, Ms Ackhurst says the most important thing is to get away.
"Not all sexual harassment escalates, but it can, so your safety should be your first priority," she says.
Rachel Nicholas from Victim Support, a charity offering help to victims of crime - including harassment, agrees the priority should be to get somewhere safe if you feel in danger.
If you're on public transport, you could get off at the next stop, or stand closer to the driver.
And if you're close to home, you might want to consider going to a neighbour's house so your home location isn't easily identified, she says.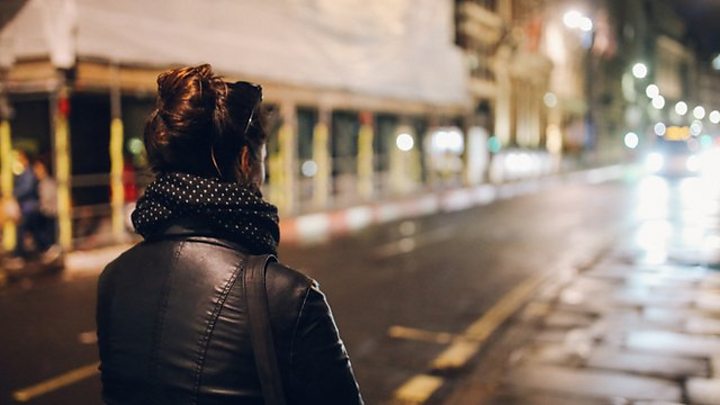 What can a bystander do?
Charlotte Gage, from the Bristol Zero Tolerance group, says intervening could help, or asking the person who's being harassed if they're okay.
"It's solidarity, saying, 'I see you, you're not alone in this'."
And if the bystander stepping in is male, it could also have a bigger impact, she adds.
Ms Ackhurst suggests speaking to the person being harassed rather than the harasser - to avoid any escalation.
"Often when we use responses that don't engage the harasser it makes them feel powerless and it means they know someone realises what they are doing."
She suggests making eye contact with the person being harassed and getting between them and the harasser to interrupt the incident. You could pretend you know the person being harassed to disrupt the incident.
How to report harassment
"Any harassment that makes you fearful for your safety either in the moment, or afterwards, should be reported," says Mrs Nicholas.
"If you have been harassed or assaulted it is your right to report this to the police.
"There is often a fear that these incidents will not be taken seriously, but this should not be a barrier to reporting."
If you're in immediate danger you should call 999 straight away.
If it is not an emergency, you can report the incident to the police by calling 101 or contacting your local force.
You can also report incidents on public transport to the British Transport Police by calling 0800 40 50 40 or texting 61016.
If you don't feel comfortable reporting harassment to the police, charities such as Rape Crisis and Rights of Women can provide independent support and help you through the process of reporting the incident if you wish to do so.