Housing: MPs back legal action against rogue landlords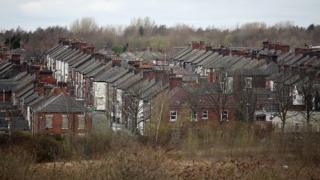 New rights for tenants to sue landlords if they do not properly maintain their properties have been approved by MPs.
The Commons has passed a bill requiring homes in the private and social rented sector to be fit for human habitation and enabling tenants to take legal action if basic standards are not met.
Housing minister Heather Wheeler said a "stubborn, hardcore minority" of rogue landlords were being put on notice.
They should "improve their properties or leave the business", she said.
Labour MP Karen Buck's private members bill, which would apply in England and Wales, will now be considered by the House of Lords.
The fact that it has cross-party support and the government's backing means it is more likely to get sufficient parliamentary time to become law.
The bill would close a legal loophole which means landlords are not currently required to ensure their properties are free of potentially harmful hazards.
'Living hell'
At the moment, a landlord only commits an offence when they fail to comply with a local authority enforcement notice.
This means they cannot be held responsible for risks to tenants caused by the poor condition of a property unless required to carry out repairs by a council.
The proposed legislation will change this by requiring:
All leases to have an implied covenant stating that landlords must ensure their properties are inhabitable at the start of the tenancy and throughout occupation
When landlords fail to do this, tenants would be able to seek legal redress through the courts, without having to first go through their councils
Negligent landlords would be required to remove hazards or pay compensation to tenants
Ms Wheeler said the legislation, which passed its Third Reading on Friday, would drive up standards in the private and social rented sector without adding costs for the majority of responsible landlords.
Ms Buck, the MP for Westminster North, said it would help protect the most vulnerable tenants who were not able to "fight their corner".
"Living in a cold, damp, or unsafe home is hell. It damages people's physical and mental well-being," she said.
"It erodes the income of the poorest households. It impacts on children's education.
"The most vulnerable tenants are those most at risk of being trapped in sub-standard accommodation and they are often least able to withstand the damage such conditions do."
'Not wanted'
Conservative MP Kevin Foster said responsible landlords had nothing to fear from the legislation and he played down concerns expressed by his Tory colleague, Andrew Bowie, that placing obligations on people to meet minimum standards would further reduce the amount of houses for rent in areas with existing shortages.
"What I would say is that if you are renting out a property which is unfit for human habitation, then really you shouldn't be in the business of being a landlord," he said.
"If that is the standard of what you are renting out, then bluntly we don't want you to be carrying on."
Landlords who did not have the means or inclination to improve their properties always had the option to sell up, he told MPs.
Ministers insist they are taking action against rogue landlords - through measures such as a new database of banned individuals and mandatory licensing of homes in multiple occupation - but opposition parties say existing laws have proved woefully ineffective at driving out bad practice.
Earlier this year, a committee of MPs said that rogue landlords should have their properties confiscated.