Budget 2018: Outdoor venue plan 'to cut wedding costs'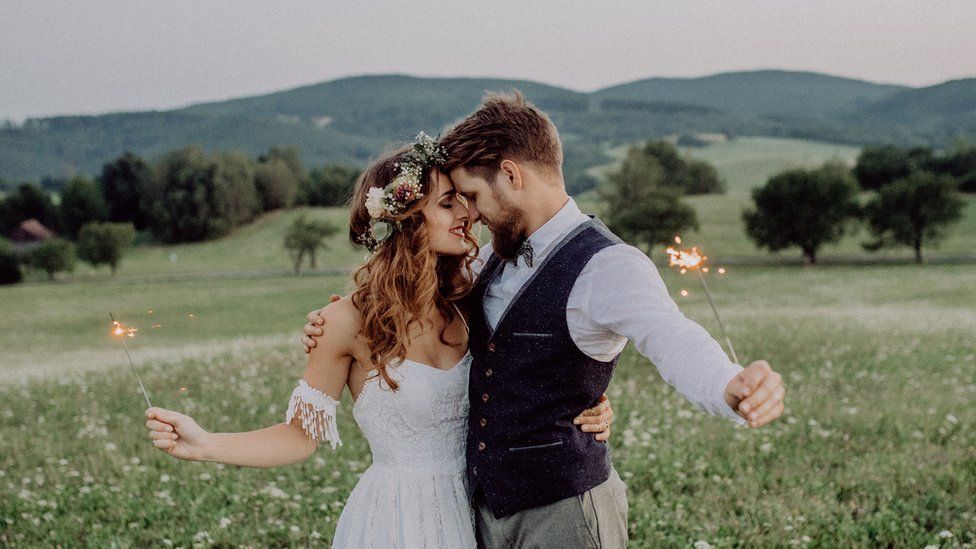 More couples could be able to get married outdoors or at home as part of a shake-up of the law designed to cut the cost of weddings.
A review of wedding venues in England and Wales is set to be announced by the chancellor in Monday's Budget.
It will look at lifting restrictions on al fresco locations, such as gardens and beaches, and temporary structures.
The Treasury said more choice could lower the average venue booking cost and boost the hospitality sector.
The move could bring England and Wales into line with Scotland, where couples have for years enjoyed much more freedom in where they can tie the knot.
A 2015 report found that laws relating to marriage venues in England and Wales, some of which date from the mid-19th Century, were "badly in need of reform".
At the moment, couples have a limited choice on where they get hitched, whether they are having a church wedding or a civil ceremony.
Civil ceremonies must take place in register offices or approved premises that have been licensed for the purpose by local authorities.
Weddings can only legally take place outside if they are solemnised in a structure with a solid, permanent roof such as a gazebo. Ceremonies in temporary structures, such as marquees, are not permitted.
Requirements that couples specify the building in which the ceremony is to take place - and restrictions on the consumption of food and drink in the area before and during the event - date from 1837.
The Treasury said such anachronistic red tape was pushing up the cost of weddings and putting some people off getting married.
"Relaxing restrictions would make it cheaper and simpler for couples to get married, potentially supporting more people to get married," it said.
"This review will help the law keep pace with modern Britain while helping people keep the cost of living down."
Tom Blandford told BBC News he got married 10 years ago in an outdoor ceremony with "live instrumental music from friends, a humanist celebrant and, best of all, sunshine!".
He said though, that as they had had to go to the register office that morning, "the whole ceremony was kind of a sham". But he added: "We didn't care. Most of our friends didn't know.
"My Mum didn't even attend our actual wedding - just a handful of people. This new law is very, very overdue in a society that is not all religious."
The cost of getting married has spiralled over the past decade, with the average outlay on the big day now topping £30,000 - according to one survey earlier this year.
The review, to be carried out by the Law Commission, will examine how and where marriages can take place and how to meet the "growing demand" for legally-binding outdoor weddings.
The Law Commission said its work on the subject had shown there was a strong demand for weddings to be "cheap and personal" and existing laws were already being "stretched" to allow more residential ceremonies.
Hotels currently account for about 40% of the 7,500 premises licensed to conduct civil ceremonies.
It is hoped the shake-up will see more restaurants and pubs enter the market in a boost for the hospitality trade, while retaining the dignity of marriage ceremonies.
Both the last Labour government and the Conservative-Lib Dem coalition looked at loosening the rules on wedding venues but no substantial changes were made.
While Anglican, Catholic, Methodist and Muslim weddings are required to take place in buildings certified as a place of worship and registered for the purpose of religious marriage, Jewish and Quaker weddings are not subject to similar restrictions.
In Scotland, religious marriages can take place anywhere, while venues for civil marriages are agreed by couples and the appropriate registration bodies and humanist marriages can be staged at a venue agreed with the celebrant.