George Osborne kept pay cap despite child poverty warning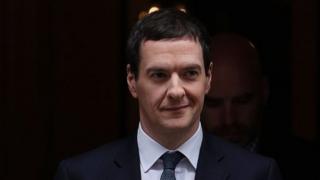 George Osborne stuck with a public sector pay cap, despite being warned by civil servants it could trap some children in poverty, it has emerged.
The former chancellor limited pay rises to 1% a year until 2019, in his 2015 Budget statement.
Internal documents seen by the BBC reveal he was told the move would hit low income families.
Mr Osborne said the National Living Wage - introduced in the same Budget - boosted the income of the lowest paid.
The Treasury has released advice given by officials to ministers in 2015 after a request under the Freedom of Information Act by the GMB trade union.
The analysis, seen by the BBC, spells out bluntly the predicted consequences of a squeeze on public sector pay.
The document says protections for the lowest paid would help reduce the impact - but the plan would amount to a real-terms pay cut for many.
"Public sector workers' take home pay is not likely to keep pace with inflation," it says, adding "this could increase financial pressure on families of public sector workers, which may have a negative impact on family relationships."
The document concludes: "This policy will make it more difficult for low income families with children to access essential goods, and will therefore make it harder for the government to hit the Child Poverty Act targets."
Despite this warning, the then Chancellor George Osborne announced a fresh clampdown on public sector pay in his first Conservative Budget, after five years of coalition.
Mr Osborne did though announce what he called a "National Living Wage", starting at £7.20 and rising to £9 an hour by 2020, to replace the £6.50 minimum wage, in the same Budget.
Mr Osborne's civil servants told him this "could mitigate" the impact of the wage squeeze for some.
"This damning document is a mark of shame on ministers who imposed years of real-term pay cuts on our members in the full knowledge that it would condemn families and children to poverty," Rehana Azam, the GMB National Secretary said.
'Protection worked'
George Osborne told the BBC: "We know from the financial crisis that low income families suffer most when countries lose control of their public spending.
"The Treasury advice was clear that introducing the Living Wage would help protect the low paid from necessary savings in public spending.
"Official data on wages over the last couple of years shows clearly that the protection worked and the wages of the lowest paid have risen fastest."
The internal advice released under FOI points out that while the public sector workforce has many characteristics that are very similar to the workforce as a whole, "there are a higher proportion of female workers than across the whole economy" and "a slightly higher proportion of disabled people than the working population".
When he delivered his 2015 Budget to the Commons, Mr Osborne told MPs: "There is a simple trade-off between pay and jobs in many public services.
"I know there has already been a period of restraint, but we said last autumn that we would need to find commensurate savings in this Parliament.
"So to ensure we have public services we can afford, and protect more jobs, we will continue recent public sector pay awards with a rise of 1% per year for the next four years."
Cap dropped
In March of this year, when the UK eliminated the deficit on its day-to-day budget, the target originally set by Mr Osborne when he imposed cuts on public services in 2010, he tweeted: "We got there in the end - a remarkable national effort."
By then, though, government policy had already begun to switch focus.
In the aftermath of the 2017 general election, when the Conservatives lost their Commons majority and Jeremy Corbyn's Labour Party performed better than many had expected, there was much talk of the impact of austerity on voters' choices.
One of those raising the issue was MP Gavin Barwell, who lost his seat and was one of a number of Conservatives who concluded Labour had "tapped into" concerns about the impact of years of public sector pay restraint.
Days after the Conservatives' disastrous general election result, Mr Barwell was appointed Prime Minister Theresa May's chief of staff.
Not long after, Mr Osborne's public sector pay cap was dropped.