Philip Hammond: No-deal Brexit would require new Budget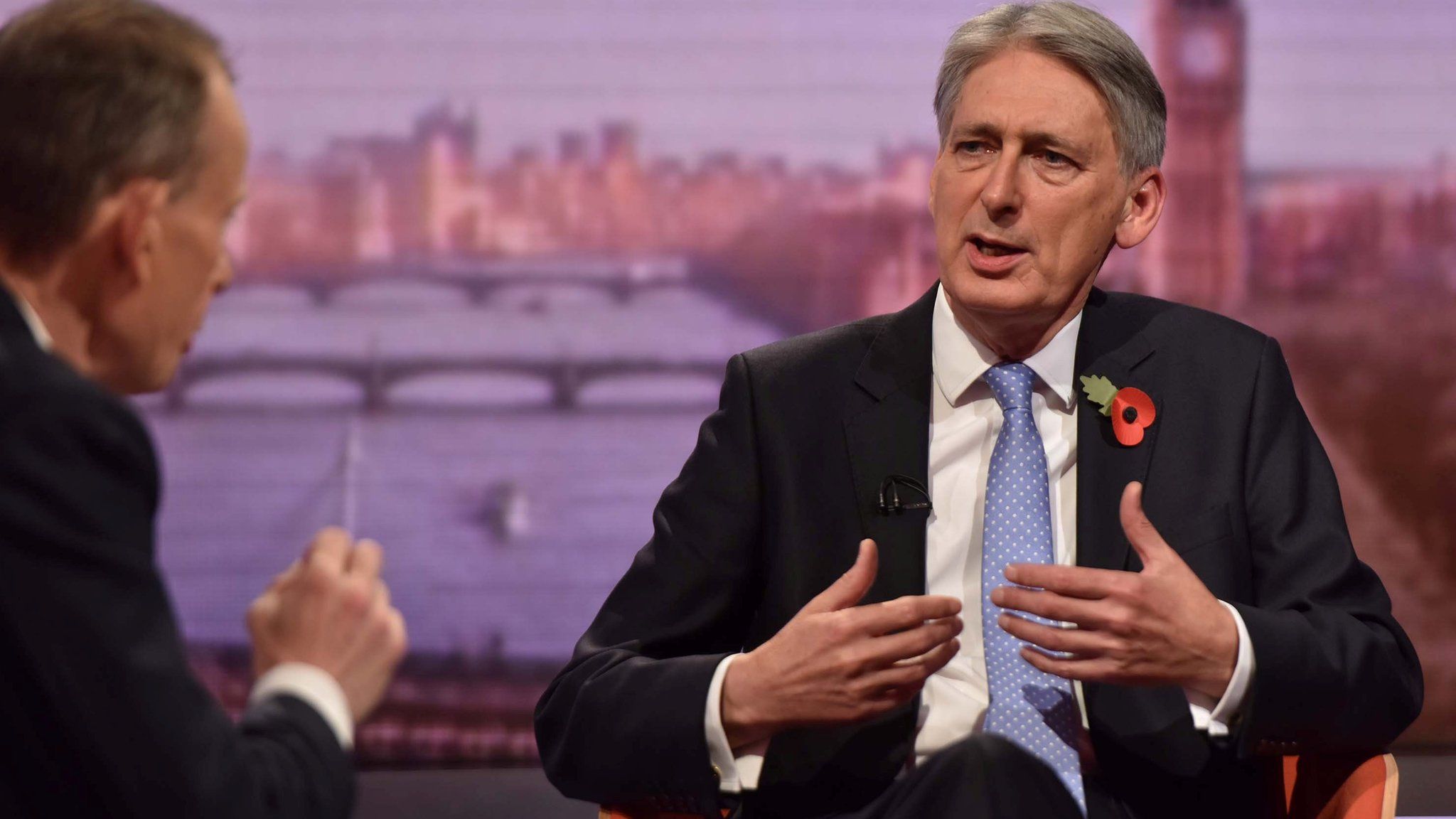 The government will set a new Budget if it is unable to reach a Brexit deal with the EU, the chancellor has said.
Philip Hammond said a no-deal Brexit would require a "different response", with "fiscal buffers" being maintained to provide support for the economy.
Mr Hammond was speaking on the eve of his Budget, which he will present to the Commons on Monday.
He also hinted at more funds for the universal credit rollout, after claims that millions of homes will lose money.
The spending plans take place at a time of uncertainty over Brexit, with no deal in place five months before the UK's departure date.
Questioned about the impact of a no-deal Brexit, Mr Hammond told Sky News' Ridge on Sunday programme: "We would need to look at a different strategy and frankly we'd need to have a new Budget that set out a different strategy for the future."
Mr Hammond said the Budget forecasts to be used on Monday were based on an "average-type free trade deal" being agreed between the two sides.
But if the UK leaves without a deal, the government would have to "revisit where we are", he told the BBC's Marr Show.
The chancellor added: "I have got fiscal reserves that would enable me to intervene."
Labour's shadow chancellor John McDonnell said he was "deeply worried" that the government was edging towards a no-deal Brexit.
Prime Minister Theresa May has recently promised "an end to austerity", the cuts made to public spending since 2010.
Asked about this pledge, Mr Hammond said detailed information would have to wait for next year's spending review.
"Once we get a good deal from the European Union and the smooth exit from the EU we will be able to show the British people that the fruits of their hard work are now at last in sight," he said.
Skip twitter post by norman smith
Philip Hammond pouring large buckets of cold water on idea that austerity is over. His best offer is that fruits of nations hard work is "in sight" #marr #binoculars

— norman smith (@BBCNormanS) October 28, 2018
The BBC is not responsible for the content of external sites.
End of twitter post by norman smith
A deal based on the government's preferred model - which has been criticised by the EU and some Tory MPs - would "minimise the negative effect" of leaving, he said.
But Mr Hammond warned he could not say at this stage whether the overall impact would be positive or negative for the UK.
Labour has dismissed the government's austerity promise.
Mr McDonnell said Labour would spend £50bn to "start the process" of reversing spending cuts, a process he said would take until the end of the next Parliament.
This would be done in a "realistic and responsible" way, he said.
What else is in the Budget?
The government has also been under pressure to commit extra funds to the flagship universal credit reform, amid reports that millions of households face losing money under the new system.
Conservative MPs have been among those demanding more money to protect people moving onto the new payment, which replaces six benefits and merges them into a single payment.
Asked about this, Mr Hammond told the BBC's Marr Show he had used previous Budgets to put money into the project, adding: "When we see things that need addressing, we address them."
Labour says the universal credit should be scrapped, and Mr McDonnell called for the Budget to be voted down if the government does not agree to halt its repeatedly delayed rollout across the UK.
Other expected Budget announcements include a £30bn package for England's roads, £900m in business rates relief for small business and £650m to rejuvenate high streets.