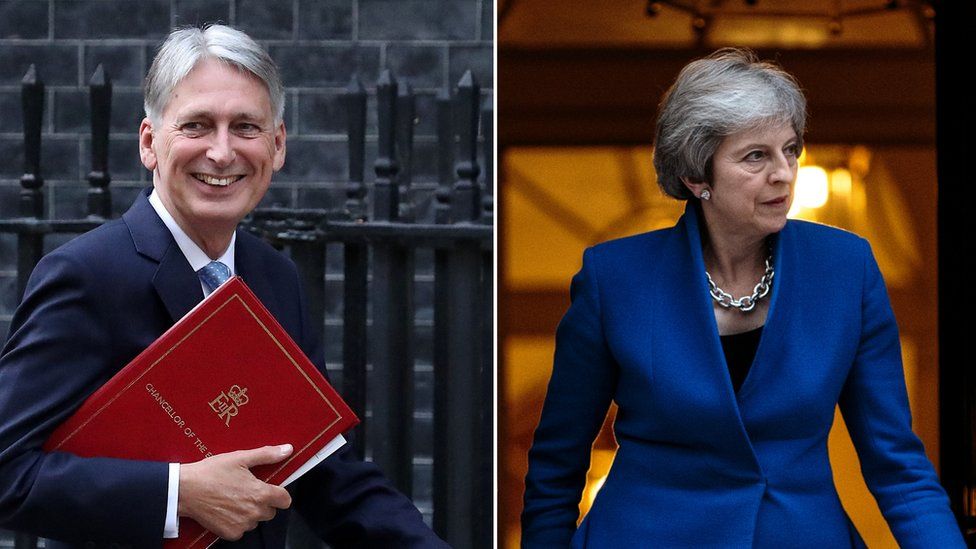 Chancellors and prime ministers are always bound together. They always are, until either the occupant of Number 10 moves out or has enough of their neighbour and sacks them, or their joint project collapses and they fall together.
Theresa May and Philip Hammond's past and present are woven together too. Under David Cameron they sat around the same Cabinet table, both pushing George Osborne for money for their departments.
They were both backers of Remain, a fact Brexiteers refer to all too often. And both their futures are intimately tied up with the government's chances of brokering a deal with the EU, and then getting it through Parliament.
Neither of them are flashy politicians. One senior figure describes how they are sometimes privately joked about in Whitehall as a well-to-do middle-aged couple.
In this metaphor, Mr Hammond is at the leather wheel of a Jag, and they are gently bickering over the directions, with a tin of travel sweets close to hand.
The car journey is more likely to descend into frosty silences and raised eyebrows, rather than having a blazing shouting match. They are grimly determined that they will arrive at their destination by persevering, never indulging in too much drama.
But only one of them can be in charge. And for this Budget the prime minister, the boss of course, seems to have drawn a difficult route for the chancellor.
His motivation for holding the Budget in October was to get it out of the way, before the last moments of the Brexit process create a Parliamentary rollercoaster.
It was - in a period of political peril for the government - meant to be non-controversial, "slimline", almost a "holding Budget", according to senior government figures.
The chancellor admitted at the weekend that if there is no deal and the UK ends up leaving in chaos, the economic drama might mean he'd have to tear up the whole thing and start again.
With question marks hanging over the Brexit process, question marks of course hang over the economy. While Treasury insiders say, for now, the economy is "puttering along" not too badly, it is not the time for bold moves, not the moment for a sudden splash of spending. They need to keep cash back in case the Brexit process goes pop.
So far, so non-controversial. Except at the Tory conference the prime minister decided to charge the politics around the Budget by suggesting that the era of the squeeze on public spending was at an end.
The prime minister proclaimed "people need to know that austerity is over". It was a headline-grabbing claim that was vigorously disputed, not just by the opposition parties, but also by Conservative councillors around the country. And that promise has created huge expectation for this Budget.
There are calls for extra cash to cushion the huge benefit changes under Universal Credit, demands for a top-up to the defence budget, calls for more money to soften the squeeze on school funding, and the list goes on and on and on.
This happens in the run-up to every big financial event like this, but the prime minister's claim that austerity is at an end has given bags of extra ammunition to those making the case for their particular cause.
But while there are clear signals that both defence and Universal Credit will see a bit of an easing up, this week won't be seen as a groundbreaking Budget.
Don't look for a dramatic change of course, whatever the prime minister said last month. How so, when her claim was so clear?
First off, remember last November the chancellor eased up the squeeze to the tune of £25bn with extra cash for housing and the NHS.
Certainly there are still tight constraints on public spending and that is being felt for real, and painfully in many places. But George Osborne's original plans for austerity faded long ago.
Secondly, I understand Philip Hammond was the only member of the Cabinet who had read the whole of Theresa May's conference speech before she arrived on stage accompanied by Abba.
No doubt he will have noted carefully the build-up to her claim on austerity in that speech too.
Before she made that vow Theresa May said: "When we have secured a good Brexit deal for Britain, at the spending review next year we will set out our approach for the future.
"Debt as a share of the economy will continue to go down, support for public services will go up.
"A decade after the financial crash, people need to know that the austerity it led to is over."
Whatever you hear in the next 24 hours, the prime minister said AFTER the Brexit deal is done, and AFTER the much bigger set of spending decisions at the huge review next year - that's when the public can expect something that could prove radically different.
Budgets can, of course, always surprise. And Theresa May's political promise earlier this month means she and her co-driver have to come up with something that's more than a "do no harm" day out.
It needs to have enough in it that can justify her claim that austerity is over. Failing to deliver anything that gives substance to it would be a gift to her political opponents. But it would be a genuine surprise if the statement is a real change of direction.
A genuine surprise would be if Number 11 misses the opportunity to warn what's at stake if a compromise with Brussels - and with Parliament - can't be reached. Let's see.