Justine Greening 'might consider' Tory leadership bid if vacancy arises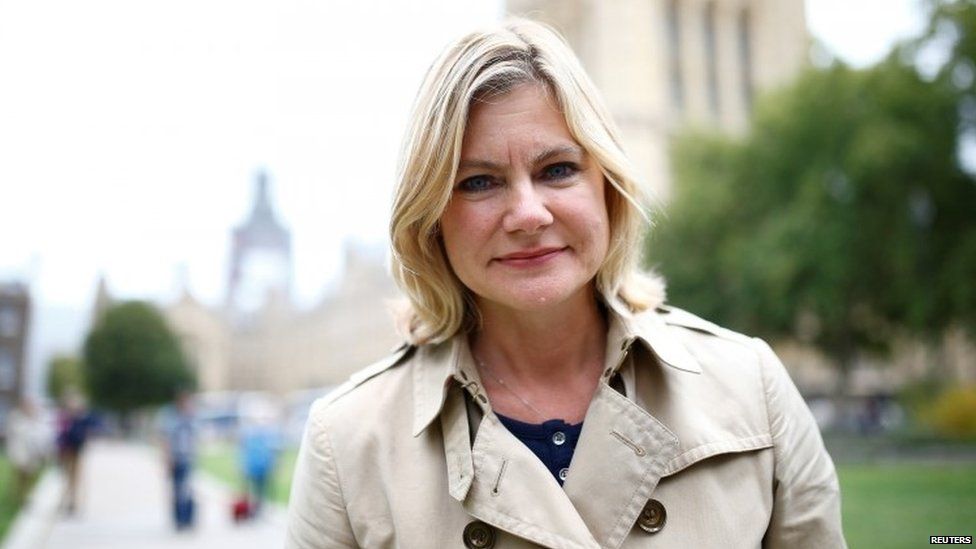 Ex-education secretary Justine Greening has said she "might be prepared" to stand for Conservative leader if there was a vacancy in Downing Street.
She told Good Morning Britain she was "committed" to doing whatever she could to boost opportunity for young people from disadvantaged backgrounds.
The Putney MP, who quit the cabinet in January, is among those calling for another EU referendum.
Uncertainty continues to surround Mrs May's long-term future as Tory leader.
One former minister has called for a leadership contest next summer after the UK has left the EU.
Mrs May last week faced down her internal critics with a "heartfelt" plea for unity at a meeting of Conservative backbench MPs, which had been talked up in advance as "high noon" for her leadership.
During an interview on ITV's GMB show, Ms Greening made it clear there was no vacancy in No 10 at the moment.
But pressed on whether she would put herself forward in the event of Mrs May standing down, the 49-year old replied "I might be prepared to".
After a decade of austerity in the public sector needed to "fix" the UK's finances, she said the Conservatives must "discover, maybe rediscover, our mission" to ensure aspiration was matched by opportunity.
"Talent is spread evenly. The challenge of Britain is that opportunity isn't. That's what we have got to fix."
She added: "Things need to change, don't they, and I think people need to have some hope for the future, that Britain can be a country that runs differently and more fairly than it does at the moment."
Ms Greening quit the prime minister's top team after being replaced as education secretary, having reportedly turned down an alternative cabinet role.
Ahead of Monday's Budget, she urged her party to show what it could do for those young people who did not have a head start in life by being born into middle-class families with "sharp elbows".
The Treasury, she said, must show the same zeal for talking about "investing in people as they do in roads".
"I am committed to doing whatever I can to make sure that this country for the first time is a place where it doesn't matter where you grow up you get the same opportunities.
"I think we need the same level of ambition on that that governments have had in the past on the welfare state and setting up the NHS. We need guarantees on opportunity in this country in the same way that we give guarantees on health and guarantees on dignity if people fall out of work."