Jeremy Corbyn: Budget full of broken promises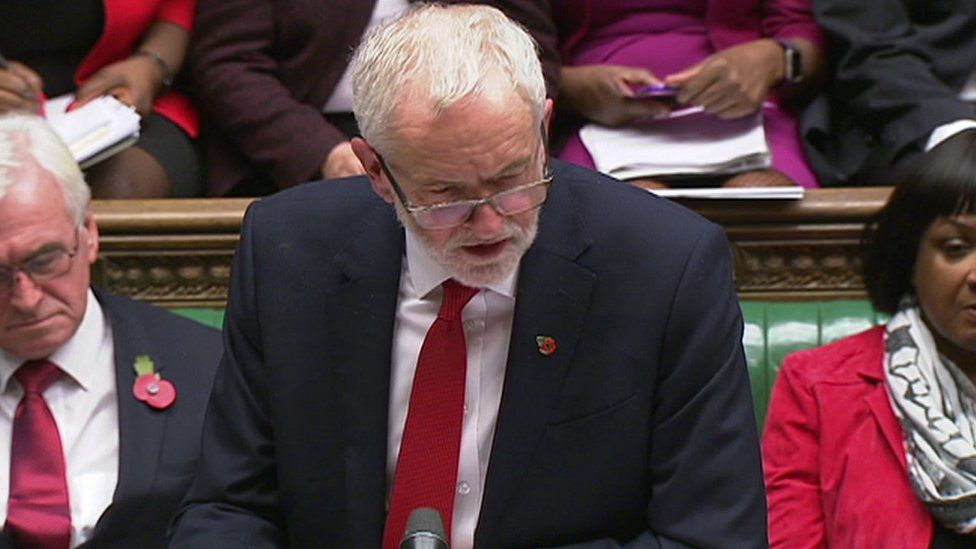 Labour leader Jeremy Corbyn has condemned a "broken promises Budget" and dismissed the government's claims to be ending austerity.
He accused the government of focusing on "ideological tax cuts" and called for a pay rise for public sector workers.
"What we heard today were half measures and quick fixes while austerity grinds on," he said.
The chancellor said Labour lacked the "discipline" to manage the economy.
Philip Hammond's Budget included a £1bn investment to help welfare claimants transfer to new consolidated benefit universal credit - but Mr Corbyn said cuts were still "hardwired" into the system.
"The reality is austerity is not over," he said, adding that "chunks of the deficit" had been moved to NHS and local authority budgets.
He also dismissed a pledge of extra money for social care as a "drop in the ocean" and said the government was still not offering enough money for the NHS despite its commitment of an extra £20bn over the next five years.
Labour has promised to increase spending by £50bn - raised by tax rises on high earners - as the first stage of its pledge to "reverse" austerity. And Mr Corbyn promised to raise investment "across the board".
The Labour leader said uncertainty over Brexit was "making things even worse", saying some Conservatives "fantasise" about a "race to the bottom" on rights and regulations once the UK left the EU.