Brexit: Dominic Raab 'expects deal by 21 November'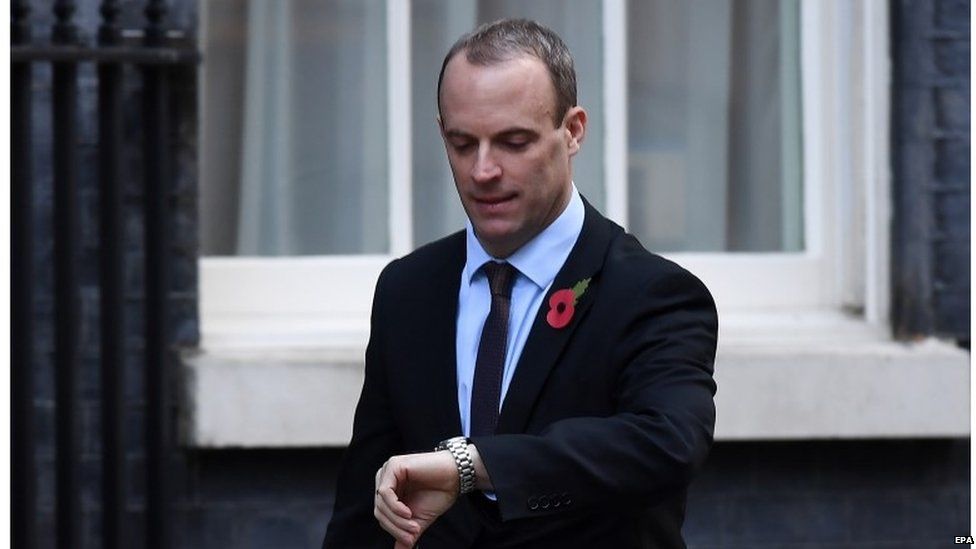 Dominic Raab has suggested he expects a deal on the UK's exit from the EU to be agreed within three weeks.
The Brexit secretary told a committee of MPs he was happy to appear before them to give evidence "when a deal is finalised" and "currently expected 21 November to be suitable".
However, Mr Raab's own department later clarified that there was "no set date for the negotiations to conclude".
November 21 was the date offered by the committee's chairman, it added.
Meanwhile, Ireland's foreign minister has said it is up to the UK to "intensify" talks.
Simon Coveney, who met Mr Raab on Tuesday evening, said time was short and while an overall deal was possible within three weeks, it had to take shape soon.
The UK is due to leave the EU on 29 March 2019.
The two sides want an agreement on the details of the UK's withdrawal and an outline plan for their future relations before the end of the year, to give the UK and EU Parliaments enough time to vote on it.
But the talks have stalled over how to prevent the return of physical checks on the border between Northern Ireland and the Republic of Ireland.
Plans for a special summit in mid-November to seal the withdrawal agreement were put on hold after insufficient progress was made at a meeting of EU leaders earlier this month.
Technical discussions continue to try to find a way ahead.
In his letter to the Brexit committee chairman, Labour MP Hilary Benn, on 24 October, Mr Raab struck an upbeat tone.
He said the end of the negotiations was "firmly in sight and while obstacles remain it cannot be beyond us to navigate them".
Despite differences over Northern Ireland, he said the two sides were "not far" from agreement over the terms of the so-called "backstop", which could see the whole of the UK remain in a temporary customs arrangement with the EU until their future relationship was settled.
"An agreement on the details of that backstop should be possible," Mr Raab wrote.
"We have resolved most of the issues and we are building up together what the future relationship should look like and making real progress," he added.
Officials in the Brexit department said concluding a deal by the middle of next month remained an aspiration and there had been no major breakthrough in recent days.
In response to Mr Raab's letter, Downing Street said "we are working to achieve a deal as soon as possible".