Sports Minister Tracey Crouch resigns over 'delay' to betting crackdown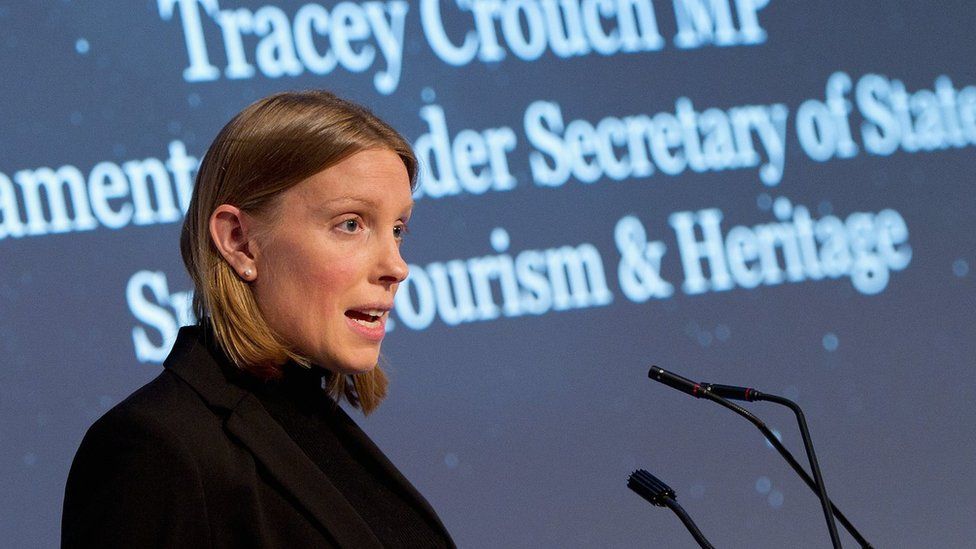 Sports minister Tracey Crouch has resigned over "delays" to a crackdown on maximum stakes for fixed-odds betting machines.
Chancellor Philip Hammond said in Monday's Budget that the cut in stakes from £100 to £2 would come into force in October 2019.
Ms Crouch said pushing back the date was "unjustifiable" and it could cost the lives of problem gamblers.
She tweeted: "Politicians come and go but principles stay with us forever."
Prime Minister Theresa May said she was disappointed Ms Crouch had resigned but there had been "no delay in bringing forward this important measure".
The government has denied Labour claims that MPs had been led to believe the cut would come into force at the start of the next tax year, in April 2019. They suggested the cut had been intended to be introduced in April 2020.
But in her resignation letter, Ms Crouch said: "Unfortunately, implementation of these changes are now being delayed until October 2019 due to commitments made by others to those with registered interests.
It is with great sadness I have resigned from one of the best jobs in Government. Thank you so much for all the very kind messages of support I have received throughout the day. Politicians come and go but principles stay with us forever. pic.twitter.com/rD8bEbCQcK

— Tracey Crouch (@tracey_crouch) November 1, 2018
"From the time of the announcement to reduce stakes and its implementation, over £1.6bn will be lost on these machines.
"In addition, two people will tragically take their lives every day due to gambling-related problems and, for that reason as much as any other, I believe this delay is unjustifiable."
She added: "It is a fact of government that ministers must adhere to collective responsibility and cannot disagree with policy, let alone when it is policy made against your wishes relating to your own portfolio."
Among those praising her on social media, the Archbishop of Canterbury Justin Welby tweeted that she was "principled and courageous" adding: "May God bless her commitment to doing right."
Former foreign secretary Boris Johnson tweeted that she "deserves huge credit not just for her campaign but for sticking up for her principles".
Currently, people can bet up to £100 every 20 seconds on electronic casino games such as roulette. Anti-gambling campaigners say the machines let players lose money too quickly, leading to addiction and social, mental and financial problems.
But bookmakers have warned the cut in stakes could lead to thousands of outlets closing.
In her response to Ms Crouch, the PM said the government had listened to those who wanted the changes to come into effect sooner than April 2020 and "had agreed that the changes should be in place within the year - by October 2019".
In his Budget on Monday, the chancellor said the change to fixed-odds stakes would come into force next October at the same time as changes to duty charged on gambling firms based abroad but operating in the UK.
The government says co-ordinating the date of the two changes would mean the government would not be hit by a fall in tax revenue.
The 43-year-old MP has represented Chatham and Aylesford, in Kent, since 2010
She was promoted to the front bench as sports minister in 2015
She is known for her opposition to fox hunting and her love of football - she is a qualified FA coach
Grammar school educated at Folkestone School for Girls, she went on to get a degree in law and politics from Hull University
She had worked for various Tory MPs, including Michael Howard and David Davis before standing for election
She had her first child in 2016 and is thought to have been the first Tory minister to take maternity leave
But in the Commons on Thursday, Labour's deputy leader Tom Watson accused the government of "capitulating to the gambling industry".
He praised Ms Crouch's "courageous and principled decision" and said Culture Secretary Jeremy Wright "should be thoroughly ashamed" of prioritising "corporate interests over victims, profits over public health and greed over good".
MPs from all sides of the House joined in his criticism. Former Tory leader Iain Duncan Smith said it should be discussed as part of the Finance Bill later this month.
He told the BBC: "There are plenty of people whose lives have been damaged by this addiction... We need to do this very quickly, as quickly as we can and in the meantime, the gambling industry will make about £1bn as a result of this delay. That's not right."
Labour has told the BBC that they will put down an amendment to the Finance Bill to try and bring in the changes next April.