Banks probe unlikely to affect Brexit process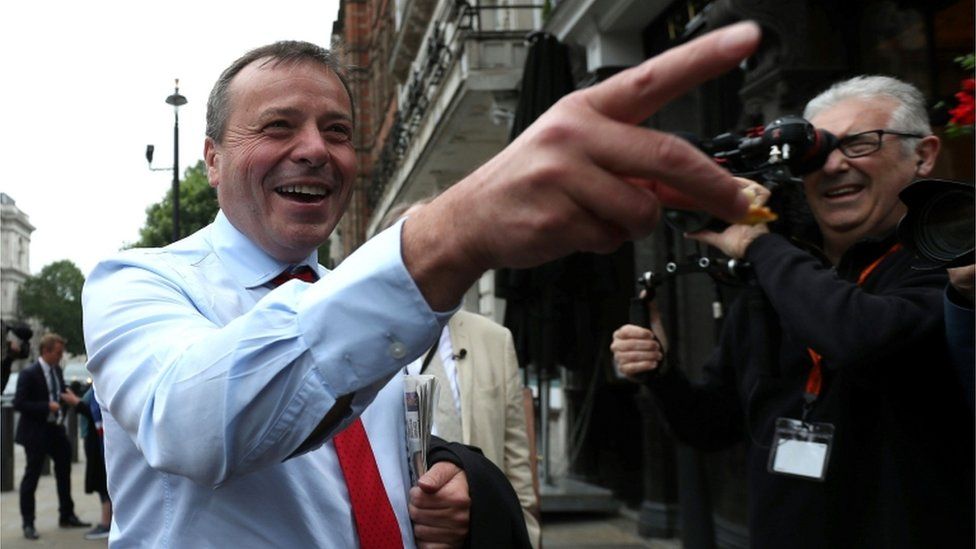 Arron Banks has been a big, brash figure around the edges of politics for a long time.
He was a big backer of UKIP, and a comrade of Nigel Farage. Who can forget that picture of them together with Donald Trump in his golden elevator?
And Mr Banks was someone who ploughed a huge amount of cash into the big heave to get people to vote to leave the EU.
For many years, he has caused many MPs to roll their eyes but he was determined to push and push for Brexit.
And he gave the biggest ever single political donation in one huge splurge.
This investigation is potentially very serious for him and his associates who are being investigated. Although it's important to say they deny doing anything wrong.
But if you are wondering if it will have any effect on the Brexit process, despite calls from some MPs already that it should somehow put the brakes on, it seems unlikely now to have a material effect.
Given that Parliament has approved our departure and the country is involved in the legal process of extricating itself from the EU, it's hard to see how the fact this investigation has begun would directly make a difference.
(Of course, regular readers know that if there is no deal with the rest of the EU or the deal is voted down by Parliament, almost anything could happen!)
However the allegations against Mr Banks may well increase the sense of bitterness in a debate that long ago turned sour.
And they will give more ammunition to those who are campaigning to call a halt.
PS: Yesterday I wrote here about how not much seemed to be budging in the EU negotiations even though [Theresa May's chief Brexit adviser] Olly Robbins has been in Brussels this week.
It's still not clear. But there is something in the ether that is giving me a sense there could be a big move in the next few days.
There is chatter that Tuesday's cabinet just might be a moment of reckoning where ministers broach the question that they haven't yet got to, I'm told. If a slightly tweaked version of the potential deal that didn't quite get there last time is as good as it gets - what do they do then?
The issues and arguments are the same. But if there is to be a chance of a deal getting done in November then, according to sources on both sides, there has to be some movement in the coming days.
Of course it's all very fluid - don't expect Brexit Secretary Dominic Raab to be booking his Eurostar tickets yet. Nothing is certain. Although don't be too surprised if he pops up in Brussels sooner rather than later. Maybe this time with a deal that could actually be done.