Paddy Ashdown: Former Lib Dem leader being treated for cancer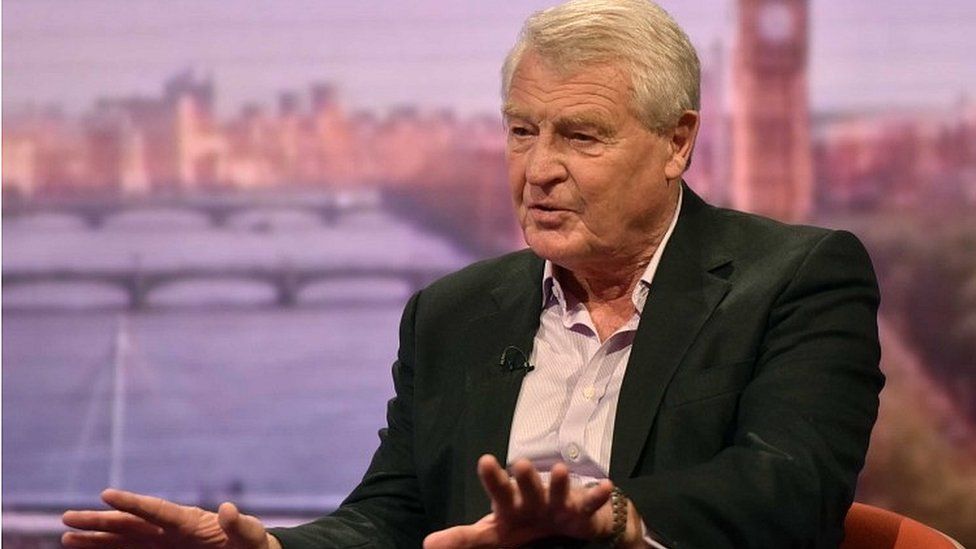 Ex-Lib Dem leader Paddy Ashdown is being treated for bladder cancer.
The former MP for Yeovil told Somerset Live that he had been diagnosed three weeks ago and while the outcome was "unpredictable" he had "complete confidence" in the care he was getting at the Somerset town's hospital.
The ex-marine commando led the party between 1988 and 1999, during which it became a growing force in UK politics.
"I've fought a lot of battles in my life," he told the website.
"This time I am lucky enough to have the magnificent help of our local hospital, and my friends and family, and that gives me great confidence".
Later, he tweeted that he had been "moved" by people's reactions, but it "did not merit a fuss".
I have been so moved by all the lovely comments here. But PLEASE this does not merit a fuss. Many go through this. The NHS guys in Yeovil Hosp. are BRILLIANT. I have the best of people and the best of friends to fight this with, which makes me, as so often in my life, very lucky

— Paddy Ashdown (@paddyashdown) November 2, 2018
The longest serving leader of the Lib Dems in its history, the 77-year old peer remains an influential figure within the party.
He was a strong supporter of Nick Clegg's controversial decision to take the party into coalition with the Conservatives in 2010.
Prior to entering Parliament in 1983, he served as a Royal Marine and in the intelligence services.
After standing down as an MP in 2001, he served for four years as the United Nations' high representative in Bosnia-Herzegovina.
Lib Dem leader Sir Vince Cable and his predecessor Tim Farron were among a number of senior party figures to wish their friend and colleague well.
My best wishes for a speedy recovery to Paddy Ashdown, one of the great British political figures of the past 30 years and the man who built the Lib Dems into a Parliamentary force. Love to Paddy, Jane and their family

— Vince Cable (@vincecable) November 2, 2018
Paddy has been a hero and mentor of mine for many years. He saved the party during its darkest hour and led it to its greatest successes. My love and warmest wishes are with Paddy, Jane and the whole family at this time.
https://t.co/kXlxsNnhNY

— Tim Farron (@timfarron) November 2, 2018
A Lib Dem spokesman said the peer had told colleagues about his condition two weeks ago.
"We wish him a speedy recovery and know that he will fight this with the vigour of a person 40 years younger."