Businesses 'won't need to carry out extra EU checks'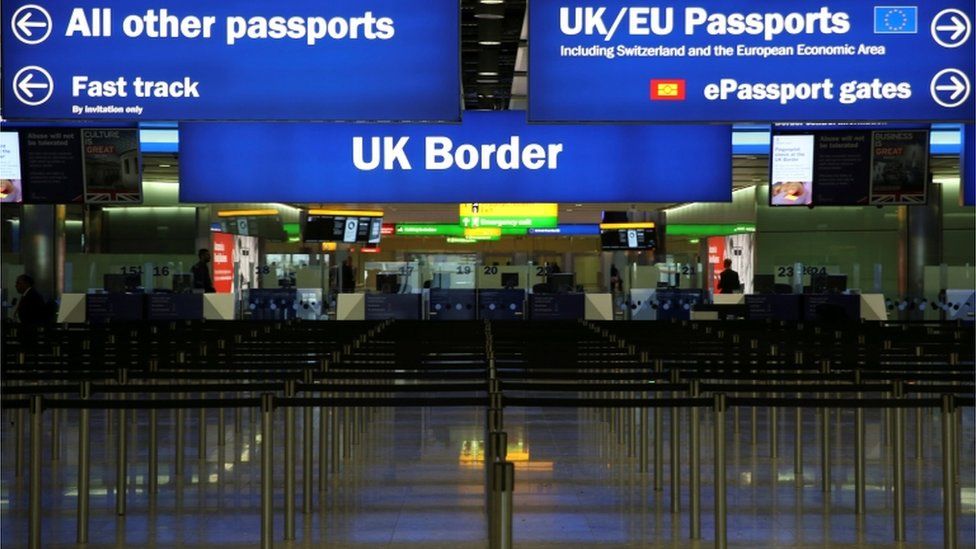 Businesses will not have to carry out new checks on EU staff in the event of a no-deal Brexit, the government says.
"Employers will not be expected to differentiate between resident EU citizens and those arriving after exit," the Home Office said.
On Tuesday, minister Caroline Nokes said employers would have to carry out "rigorous checks" on EU staff who arrived after March 2019.
Labour accused her of misleading Parliament.
Shadow immigration minister Afzal Khan suggested Ms Nokes lacked "even the most basic level of understanding and knowledge" of her own immigration policy and demanded she "come to Parliament to set the record straight".
The government insists EU free movement will end in March 2019, the scheduled date for the UK's departure from the EU.
But in practice, EU nationals will still be able to come and work in the UK, until the end of the planned 21-month "transition period". The only difference is that they will have to register with the authorities.
Ms Nokes was questioned at length on Tuesday about what would happen if there was no "transition period" - because the UK leaves the EU without having agreed a withdrawal deal - and whether employers would be expected to check if potential staff had the right to work in the UK.
Committee chair Yvette Cooper asked how an employer could be expected to differentiate between someone who had arrived in the UK after Brexit - and an EU citizen who had been a long term resident and had the right to work, but had not yet applied for "settled status".
Ms Nokes admitted it would be "almost impossible for an employer to differentiate between a new arrival and somebody who has been here for 10 years and has simply not yet been through the scheme".
But she said: "If somebody has been through the settled status scheme, they will be able to evidence that. If somebody has not been here prior to the end of March next year, then employers will have to make sure that they go through adequately rigorous checks to evidence somebody's right to work."
Her remarks were met with "deep concern" from the Federation of Small Businesses, whose chairman Mike Cherry said: "The reality is that many of these businesses wouldn't have the first idea of where, or how, to check whether or not their EU staff have the right to work here."
The 3million, which campaigns for the rights of EU citizens in the UK, reported that the Home Office had emailed to confirm current checks "will not change next March in the event we leave the EU without a deal".
And that "EU citizens will continue to be able to evidence their right to work by showing a passport or national identity card." Employers would not be expected to differentiate between "resident EU citizens and those arriving after exit".
On Friday, the Home Office confirmed that statement and added: "We will protect EU citizens' rights when we leave the EU, in both a deal or no deal scenario.
"We are considering a number of options for the unlikely event that we reach March 2019 without a deal, and will set out more information shortly."
Under current rules, employers must carry out "right to work" checks on new staff.
For British citizens, this means providing a passport or birth certificate and a National Insurance number while EU citizens must provide their passport or ID card and people from outside the EU must provide their biometric residence permit.