Actors reveal secrets of playing Thatcher and Churchill
By Shaun Ley
I Played the PM, BBC Radio 4 Extra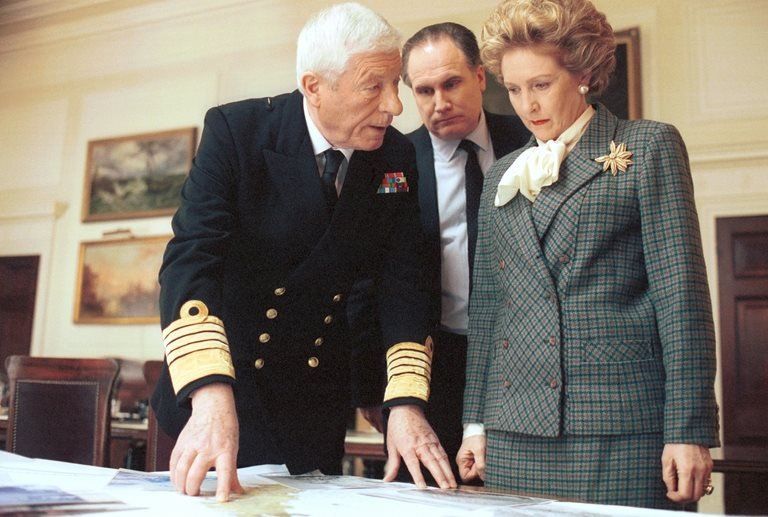 How do you play Margaret Thatcher, give a convincing portrayal of Winston Churchill, and avoid delivering a caricature rather than a performance?
It's a question I've been exploring for I Played The PM on BBC Radio 4 Extra with some big names who've taken up the challenge.
Gary Oldman and Meryl Streep took the UK's two most famous prime ministers to Hollywood.
However, Winston Churchill was first portrayed on film in the 1930s; and Margaret Thatcher as a character made her big screen debut thirty years before Meryl Streep's The Iron Lady.
In 1981, Mrs Thatcher is seen flirting with James Bond - or so she thinks - in a telephone call at the end of For Your Eyes Only.
The film entered production in September 1980. The producers plainly thought Britain's first woman prime minister famous enough for a global audience to know, after barely 18 months in the job.
Janet Brown, who plays her in the film, had a long acting career before she took on Mrs Thatcher, but it's really a comic impersonation.
That's a problem all the actors I interviewed have wrestled with: how to play a well-known figure the audience are familiar with whilst adding something fresh and unexpected.
"You're damned if you do, you're damned if you don't", Patricia Hodge says of the challenge of giving an interpretation rather than an impersonation.
She was cautious when offered the role in The Falklands Play in 2002, and wanted to be sure that the production team weren't looking for an impersonator.
Patricia says it helped that, throughout the play, the character is referred to only as "Prime Minister".
It left her free to explore the part as a woman in power, rather than Margaret Thatcher specifically, even though it's clear - not least from the pussy bow blouse, the handbag and the hair - whom she's supposed to be.
We're broadcasting the whole of the play as part of I Played The PM.
Patricia Hodge is not just showing the public face - for example, berating General Al Haig, President Reagan's envoy, for treating the Argentine military dictatorship with it's appalling record of human rights abuses on the same par as the British government - but also the private Thatcher, agonising over whether to order the sinking of the Belgrano.
These were controversial matters in real life, and one part of the explanation why Ian Curteis's brilliant and compelling drama took so long to be produced.
Not every actor has been so fortunate in the amount of screen time they have to work with.
When the novel The Line of Beauty was adapted for television, it fell to Kika Markham to make convincing a Margaret Thatcher who's as much a symbol of something as a real character.
"What was very important was getting in and out of cars", she recalls.
"She doesn't mind looking people straight in the eye. Someone who is used to power, used to people standing up when she enters a room."
Kika Markham laughs when she recalls the climax; Mrs Thatcher dancing with Nick, a character played by Dan Stevens, to the Rolling Stones track, Get Off My Cloud.
"I was told that she liked men," says Kika.
Recalling Theresa May dancing on a visit to Africa this year, she wonders whether it's something women prime ministers think they have to do, showing a more relaxed side.
Mrs May hasn't really been given the acting treatment so far, though you will hear Jan Ravens reveal the secret of her impersonation on Dead Ringers; it's all down to a very tense mouth and a harmonic speaking voice.
The most contemporary prime minister to feature in I Played The PM is David Cameron.
Greg Wise, an actor full of energy and with a puckish sense of humour, is no body double for the UK's most recent ex-prime minister.
He was cast, he jokes, because like Mr Cameron, "I went to public school".
In a 'what if?' radio play, broadcast a few months before Scotland's independence referendum, James Graham, the playwright, imagines what it would be like if a majority of Scots had voted "Yes".
Dividing The Union, which we're also broadcasting in full, has David Cameron travelling to Edinburgh for independence negotiations with the then First Minister, Alex Salmond.
"It is the realpolitik that we read about, that we never get to see; two guys in a room."
Greg Wise gave me a masterclass in radio acting; and he explained how he tried to get inside David Cameron's character to convey how he might have felt if that referendum had gone against him.
I think the actor I met who had the hardest task was Brian Cox.
The film "Churchill" was controversial among some historians because of its portrayal of the build-up to D-Day; and it was overshadowed by "The Darkest Hour", released more or less at the same time, and featuring Gary Oldman's Oscar-winning performance.
Brian Cox's Churchill is every bit as compelling.
The actor tells me he was trying to explore something different, a less confident wartime prime minister.
Although he deliberately put on weight to help with the famous silhouette, he used a more naturalistic speaking voice, arguing that in his famous speeches, Churchill was performing a morale-boosting role.
Brian offers a striking example of how actors come to feel a degree of empathy for a character they can be playing for months.
Born in Dundee, a city Churchill represented in the House of Commons, he grew up in a family who remembered the former MP with little affection.
Yet when we're talking, it's clear that in many ways Brian Cox admires the man his Uncle Geordie used to denounce.
As Patricia Hodge told me, when playing the PM, the character often "takes you over".
Judge for yourself in I Played The PM, broadcast on Radio 4extra 0900 GMT to midday and again at 1900 GMT to 2200 GMT on Saturday 3, November.